'Waste-to-wardrobe' startup wins U of T's top Adams Sustainability Innovation Prize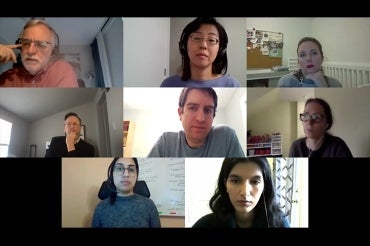 A startup at the University of Toronto that's developing a sustainable polyester alternative for fashion brands has snagged the Adams Sustainability Innovation Prize's top spot.
ALT TEX, a startup working out of the University of Toronto Mississauga's ICUBE accelerator and whose co-founders include alumna Avneet Ghotra, won first place and $10,000 for converting food waste into a biodegradable bio-plastic fibre that can be used in textile manufacturing.
The virtual pitch competition was open to ideas, projects or startups that have received less than $25,000 in funding and investment, and whose co-founders include at least one U of T student, post-doctoral researcher or recent graduate.
Myra Arshad, an ALT TEX co-founder and graduate of the Schulich School of Business at York University, said that fashion is one of the world's most polluting industries – and that while the sustainable fashion industry is growing, there's an important gap that ALT TEX is poised to fill.
"Despite the market pull [towards sustainable fashion], there's a lack of truly sustainable alternatives to one of the largest and most polluting sectors of fashion manufacturing: polyester," Arshad said during the virtual event last week. "At Alt Tex, we're solving this need by creating a sustainable polyester replacement through our waste-to-wardrobe solution.
"We take one of the largest contributors of garbage – food waste – and chemically regenerate it into a bio-plastic used to create polyester."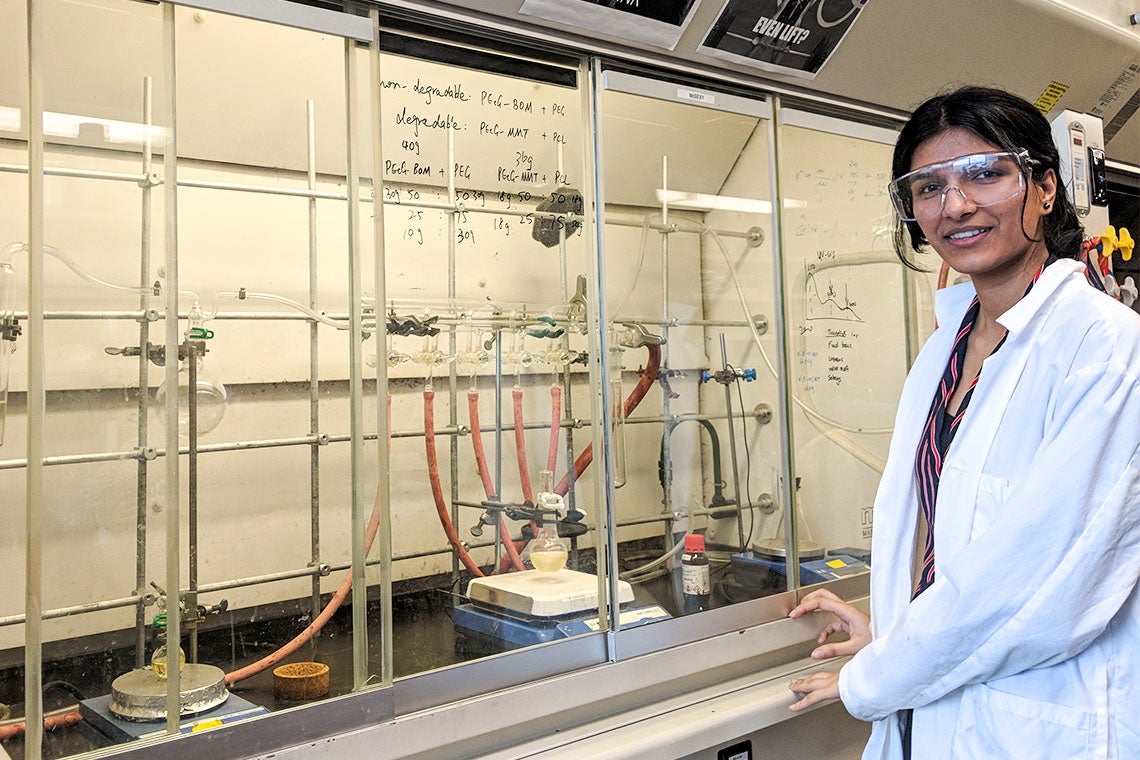 U of T alumna Avneet Ghotra co-founded ALT TEX, a startup that is developing a clothing fabric made from unused industrial food waste (photo by Myra Arshad)
ALT TEX's novel fermentation process converts food waste into bio-plastic fibre that mimics the look and feel of polyester but is biodegradable. The company says a single shirt manufactured using its carbon-neutral fibre could help remove one kilogram of food waste from landfills, save nine kilograms of carbon emissions and save four kilograms of micro-plastic pollution.
Fellow ICUBE startup HOPE Pet Foods picked up the $7,500 second-placed prize for their meat-free pet food company, while Polaris.AI, a startup that's developing an AI-powered public transit planning engine and mobile app and was founded by a trio of Rotman School of Management MBA candidates, took home the $5,000 third-place prize. Three $1,000 prizes were also awarded to the three runner-up teams, Fyyne, IOBO, and Yayra-Si Youth Foundation.
The event marked the culmination of the Adams Sustainability Celebration organized by U of T's Committee on the Environment, Climate Change and Sustainability (CECCS). Created with the help of a donation from Wendy Adams, the four-month-long initiative comprised a series of events that sought to celebrate sustainability successes, inspire ideas, foster collaborations and increase engagement around sustainability issues across U of T's three campuses.
"There's a ton of sustainability stuff that goes on at U of T that's invisible – it's under the floor, it's behind the wall or it's in the meeting room or in the classroom. It's just not visible to anyone who isn't directly involved. The idea of the celebration is to make that visible," said John Robinson, presidential adviser on the environment, climate change and sustainability and one of four judges at the pitch competition.
Robinson, who is also a professor at the Munk School of Global Affairs & Public Policy and the School of the Environment, added that the goal of the pitch competition was to "find and support student sustainability ideas that could make a big impact in the future."
The competition's judges also included Ron Saporta, U of T's chief operating officer, property services and sustainability; Sue Talusan, design manager at the MaRS Discovery District; and Letitia Biagi, an economist and manager of the analytics and finance unit at the provincial Ministry of Energy, Northern Development and Mines.
In addition to the pitch competition, the event also saw the awarding of three $5,000 student grants to students with innovative ideas to advance sustainability initiatives on campus, and three $5,000 faculty grants to professors and instructors to support the development of sustainability-based course content and projects into their courses.
The inaugural Adams Sustainability Celebration drew hundreds to the various events – most of whom were students. It featured six live panel sessions, 10 virtual showcases and 40 student group exhibits over four months.
The celebration is set to be held for two more years, with the next editions scheduled to begin next fall.
UTC