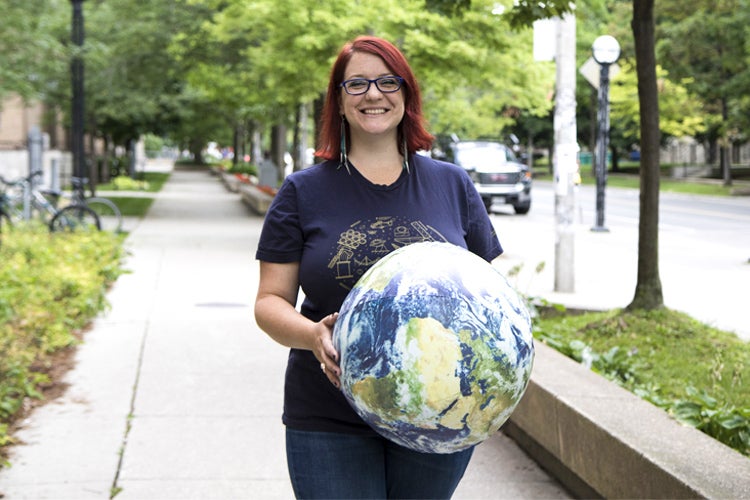 Renée Hložek wins McLean Award
Renée Hložek of the Faculty of Arts & Science is this year's winner of the McLean Award which recognizes an emerging research leader at the University of Toronto.
An assistant professor with the Dunlap Institute for Astronomy & Astrophysics and the David A. Dunlap Department of Astronomy & Astrophysics, Hložek studies problems in theoretical and observational astronomy, seeking to better understand the composition and structure of the universe and how it changes with time.
"I spend so much of my time working on results, dreaming of new science, and often debugging code," Hložek said. "Normally that is its own reward, but it's really incredible to be recognized for some of the work I've done and the scientific risks I've taken."
Jointly funded by the Connaught Fund and the McLean endowment, the $125,000 award supports outstanding basic research in computer science, mathematics, physics, chemistry, engineering sciences and statistics – and assists the awardee in attracting and supporting graduate students and post-doctoral fellows of great promise.
It's the latest in a series of honours for Hložek. In 2020, she was awarded a prestigious Sloan Research Fellowship and earlier this year she was awarded the Harvey B. Richer Gold Medal by the Canadian Astronomical Society.
"Renée Hložek's research is already having a significant impact on our understanding of the universe," said Professor Leah Cowen, U of T's associate vice-president, research. "Her work with the Simons Observatory collaboration will help us better understand the impact of the Big Bang and her work with the Rubin Observatory Dark Energy Science Collaboration will help unravel some of the mysteries of cosmic acceleration."
"The university congratulates her on this important recognition of her accomplishments and leadership."
Faculty of Arts & Science