U of T's Centre for Ethics speeds ahead with popular 'ethics of AI' focus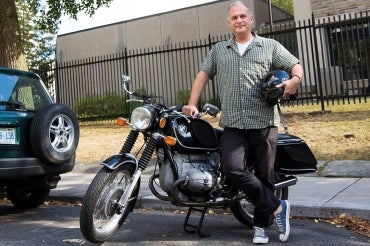 Markus Dubber tapped a deep well of interest when he hosted an "Ethics of AI in Context" talk at the University of Toronto's Centre for Ethics last fall – an event that drew about double the usual number of attendees and spawned a full speaker series on the subject.
Now, one year later, the centre is still scrambling to meet demand. 
In addition to a fresh lineup of presenters, the centre has added three research fellowships and a graduate-level course focused on AI and ethics that kicks off today.  
"We are now, for many people, the go-to place for the ethics of AI," says Dubber, who is both the centre's director and a professor in U of T's Faculty of Law.
The growing popularity of the centre's AI programming comes as U of T has emerged as a global hub for AI research and development, drawing interest and investment from around the world. In just the past few months, companies ranging from Uber to LG have announced plans to launch or expand AI research facilities in Toronto – often with a U of T researcher at the helm.
But applying technologies like deep learning – which essentially attempts to equip machines with the power of human judgment – to fields like medicine and transportation has raised a host of profound issues. Will self-driving cars protect their occupants at the expense of pedestrians? Who is held responsible if a cancer-screening algorithm makes a mistake? What will be the social impact of increasing automation? 
Dubber says the centre isn't proposing to provide answers. Rather, it's trying to help researchers and other stakeholders better understand the questions by drawing on the university's breadth of expertise to bring together everyone from doctors and deep learning engineers to historians and philosophers.  
While the centre's AI programming is very much Dubber's brainchild, it nevertheless demonstrates how U of T has emerged as an ideal place to both develop potentially transformative technologies like AI and implement them thoughtfully and responsibly. It's a point U of T's new Chancellor Rose Patten emphasized earlier this year when she told U of T News, "Our strength at U of T in the humanities and social sciences will serve us extremely well – and will be key to our overall impact."
Dubber, meanwhile, is trying to move as fast as the AI technology field itself. He recently threw together a last-minute "flash event" to discuss the potential human rights pitfalls of using AI to help the Canadian government manage the immigration and refugee process. The talk, led by researcher Petra Molnar, followed last week's release of a joint report by U of T's international human rights program in the Faculty of Law and Citizen Lab, based in the Munk School of Global Affairs & Public Policy.
A similar event next Friday will take on the controversial subject of AI and predictive policing. The presenter is E.G. Rajan, the president of India's Pentagram Group, a technology company. He will be joined by Kelly Hannah-Moffat, U of T's vice-president of human resources and equity and a professor of sociology. 
Ultimately, Dubber envisions the creation of an AI ethics lab that would include more fellowships and courses, an annual conference, more international speakers and experiential learning opportunities that place students in AI-focused academic or commercial research environments. 
"This is a perfect manifestation of the Centre for Ethics' mission – and that's being interdisciplinary and public-facing," Dubber says.
"This isn't just an academic pursuit."
UTC