Uber seeks top Toronto talent with $200-million investment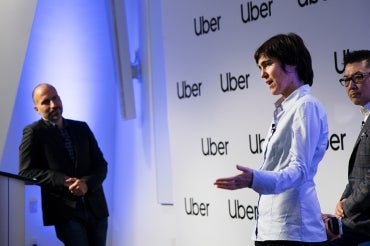 Uber wants to take you wherever you need to go – and it's betting Toronto's best minds can help. 
The ride-sharing giant said today it will invest more than $200 million in Toronto over the next five years to expand an existing research lab focused on self-driving cars – led by University of Toronto artificial intelligence whiz Raquel Urtasun – and set up its first-ever engineering facility in Canada.
Dara Khosrowshahi, Uber's CEO, said the investment will boost Uber's Toronto workforce to 500 employees over the next few years, up from about 200 today. The additional employees will include a mix of new hires, both local and from overseas, and the relocation of existing Uber engineers, he said.
"We think it's going to be one of the biggest and most productive engineering hubs that we have in the world," Khosrowshahi told a packed auditorium this morning at the MaRS Discovery District.
"We recognize Canada's commitment to having the best talent and diversity and we're excited to be a growing part of this community."
Drawn by the region's expertise in fast-growing fields like machine learning, Uber's Toronto expansion comes on the heels of similar investments in Canada's largest city by other giants of the tech industry. Just this week, computer chip-maker Intel said it planned to set up an engineering lab north of the city that focuses on graphics processing units, or GPUs (increasingly used in machine learning applications), while Microsoft said it planned to open a new office in downtown Toronto and hire 500 employees by 2022, as well as an equivalent number of co-op students and interns. 
Other big multinationals who have recently opened or expanded their operations in Toronto – all with a connection to U of T or its researchers – include chip-maker NVIDIA and consumer electronics giants LG and Samsung. 
As for Uber, Khosrowshahi said the company's Toronto research lab, launched by the firm's Advanced Technologies Group (ATG) last year, has already shown "incredible progress" with regards to incorporating AI and advanced computer vision technologies into Uber's fleet of self-driving cars. 
"The work of the advanced technologies group is incredibly important to Uber and our vision to make self-driving cars on the Uber network a reality," Khosrowshahi said. "The central facet to making these self-driving cars reliable and safe is the AI software that they run – and that's the AI software that Raquel and her team are developing."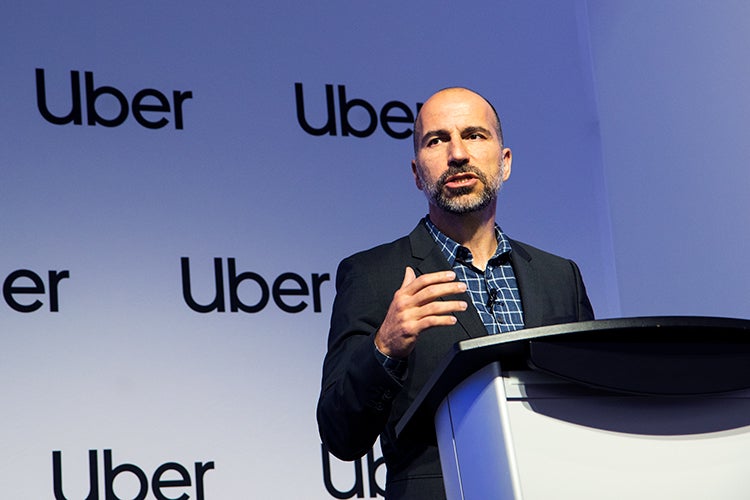 Dara Khosrowshahi, Uber's CEO, said its Toronto research lab for self-driving cars, launched last year, has already shown "incredible progress" (photo by Chris Sorensen)   
An expert in machine learning and computer vision, Urtasun splits her time between Uber's Toronto lab and U of T, where she is an associate professor in the computer science department. She told attendees at the MaRS event that working with Uber "has taken my research to the next level." 
While Uber is mostly known as a ride-hailing service, the San Francisco-based company increasingly operates a broad range of mobility services, ranging from food delivery service Uber Eats to its carpooling service UberPool. This week Uber revealed a new twist to the latter offering in Toronto: Uber Express Pool, which would see users walk a short distance to catch their shared rides – a tweak the company says will allow it to devise more efficient routes and reduce travel times. 
Khosrowshahi said Uber's Toronto expansion was driven both by a desire to acquire the best talent and the need to be "locally relevant" in the cities where it operates.  
"One of our philosophies we have as a company is: For us to build globally, we have to live globally," he said. "We have to understand cities other than San Francisco, where our headquarters are located, more than most companies out there."
Yung Wu, the CEO of MaRS, said Uber represents what has, until recently, been a missing piece of the puzzle for Toronto's burgeoning tech industry: big, global firms whose commitment to the city gives local talent a reason to stay in Canada when looking for work. 
"I'm personally excited and encouraged by Uber's commitment to be here as an active, contributing member of our community," Wu said. 
"Today's announcement is yet another sign of how our tech sector can collaborate with the best in order to compete and change the world together."
UTC