LG signs research partnership with U of T, sets up AI research lab in Toronto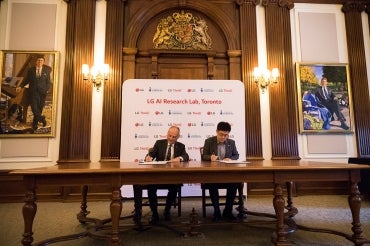 LG Electronics believes the University of Toronto's expertise in artificial intelligence will make life better for the company and its customers.
The global maker of smartphones, TVs and home appliances has signed a five-year, multimillion-dollar research partnership with U of T that will see it collaborate with the university's top AI researchers. 
LG's goal? Deliver more emphatically on its "life's good" promise by using AI to make your dishwasher or flat-panel TV more like your favourite search engine – a tool whose functionality improves the more you use it. 
"LG's products and services are experienced by people all around the world today, but they still haven't experienced the full potential of artificial intelligence," said I.P. Park, the president and chief technology officer of LG Electronics, during a recent signing ceremony at U of T's Simcoe Hall. 
"AI is still largely an untapped field, and I feel that the groundbreaking research being conducted here, at the University of Toronto, has the potential to help LG products have a greater impact on our customers."
With plans to incorporate AI technologies throughout its product lineup, South Korea-based LG also announced plans to establish an AI research lab in Toronto. The lab, the latest to be established by an international tech giant, will be located near U of T's downtown Toronto campus.
Vivek Goel, U of T's vice-president of research and innovation, is flanked by I.P. Park, the president and CTO of LG Electronics (right), and Peter Kim (left), senior vice-president, artificial intelligence (photo by Geoffrey Vendeville)
While LG already does significant AI research in Seoul and Silicon Valley, Park said LG expects its partnership with U of T, as well as its new Toronto lab, will help it solve more "fundamental" questions surrounding deep learning. The branch of AI, pioneered by U of T University Professor Emeritus Geoffrey Hinton and others, attempts to mimic the way the human brain learns.
For U of T, meanwhile, the collaborative research agreement – one of many it has signed with Canadian and international firms – promises to expand opportunities for U of T researchers and students and help ensure their important work has the broadest possible impact.
"This kind of collaboration enables the joint production and sharing of knowledge, which is going to drive innovation and produce remarkable products and services. It will also generate answers to our collective challenges and, ultimately, enhance prosperity and social well-being," said U of T President Meric Gertler.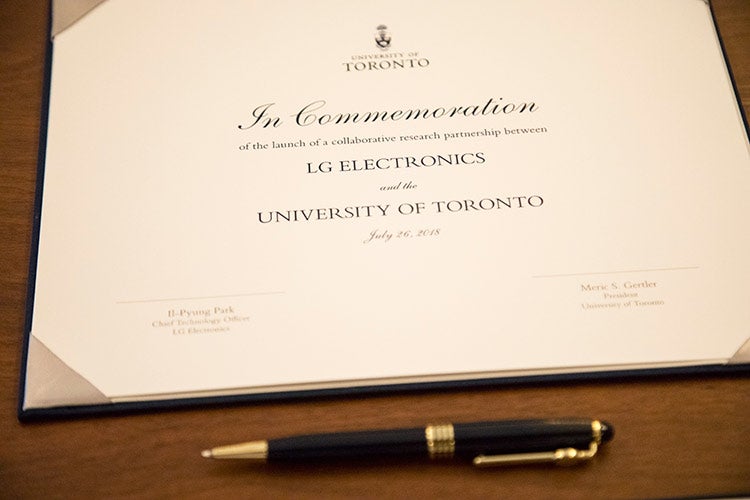 LG expects its partnership with U of T, as well as its new Toronto lab, will help it solve more "fundamental" questions surrounding deep learning (photo by Geoffrey Vendeville)
Vivek Goel, U of T's vice-president of research and innovation, noted the global market for smart machines, like those LG is building, is expected to grow to over US$15 billion by 2021, while AI is projected to contribute US$16 trillion to global economy by 2030.
"Firms and jurisdictions that figure out how to seize the opportunity here will have the greatest share of that economy going forward," Goel said.
He added that research partnerships like the one signed with LG "are essential for ensuring Ontario has the opportunity to create the jobs of the future."
One of the U of T researchers who will be working on projects with LG is David Duvenaud, an assistant professor in the department of computer science in the Faculty of Arts & Science. Among the problems he plans to explore is how to apply AI to a device called a PID controller, which can be used to regulate, say, the spin cycle of a washing machine based on load size and distribution. 
"There's all these rules of thumb about how to set the parameters of these controllers," said Duvenaud, who is also a faculty member at the Vector Institute for Artificial Intelligence. "So what we're looking into with LG are ways to automate the tuning of these controllers."
In other words, the washing machine – not the user – would figure out the best way to operate itself.
As an academic, Duvenaud says he welcomes the opportunity to work with industry on problems because it forces him to confront unfamiliar questions, opening up new avenues for fundamental research.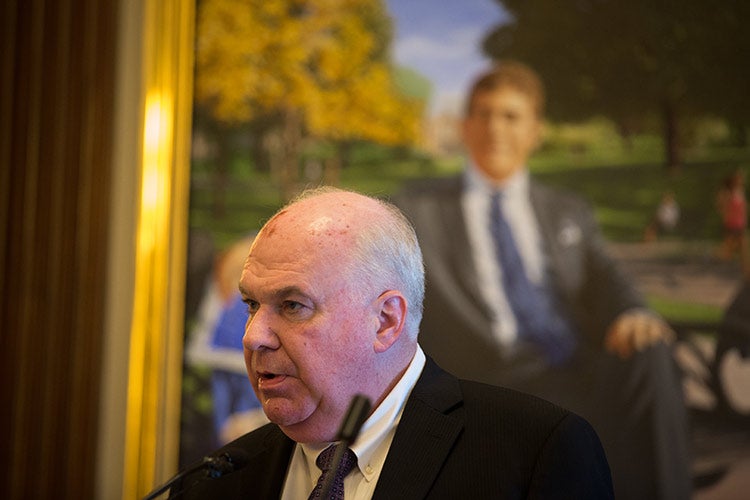 Jim Wilson, Ontario's minister of economic development, job creation and trade, said the province will continue to support the growth of Ontario's tech sector and recognize the role U of T plays when it comes to advancing research and innovation (photo by Geoffrey Vendeville)
The strength of U of T's AI research, as well as in other fields, has been an important contributing factor to Toronto's emergence in recent years as a leading centre of innovation, attracting investment from around the world. 
In addition to LG, companies who have opened an operation or expanded their presence in Toronto in recent years – often with a connection to U of T – include: Google, Facebook, RBC, Bombardier, Thomson Reuters, Huawei, Nvidia, Fujitsu, Samsung and Uber. 
At the same time, Toronto has emerged as a hub of startup activity. U of T alone is home to nine different accelerators and has helped launch more than 500 companies in the past decade that have collectively generated more than $1 billion in investment. 
And, just last week, a report from commercial real-estate firm CBRE said Toronto added more new tech jobs of any North American city in 2017 – more than San Francisco, Washington, D.C. and Seattle combined. The same report also ranked Toronto among its top five tech talent markets, a first for a Canadian city.
The economy-boosting impact of U of T's research, and the investment it's attracting from overseas, was highlighted by Jim Wilson, Ontario's minister of economic development and trade. 
"Our government is determined to make Ontario the economic engine of Canada once again," Wilson said, "so we will continue to support the exceptional growth we've seen in Toronto's and Ontario's tech sector and recognize the important role U of T plays in advancing research and innovation, and preparing our workforce for the jobs of tomorrow."
UTC