U of T marks International Day for the Elimination of Racial Discrimination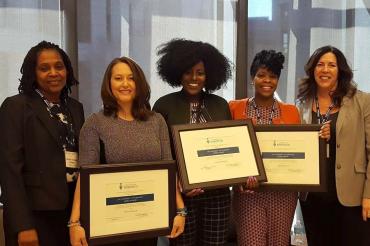 Members of the University of Toronto community shared painful stories of racism and discrimination – including at residential schools and during the '60s Scoop – at a conference marking the International Day for the Elimination of Racial Discrimination (IDERD).
And they talked about how they are working toward more representation, and getting issues recognized and addressed.
"For the truth to be known, you have to listen," said Jonathan Hamilton-Diabo, director of U of T's First Nations House, and a panellist in one of the morning sessions at Hart House.
"If you don't understand the history, how can you build a relationship when you don't understand the people?" 
The session was part of a two-day conference organized by the university's Anti-Racism & Cultural Diversity Office this week to highlight issues facing racialized communities at post-secondary institutions and the work being done to address them. The event included discussions ranging from how to lead anti-racism transformation in colonized spaces, to Islamophobia, anti-Black racism and anti-Semitism.
One session, "When Anti-Racism Isn't Enough: Blackness at U of T" asked the question: What good is an anti-racist framework that does not account for blackness? That panel – composed of PhD candidates from across a range of disciplines at U of T – discussed how progressive groups and spaces can take up the vocabulary of social justice in ways that may mobilize ideas of diversity and inclusion but alienate Black people.
"This is the first conference that we've organized as part of the IDERD campaign," said Sandra Carnegie-Douglas, U of T's anti-racism & cultural diversity officer. "This was about creating a dedicated space to engage in conversations about race, racism and anti-racism, and the various intersectional implications within the post-secondary context. While we recognize that individual manifestations of racism are important to address, and we continue to address those, a significant challenge continues to be the substantive institutional and systemic barriers."
Another session, "A Conversation on Data Collection and Student, Staff and Faculty Recruitment and Retention" featured presentations by representatives of U of T, Ryerson and York University. 
U of T is one of the first universities to collect detailed information about the diversity of its faculty and staff through a voluntary survey last year, hoping it will help with recruitment efforts. 
"It's important to also look at what we've achieved, in terms of inroads made to eliminate racism and where we need to go, what we need to be doing as racism manifests in different ways for specific groups," Carnegie-Douglas said.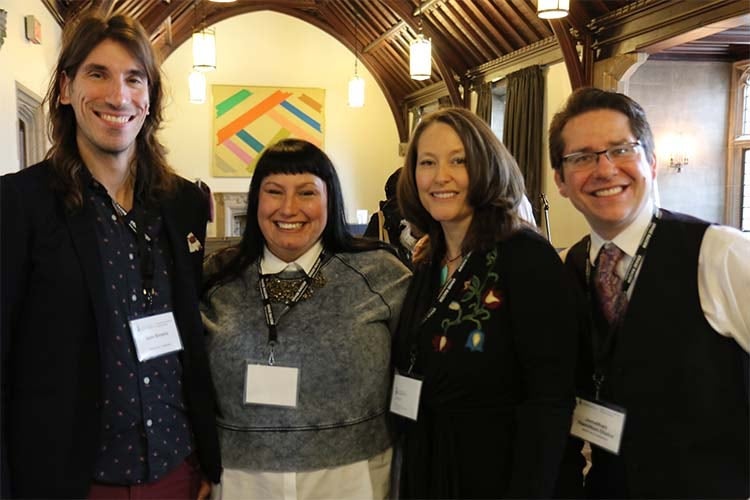 Panelists shared stories and talked about their anti-racism work. Pictured left to right are moderator Seán Kinsella, and panelists Lisa Boivin, Dawn T. Maracle and Jonathan Hamilton-Diabo (photo by Hannah James)
For "Advancing Indigenous Land, Language, Education, Visual Culture and Education at U of T," Diabo was joined by fellow panellists Dawn T. Maracle, Indigenous undergraduate medical education program coordinator, and Lisa Boivin, a graduate student in the Faculty of Medicine. The panel was moderated by Seán Kinsella, who works in student housing at U of T Mississauga.
Maracle spoke about several initiatives in the Faculty of Medicine including a summer mentorship program and a hallway diversity project – to make the public face of the faculty more diverse.
Maracle challenged audience members to read the Truth and Reconciliation Report of Canada and commit to addressing at least one action.
A U of T steering committee on the TRC released its own final report in January with 34 calls to action specifically addressing ways the university can work toward reconciliation. The university has responded with first steps including recruiting more Indigenous students and hiring more Indigenous faculty and staff, along with the appointment of a Director of Indigenous Initiatives. 
Hamilton-Diabo, co-chair of U of T's steering committee also called on the audience to read the U of T committee's report. He said in order to work toward reconciliation, people have to listen and be willing to learn – and take action.
"It's not about blame anymore. It's not about making people feel bad. It is to understand why many nations and many students do not easily trust a lot of institutions," said Hamilton-Diabo.
"This is a long road. This is not a short term."
Carnegie-Douglas said conference attendees overwhelmingly expressed interest in wanting to see the conference continue, and it will be something the ARCDO office will organize again. 
After a closing plenary discussion moderated by U of T's Rinaldo Walcott, participants had the opportunity to take part in a curated tour guided by The REDress Project artist, Jamie Black.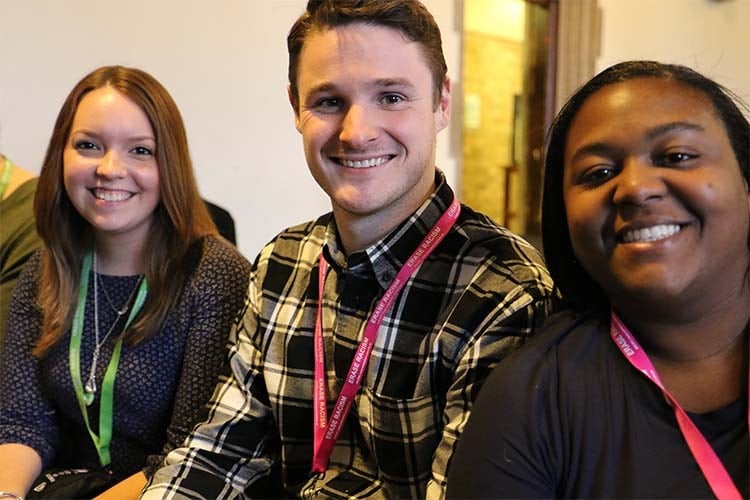 U of T Scarborough staff at the IDERD Conference, from left to right, Natasha Tobias, Jonathan Collaton and Nadia Rosemand (photo by Hannah James)
UTC