REDress art installation comes to U of T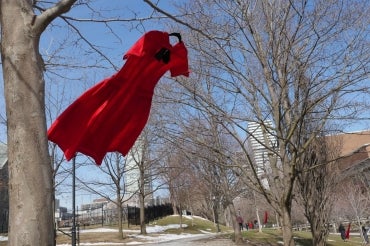 Bright red dresses blowing in the wind – symbolizing the 12,000 missing and murdered Indigenous women across the continent – will confront people walking through U of T's downtown Toronto campus over the next few days. 
Artist Jaime Black's powerful installation, which goes up Friday, is meant to trigger and provoke reflection and dialogue about the issue of violent crimes against Indigenous women. This is the first time that Black's REDress Project, which was first unveiled in Winnipeg in 2010, is seen in Toronto. It will be her largest installation to date.     
U of T's Women and Gender Studies Institute collected more than 100 crimson dresses for the exhibit. Black, a U of T alumna who is coming to the university as part of an artist residency, said she chose Philosopher's Walk as the main location for the installation, because of the creek that once ran below the walkway.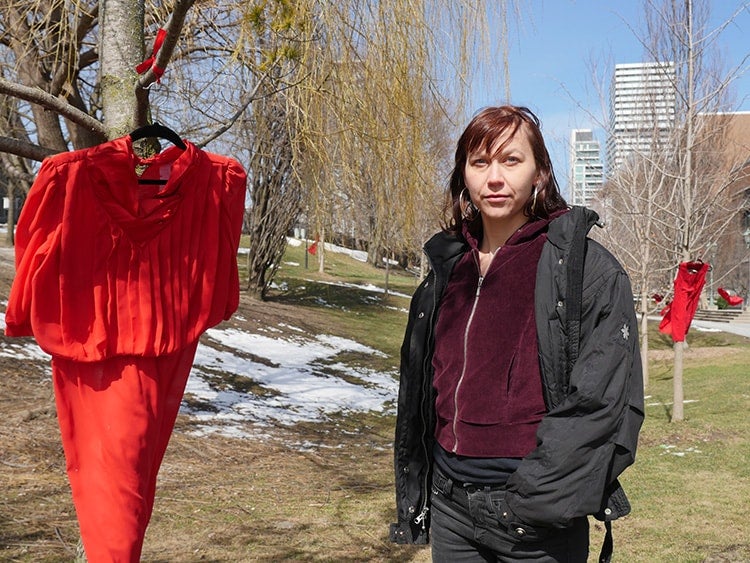 Artist Jaime Black along Philosopher's Walk today. The U of T alumna is here for the next few days for an artist residency (photo by Hannah James)
The creek, says Black, also used to be a gathering and fishing space for Indigenous people.
"The flow and reality of Indigenous culture is literally paved over. I think that's a metaphor," says Black. "I'm interested in activating that site by bringing back traces of that story."
Since 2010, Black has been collecting donated red dresses and installing them in public spaces as an "aesthetic response" to the issue of missing and murdered Indigenous women across Turtle Island.
She says the dresses are meant to evoke reflection on the 12,000 plus women that have gone missing or have been killed on Turtle Island, the Indigenous name for North America. In Canada alone, the RCMP has estimated that 1,200 Indigenous women are missing or murdered.
Melissa Nesrallah, a PhD candidate at the Women and Gender Studies Institute organized the Jaime Black Artist Residency with the institute's Karyn Recollet. The residency will include film screenings, lectures, performances, and it will culminate with a final performance at Philosopher's Walk on Wednesday.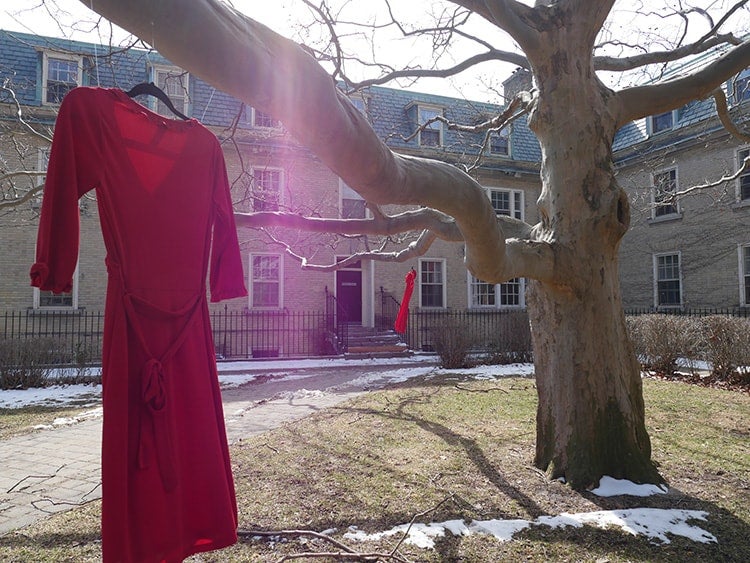 The red dresses also hang by Whitney Hall (photo by Hannah James)
Nesrallah came up with the idea of the residency last year when she was writing about Black's work for her master's thesis. She put out an open call for red dress donations, and received a great response.
The dresses have gone up in locations around U of T, including Hart House Circle, Philosopher's Walk and areas around Robarts Library.
In addition, Black will be exhibiting a 2016 mixed-media installation called "Conversations with the Land" at First Nations House.
The REDress project and Conversations with the Land are meant to speak to each other, says Nesrallah, although this will be the first time they have been exhibited together. The former is about creating awareness of the missing and murdered women but also to remind people that Indigenous women and girls are still here, are still living, working and healing on the land, she says.
Black, who attended Ontario Institute for Studies in Education, says she's excited to return to U of T for her residency and looks forward to the possibility of new collaborations with students and other artists. She'll be participating in the various lectures, discussions and workshops.
"My biggest excitement is about activating the work," says Black, who sees this as an opportunity to explore new solidarities within U of T's community.
Her residency also includes screenings and talks by Maika Harper, cast member from TV series Mohawk Girls, and filmmaker Lisa Jackson talking about her CBC documentary Highway of Tears.
Several significant Indigenous artists like Kent Monkman and Christi Belcourt have donated artwork for a silent auction benefitting Onaman Collective – an Indigenous land-based art initiative sharing traditional knowledge and language with youth.
UTC