Truth and reconciliation at U of T
President Meric Gertler: U of T embraces opportunity to work toward reconciliation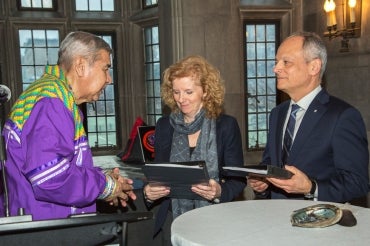 The University of Toronto's Truth and Reconciliation Steering Committee has released its final report, calling on the University to take action in six key areas. 
Entitled Wecheehetowin, which means "working together" in Cree, the report highlights that the work to be done at U of T will be a collective journey.
"Creating this report was a process focused on inclusivity and engagement," said Jonathan Hamilton-Diabo, coordinator of U of T's Council of Aboriginal Initiatives and co-chair of the committee. "There was a strong emphasis on incorporating a wide range of voices from both the University and broader community."
Five working groups informed and shaped the steering committee's final report and each group identified similar themes in its findings, Hamilton-Diabo said. 
The report includes 34 calls to action for U of T in the following areas:
Indigenous spaces
Indigenous faculty and staff
Indigenous curriculum
Indigenous research ethics and community relationships
Indigenous students and co-curricular education
Institutional leadership and implementation
The committee was established by University of Toronto President Meric Gertler and Vice-President and Provost Cheryl Regehr in early 2016 in response to the federal Truth and Reconciliation Commission's challenge to Canadians to engage in an ongoing process of reconciliation.
During a ceremony at Hart House Jan. 13, the final report was presented to the president and provost by Elder Andrew Wesley, one of two elders who advised the committee in its deliberations.  
"The University of Toronto acknowledges its responsibility in contributing to the plight of Indigenous peoples, and we embrace the opportunity to engage with Indigenous communities and, together, lead the process of reconciliation," said President Gertler, who noted that this work is particularly important as the University and the country mark the 150th anniversary of Canada's Confederation.
"On behalf of our entire community, I would like to express our most sincere appreciation to all members of the committee, its working groups, and contributors."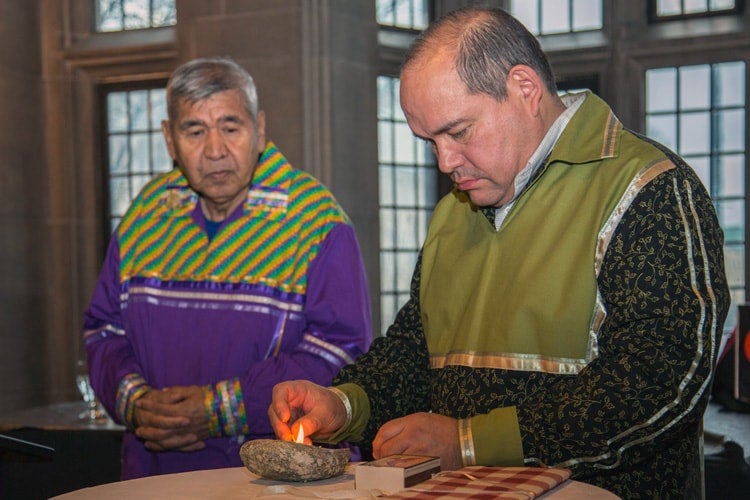 Elder Andrew Wesley (left) and steering committee member James Bird (right) lighting sage at the entrustment ceremony (photo by Johnny Guatto)
"I am deeply moved by the collective efforts of this Committee – and acknowledge our shared responsibility to address the historical and indeed present day injustices and exclusion that affect Indigenous peoples in Canada," said Regehr. "We have the opportunity and imperative to work collaboratively towards change."
"I was really encouraged and inspired by the reports of our working groups, and by the contributions of individuals and groups from across the University community," said Professor Stephen Toope. "They presented thoughtful analysis and potentially fruitful ideas."
The director of U of T's Munk School of Global Affairs, Toope also served as co-chair of the committee. 
"I hope that the final report will prompt serious, continuing reflection at the University on its relationships with Indigenous people and how U of T can contribute to both truth and reconciliation across the country."
Hamilton-Diabo, who is also director of Aboriginal student services at First Nations House, said that this will continue to be an evolving process.  
"Now we have the opportunity to engage a larger audience, expand available resources and focus on involving the Indigenous community in developing plans, as we grow the Indigenous presence on campus."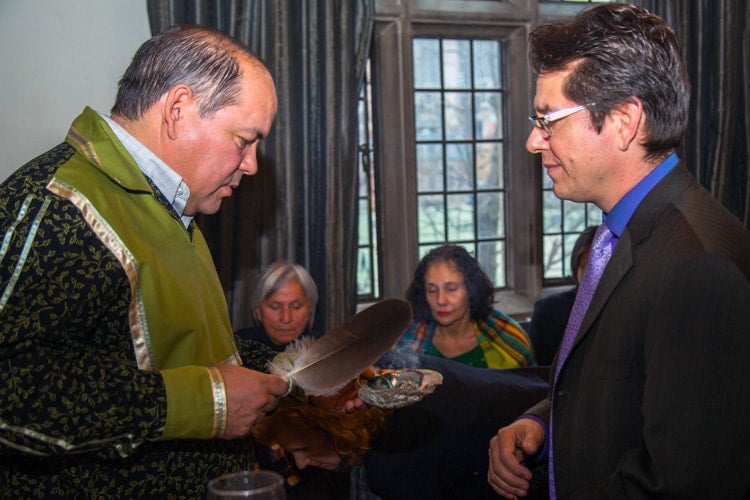 Steering committee member James Bird (left) and committee co-chair Jonathan Hamilton-Diabo (right) at the Hart House ceremony (photo by Johnny Guatto)
Keeping the momentum going is important, Hamilton-Diabo said. 
"Presenting the report is a key milestone and the next steps will inevitably take time.  While there is a lot of work to be done, there is also the opportunity for tremendous growth. And as we continue to move through this journey, there is a great sense of hope and a positive energy of what's to come."
Wesley said he hoped the report "will help our university community to understand the history of residential schools and how the TRC came about. I think this will open a dialogue, create more awareness and engage the aboriginal university community."
Members of the steering committee also include:
Lee Maracle, Indigenous Elder and traditional teacher 
Brian Gettler, assistant professor, department of historical studies, University of Toronto Mississauga
Bruce Kidd, vice-president and principal, University of Toronto Scarborough
Keren Rice, University Professor and chair of the department of linguistics, interim director of the Centre for Indigenous Initiatives, Faculty of Arts and Science
Dr. Lisa Richardson, assistant professor, department of general internal medicine, co-lead of Indigenous health education, Faculty of Medicine 
Eve Tuck, associate professor, department of social justice education, Ontario Institute for Studies in Education
Megan Bertasson, doctoral candidate, Ontario Institute for Studies in Education
James Bird, an undergraduate student who is an Aboriginal Studies major
Diane Hill, an undergraduate student at U of T Scarborough
Jackie Esquimaux-Hamlin, resource centre coordinator at U of T's First Nations House
John Monahan, warden of Hart House
Sandy Welsh, vice-provost students
Sioban Nelson, vice-provost academic programs and vice-provost, Faculty and Academic Life
UTC