In photos: Graduating students celebrate – in-person – at U of T's spring convocation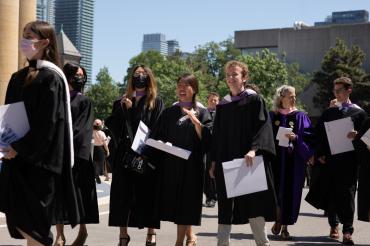 The University of Toronto campus was the site of smiles, selfies and cheers as graduating students celebrated convocation in person for the first time since 2019.
More than 15,500 graduates crossed the stage at Convocation Hall to receive their degrees, continuing a tradition that has gone on more than a century. And a new element was introduced to the ceremonies this year: an Eagle Feather Bearer who symbolizes U of T's commitment to reconciliation.
The 32 ceremonies, held throughout the month of June, even drew camera crews to campus – not to mention leading figures such as Toronto Raptors President Masai Ujiri, one of several honorary degree recipients. 
When U of T Scarborough students graduated on June 10, CBC was there to chronicle the moment. 
"Given the state of the pandemic and the guidance that we have from public health agencies, we believe this is a safe time to do it – and we know that our students really want to get back in person," U of T President Meric Gertler told the broadcaster earlier in the month.
Toronto Life magazine also interviewed graduates about how they felt walking across the stage at convocation. Meanwhile, U of T Mississauga's class valedictorian Aishwarya Nair, who came to U of T from India on a prestigious Lester B. Pearson Scholarship, spoke to CBC's Metro Morning about her path to graduation, as did a grad from U of T's Faculty of Applied Science & Engineering who fled the civil war in Syria. 
There was even a mariachi band, which U of T Vice-President and Provost Cheryl Regehr shared on her Instagram account. 
U of T photographers were also on hand at convocation to document graduates' much-anticipated return to campus as they marked the closing of one chapter and the beginning of another. Here are some of their favourite shots:
---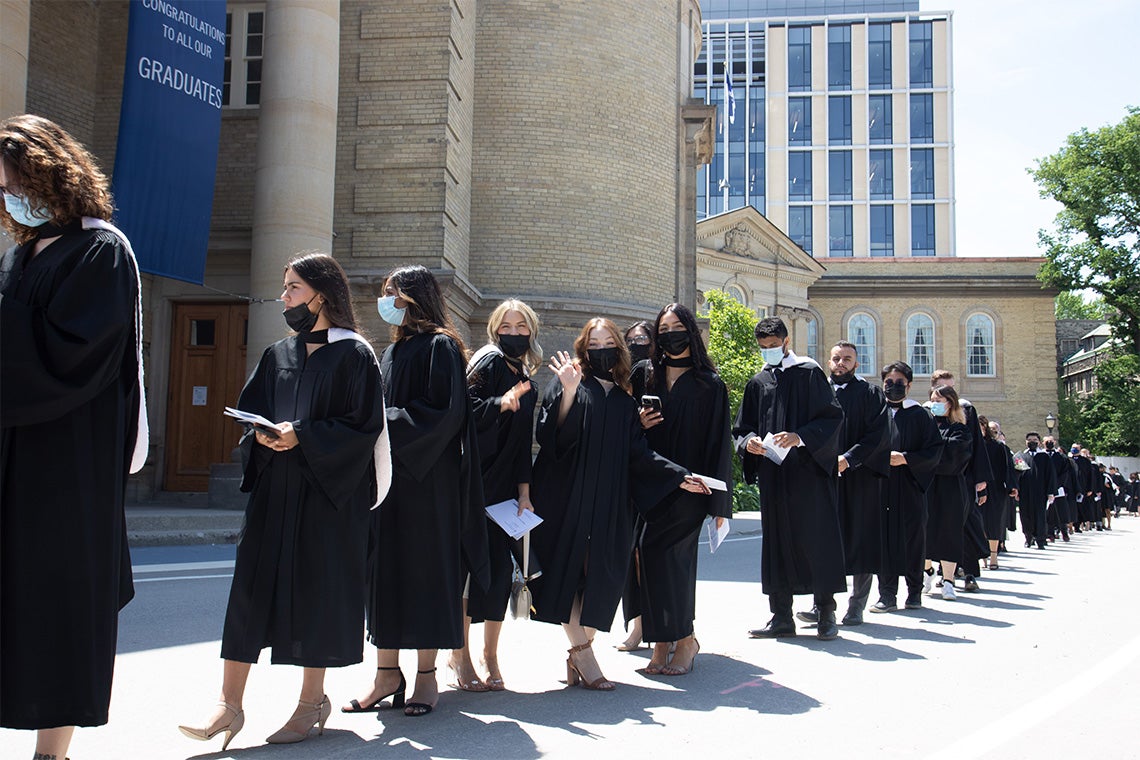 (Photo by David Lee)
After more than a year of remote learning, U of T students make their way into Convocation Hall for one of 32 in-person convocation ceremonies.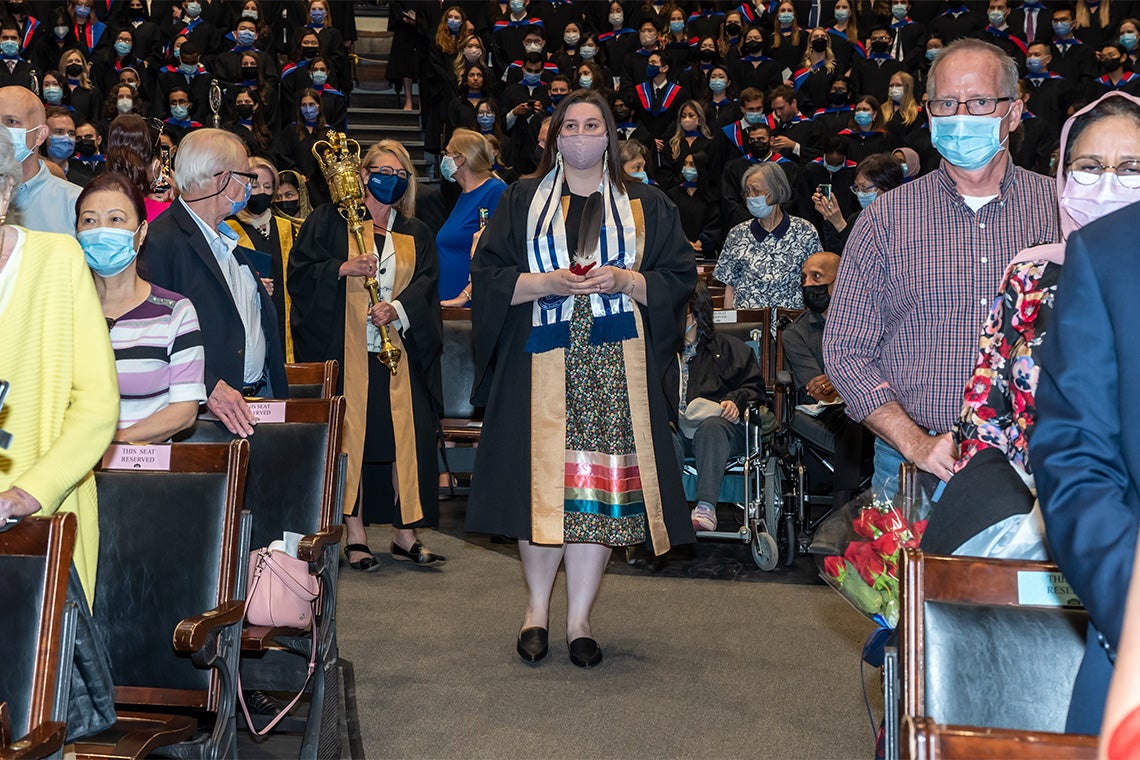 (Photo by Steve Frost)
U of T alumna Lindsey Fechtig, manager of the Office of Indigenous Health in the Temerty Faculty of Medicine and a member of Curve Lake First Nation near Peterborough, Ont., was the university's first-ever Eagle Feather Bearer.
"To be in this position of privilege and just having the faculty honour this, and the institution honour our ways of knowing and doing, and our culture – the significance of this is huge," she said.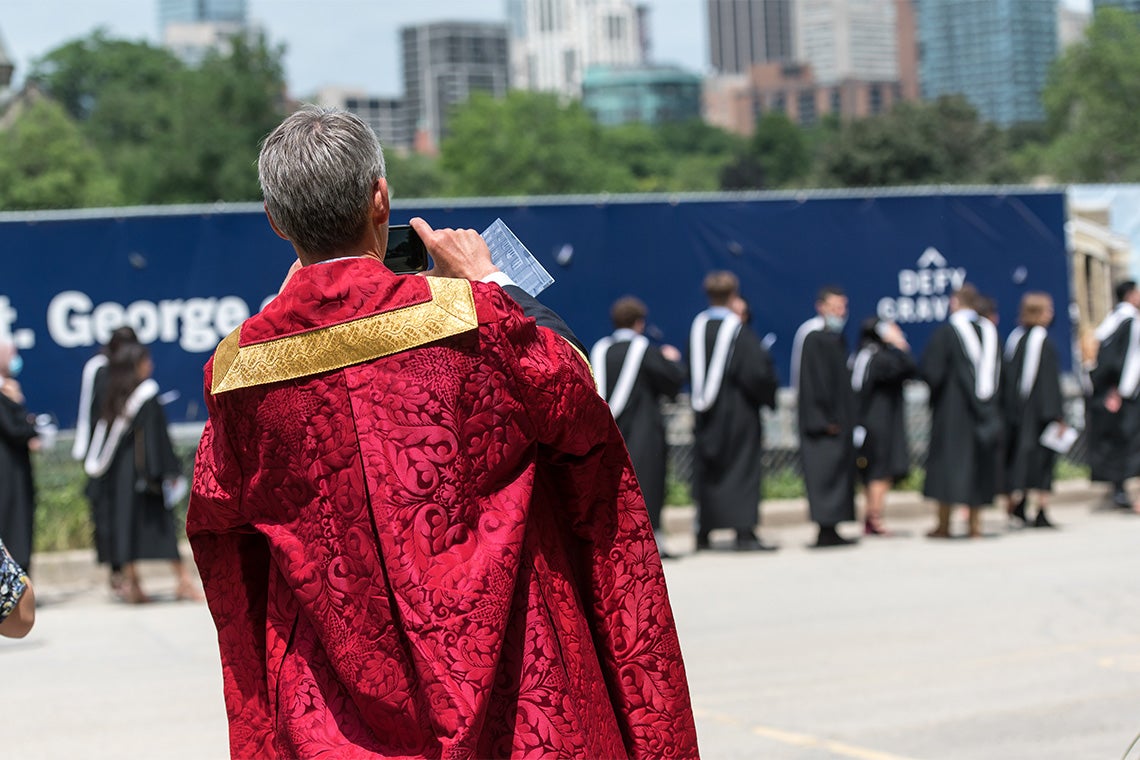 (Photo by Lisa Sakulensky)
William Robins, president of Victoria University in the University of Toronto and a professor of English and Medieval Studies, snaps a photo outside of Convocation Hall.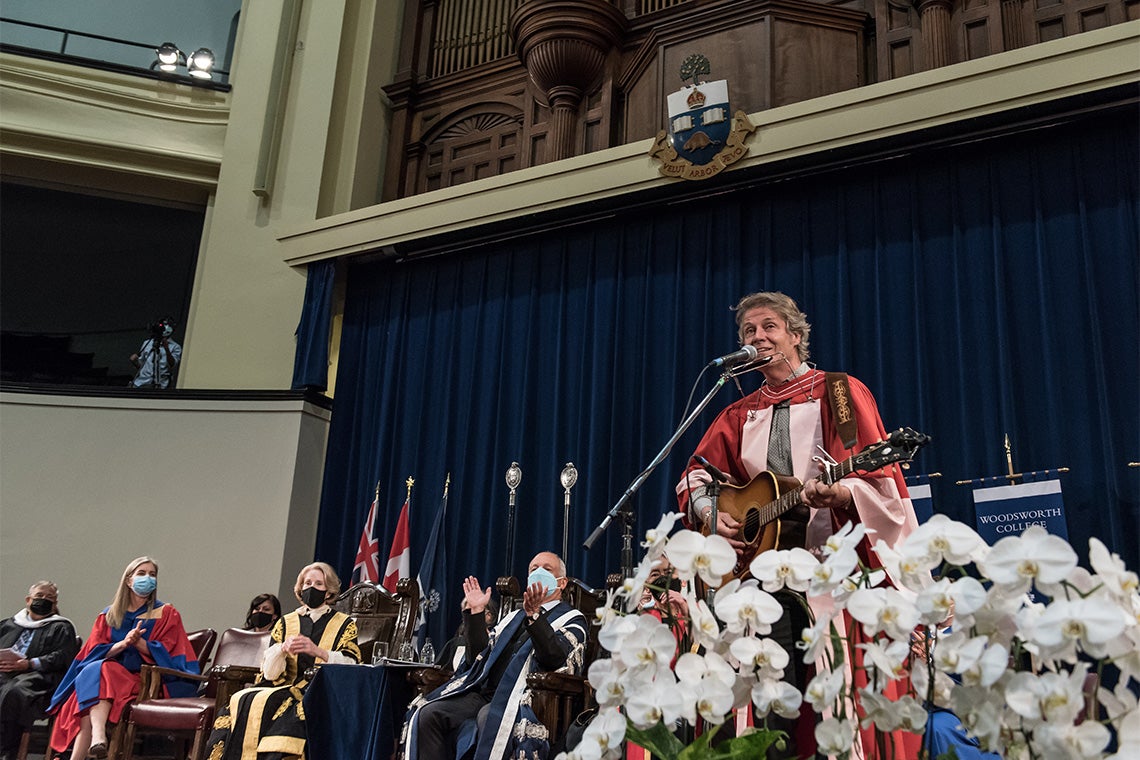 (Photo by Lisa Sakulensky)
Jim Cuddy, a founding member of Blue Rodeo and an acclaimed solo artist and philanthropist, regaled graduates with a performance of his song, "Good News." He was awarded a Doctor of Laws, honoris causa, for his charitable work and contributions to Canadian music.
(Photo by Lisa Sakulensky)
While graduates celebrated their achievements inside Convocation Hall, the ceremonies were also livestreamed online and can be re-watched on U of T's YouTube channel (which tens of thousands of people did).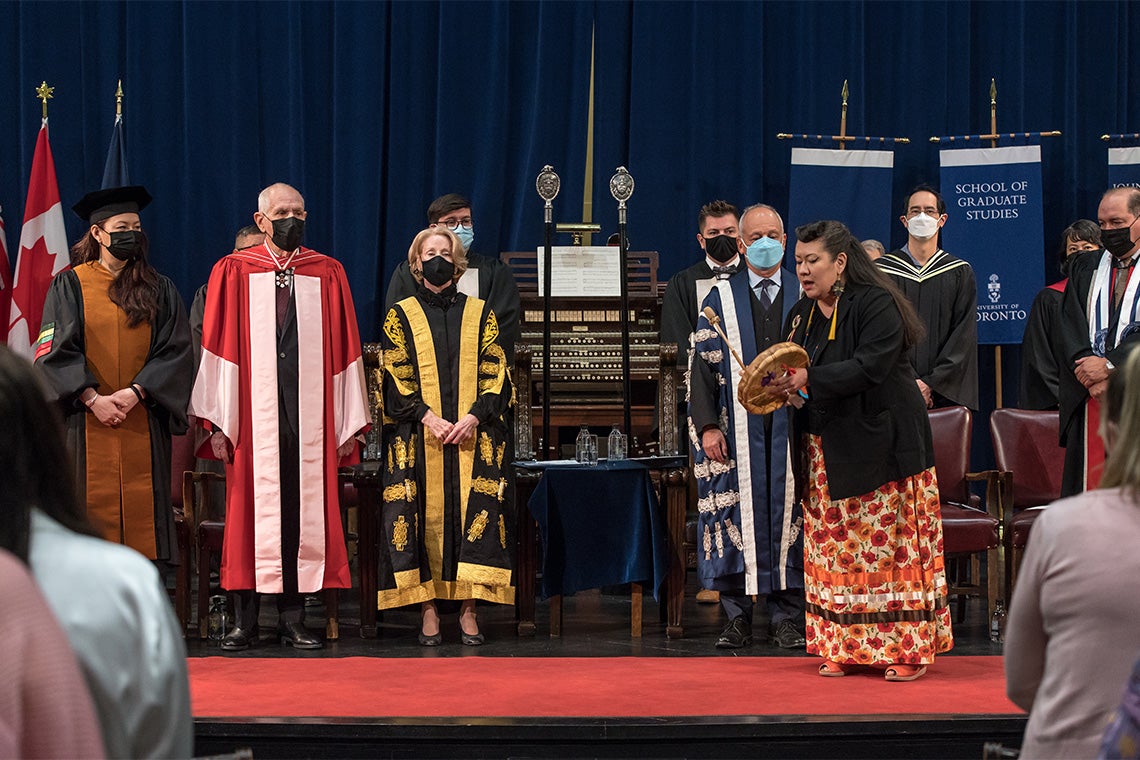 (Photo by Lisa Sakulensky)
Jenny Blackbird, a Nehiyaw and Finnish-Canadian artist and musician who is Indigenous Student Life co-ordinator at U of T, performed an honour song at the ceremony in which Métis and Blackfoot award-winning architect Douglas Cardinal received a Doctor of Laws, honoris causa.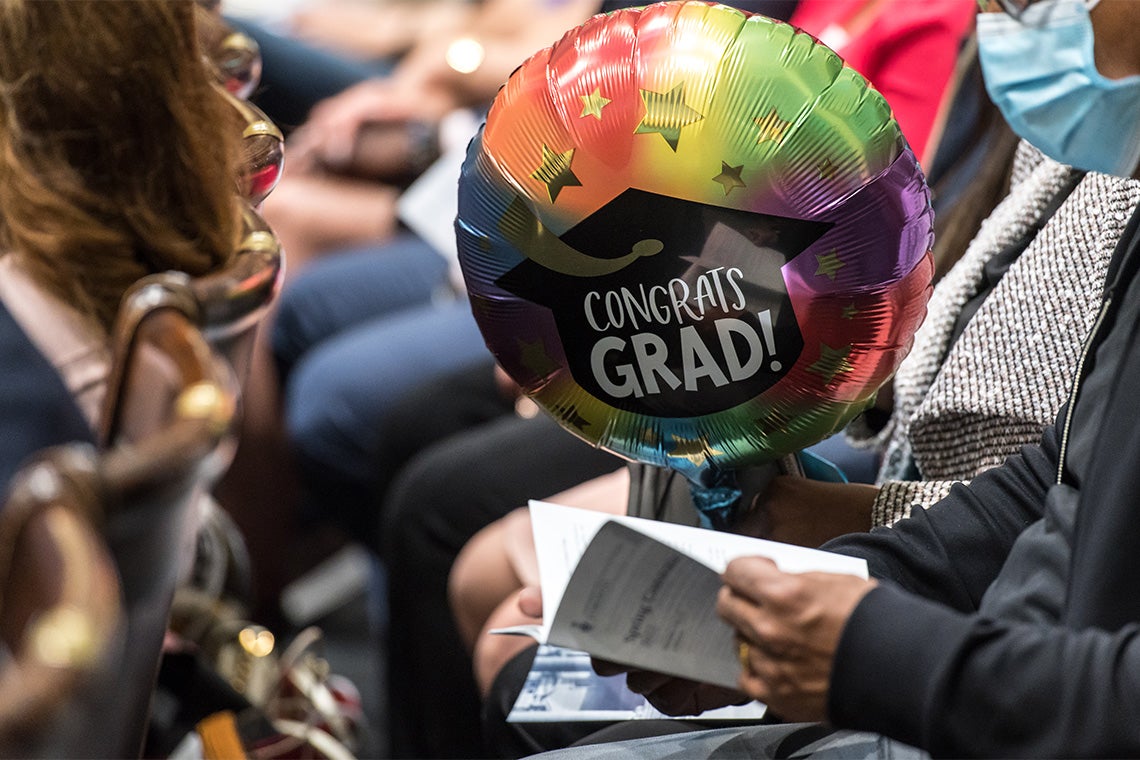 (Photo by Lisa Sakulensky)
A graduate's loved ones show their pride inside Convocation Hall. After the ceremony, students, their families and friends streamed onto Galbraith Road to celebrate and take pictures.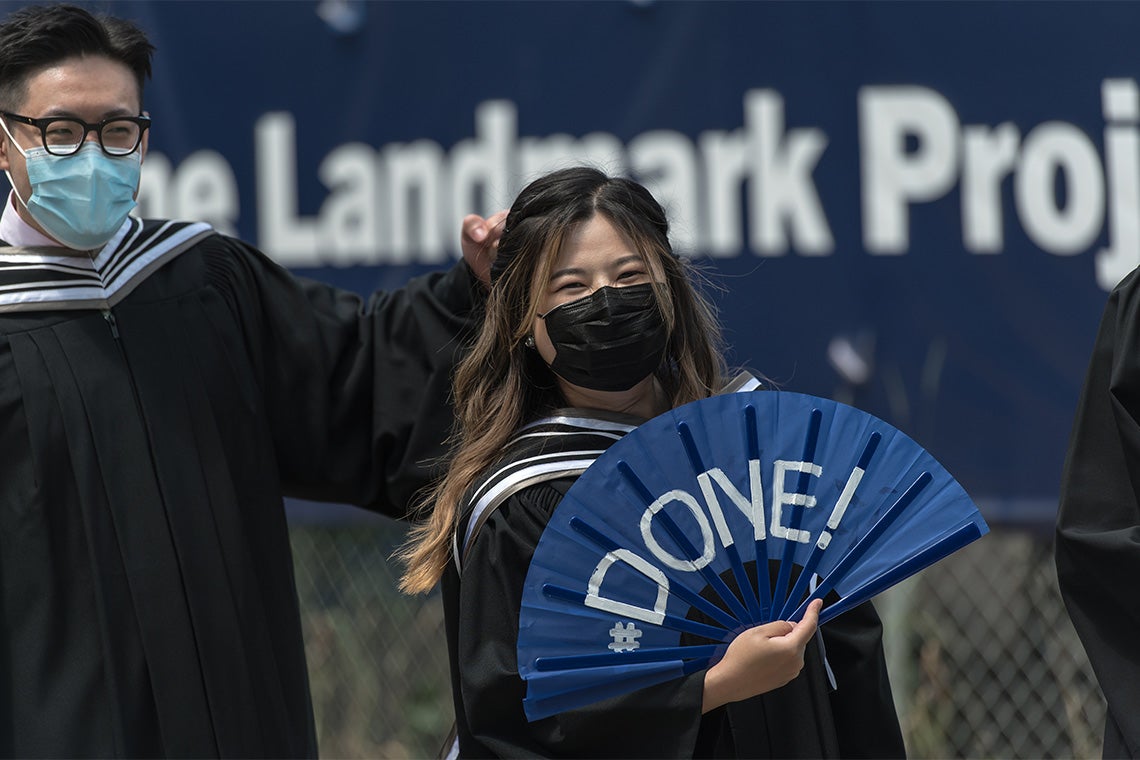 (Photo by Lisa Sakulensky)
A big fan of convocation, this U of T grad found an original way to cool off at the ceremony.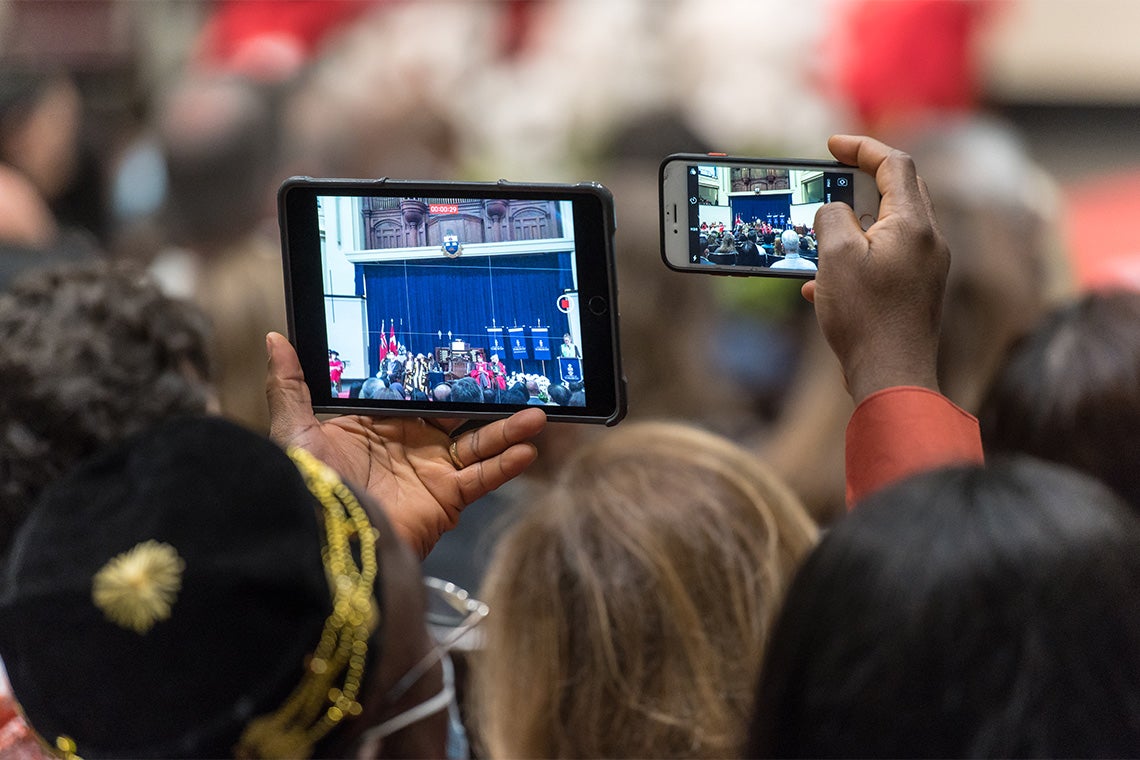 (Photo by Lisa Sakulensky)
Audience members captured photos and videos of graduates as they cross the stage in Convocation Hall.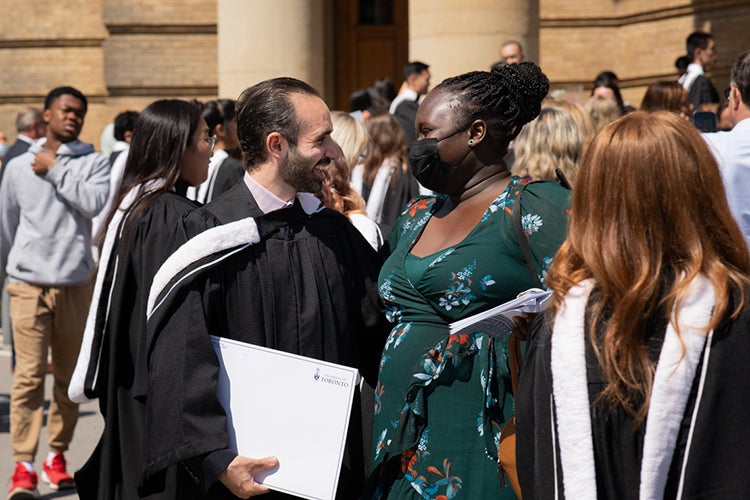 (Photo by Johnny Guatto)
With degrees in hand, graduates connect with friends and family following their ceremonies. 
UTC