Eagle Feather introduced to convocation ceremonies as a symbol of U of T's commitment to reconciliation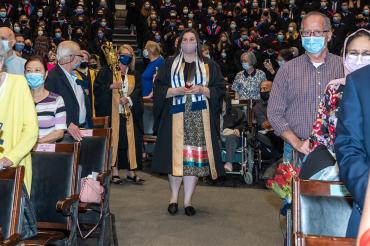 For the first time in the University of Toronto's 195-year history, the chancellor's procession at convocation was led by a symbol of the university's enduring partnership with Indigenous Peoples.
A member of U of T's Indigenous community – in this case, Lindsey Fechtig, a U of T alumna and manager of the Office of Indigenous Health in the Temerty Faculty of Medicine – served as Eagle Feather Bearer, a new ceremonial role that grew out of the recommendations of the university's Convocation Review.
"It's a tremendous honour," said Fechtig, a member of Curve Lake First Nation near Peterborough, Ont. "So, to be in this position of privilege and just having the faculty honour this, and the institution honour our ways of knowing and doing, and our culture – the significance of this is huge."
Eagle Feather Bearers are nominated by their faculty or division, and are members of both the U of T community and an Indigenous community.
In many Indigenous cultures – including the Huron-Wendat, Haudenosaunee and Mississaugas  – the Eagle Feather is sacred because it flies closest to the Creator. It symbolizes respect, honour, strength, courage and wisdom.
The Eagle Feather used at convocation was gifted to the Office of the President by Elders at the 2017 entrustment ceremony for the University of Toronto Truth and Reconciliation Steering Committee's Report, "Answering the Call: Wecheehetowin."
Shannon Simpson, U of T's director of Indigenous initiatives, said Elder Andrew Wesley was delighted the Eagle Feather would be part of convocation ceremonies.
"He told me, 'I didn't give that feather so it would just sit on a shelf. I gave it so it would do work here at U of T,'" said Simpson, a member of the Mississaugas of Alderville First Nation.
Simpson added that the addition of the Eagle Feather follows a number of initiatives to make convocation more inclusive for Indigenous students, including a land acknowledgment and approval of a protocol allowing graduands to wear traditional Indigenous regalia instead of an academic gown at convocation.
A description of the Eagle Feather's significance in many Indigenous cultures and its use in the convocation ceremony was included in the spring convocation program.
On stage at Convocation Hall, U of T President Meric Gertler described the feather as an "appropriate and meaningful" addition to the ceremony.
"I was deeply honoured to receive an Eagle Feather as a sign of the university's commitment towards reconciliation with Indigenous Peoples," he later told U of T News. "We take this commitment very seriously, and the addition of an Eagle Feather Bearer at the front of the Chancellor's procession expresses the University's profound respect for Indigenous communities and cultures."
The following photos capture the historic addition of the Eagle Feather and Eagle Feather Bearer to U of T's convocation ceremonies this year.
---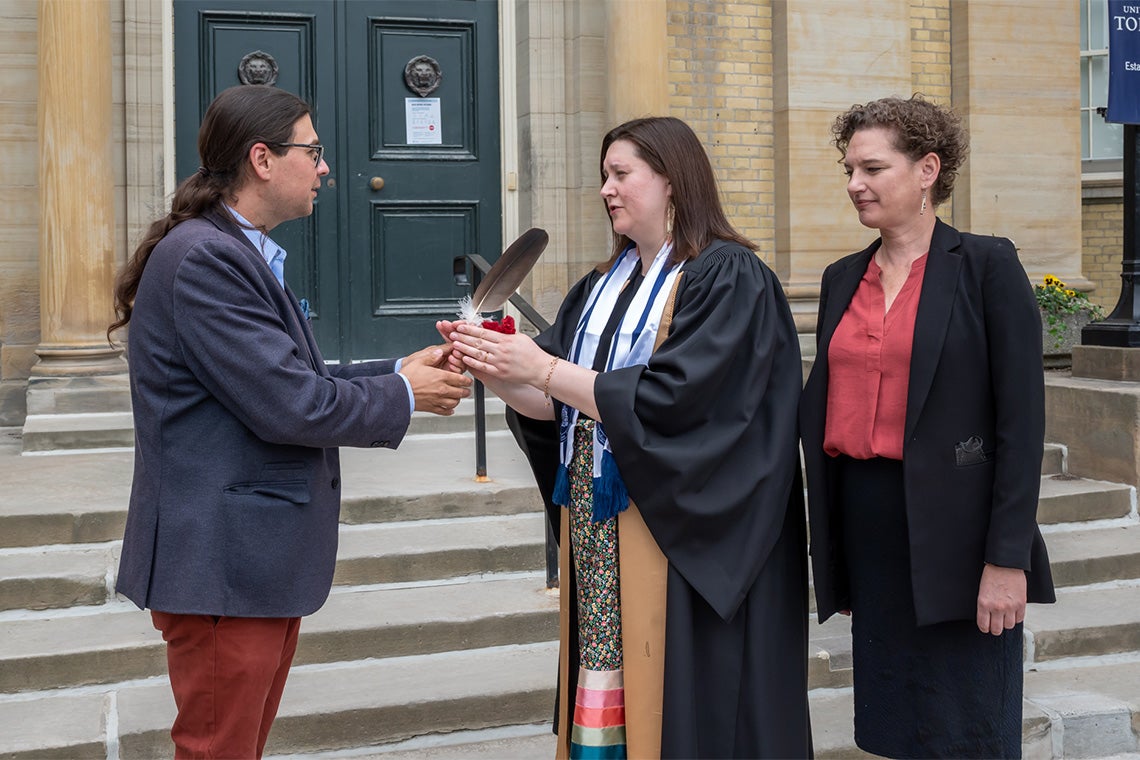 (Photo by Steve Frost)
Michael White, director of U of T's First Nations House and member of M'Chigeeng First Nation, takes part in a smudging ceremony with Fechtig – who wore a traditional ribbon skirt and a blue-and-white First Nations House stole – and Simpson before the procession.
"In terms of the Truth and Reconciliation Calls to Action, the integration of a smudging ceremony and the carrying of the feather is a strong signal for Indigenous graduates, alumni, faculty – anyone involved in convocation – that we are here," said White as he presented Fechtig with tobacco – nasema – to recognize the efforts and responsibilities that come with carrying the feather. "To me as an Indigenous person, working within the territories of the Mississaugas of the Credit and the Haudenosaunee, as an Anishinaabe person, [means] that we're being represented, that there's thought and consideration to us."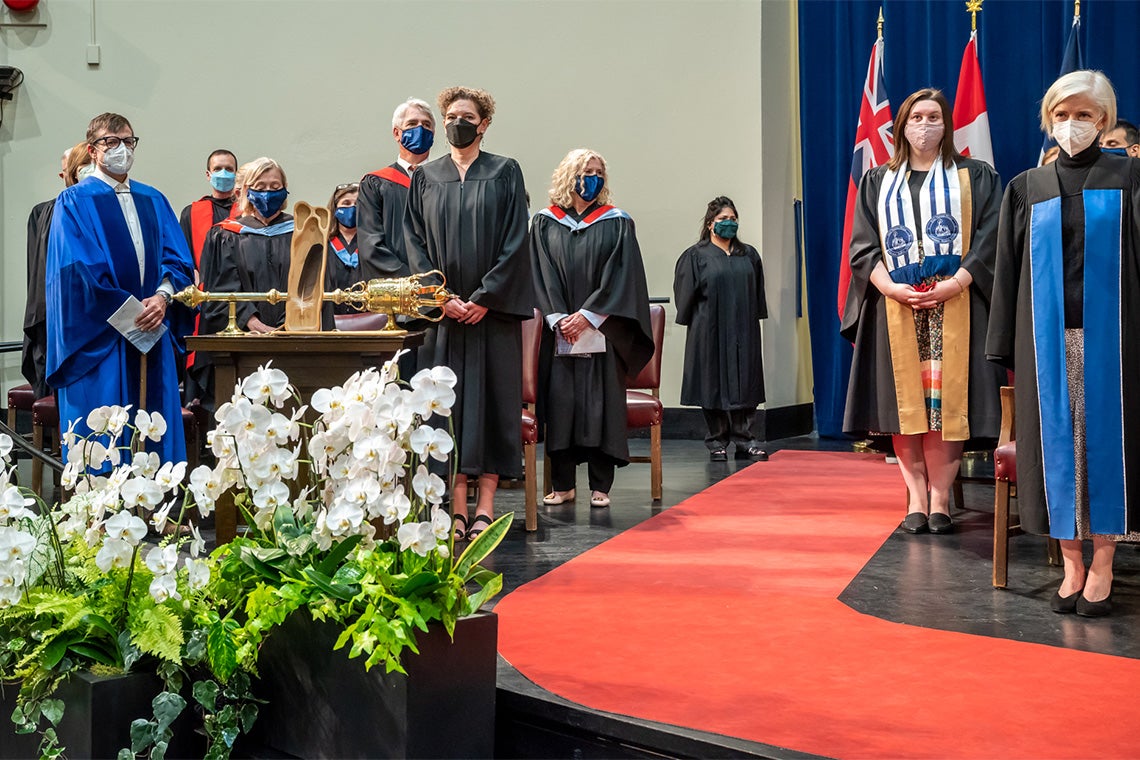 (Photo by Steve Frost)
Simpson, wearing a black gown and black mask, stands near the Eagle Feather and U of T's mace, a fixture of convocation ceremonies since it was presented to the university's Board of Governors (now Governing Council) by Lt.-Col. Eric Phillips in 1951. "I think the fact that [the Eagle Feather] led the procession was so important and so necessary," Simpson said. "It wouldn't have had the same impact if it was in the middle of the procession. This lets Indigenous students know they do matter and they are seen."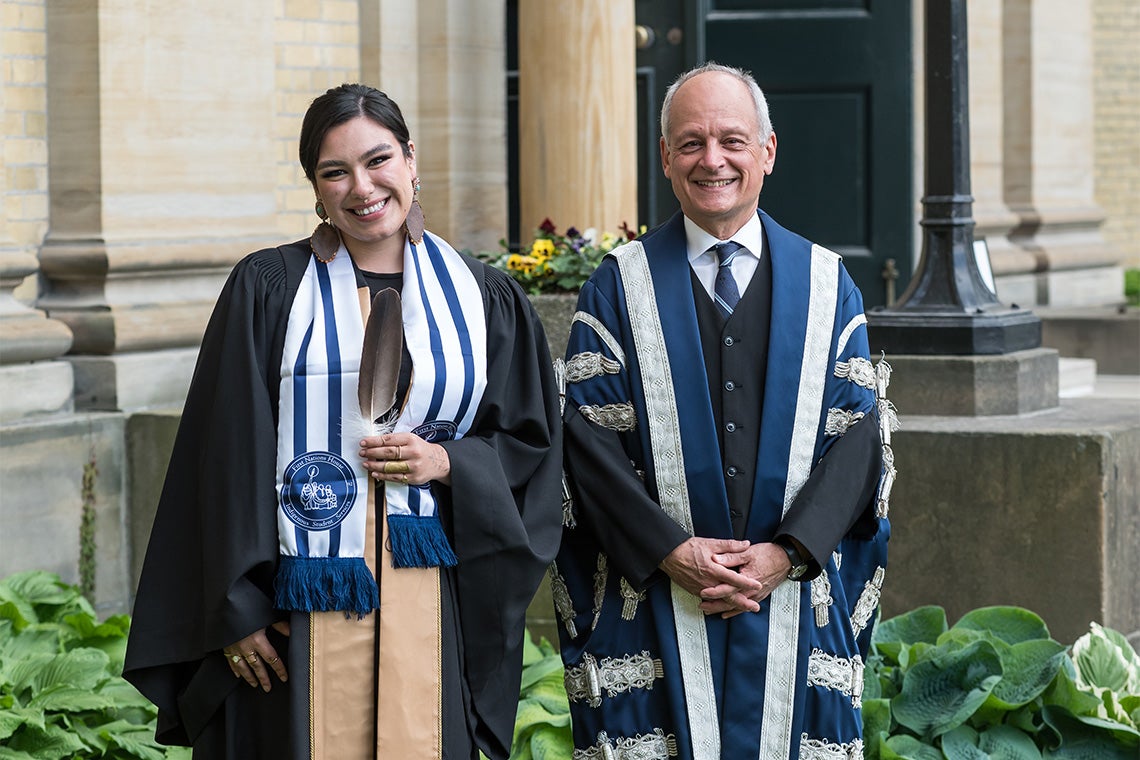 (Photo by Lisa Sakulensky)
The next day, Riley Yesno, a PhD student in the department of political science in the Faculty of Arts & Science, served as Eagle Feather Bearer in another convocation ceremony. She is pictured here standing outside Simcoe Hall with President Gertler. An Anishinaabe student from Eabametoong First Nation in northern Ontario, Yesno has written about Indigenous, environmental, youth and LGBTQ2S+ issues for media outlets ranging from Maclean's magazine to the Toronto Star, and delivered an impassioned speech in the House of Commons about missing and murdered Indigenous women.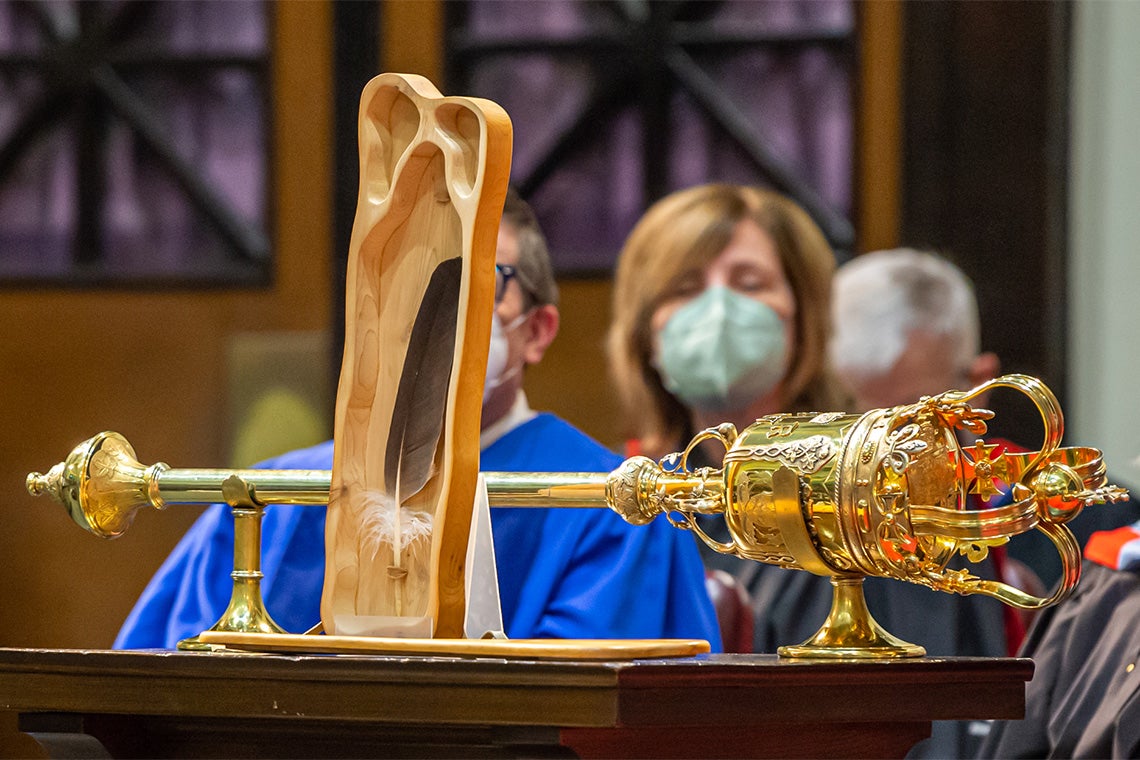 (Photo by Steve Frost)
The Eagle Feather is displayed in its case in front of U of T's mace. "It's a very strong step forward," said Fechtig about the inclusion of the Eagle Feather. "There's a lot of work to be done, but just having this significant acknowledgment, including this piece into a traditional procession and disrupting the norm, is a good way forward."
UTC