Douglas Cardinal, an award-winning architect known for his natural forms, receives honorary degree
Long before "sustainability" and "green design" became buzzwords, architect Douglas Cardinal was drawing inspiration from nature to create buildings that have become icons of contemporary Canadian architecture.
Known for his innovative curvilinear forms, Cardinal says his design philosophy centres on bringing people into balance with the natural environment.
Today, for his contributions to the field of architecture, Cardinal is being awarded a Doctor of Laws, honoris causa, from the University of Toronto.
Born in Calgary to parents of Métis and Blackfoot heritage, Cardinal grew up in Red Deer, the eldest of eight children. He went to a residential school and then enrolled in 1953 at the University of British Columbia. He credits his mother, who had given him an early education in the arts, with his decision to pursue architecture. "She wanted me to be an architect, and I always listened to my mother," he told an audience during a public lecture at McGill University in 2019.
His parents did not participate in Indigenous culture, but Cardinal remembers the difficulty of growing up in Alberta amid deep divisions between the province's Indigenous and European residents. "In many cases, if you're mixed you don't even belong in either society," he told the Toronto Star. "You're ridiculed and humiliated every day."
As an architecture student at UBC, he wanted to create buildings that were in tune with nature and reflected the organic rhythm of life. But his ideas didn't align with modernist thinking at the time. In his third year, he was told by the program director that he had the "wrong background" to be an architect and was asked to leave. He went back to Alberta and got a job as a draftsman at an architecture firm.
Cardinal wanted to continue his studies, though, and longed for a change of scenery. Before long, he headed to the southern U.S., settling in Texas and attending the University of Texas at Austin, where he got involved with student politics and the civil rights movement. He graduated in 1963.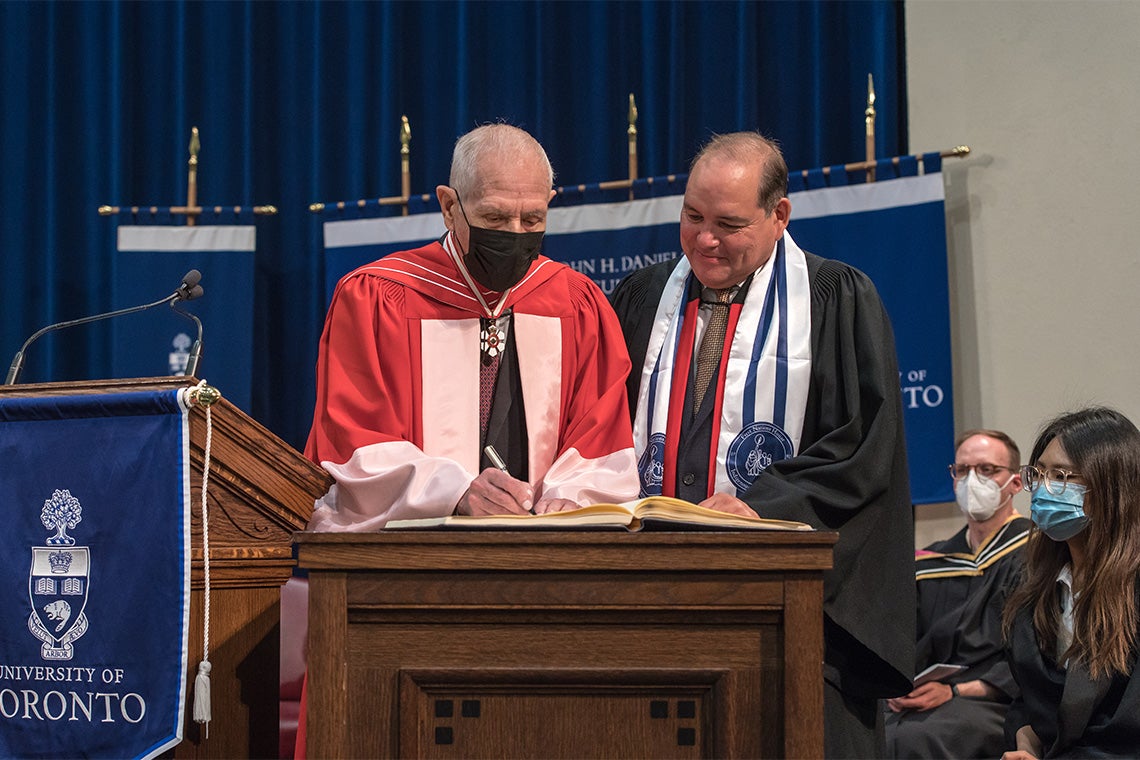 (photo by Lisa Sakulensky)
Cardinal returned to Alberta and launched his own practice. His first commission, in 1964, to design St. Mary's Church in Red Deer, helped define his career. Since its completion in 1968, the church has become a prominent (and award-winning) example of Canadian architecture, famous for its undulating brick walls, sloping roof and circular apertures that bathe the worship space in natural light.
In the mid-1980s, he used his by-now-familiar curvilinear design to create a new home for the Canadian Museum of History (formerly the Canadian Museum of Civilization), whose layered form snakes along the Ottawa River. Because of the complexity of his fluid building shapes, Cardinal was one of the first North American architects to use computers in the design process.
His work is sometimes referred to as "Indigenous architecture," but, as he told CBC Radio, that's not how he describes it. "I never thought of expressing myself as an Indigenous architect," he said. "I thought of expressing myself as an organic architect that emphasized the beauty and vitality and richness of nature."
He says he designs with people foremost in mind. "I want my buildings to nurture people and provide them care, and love and beauty," he said during the McGill lecture. "When you're designing a building, you should speak from your heart."
His use of natural forms has inspired countless other architects – not only in Canada but around the world. He continues to design residential, institutional and industrial buildings, and remains active in completing master plans for Indigenous communities. He is also an influential voice for the dignity of Indigenous Peoples.
Cardinal is the recipient of numerous awards, including the Governor General's Award for Visual and Media Arts, the Gold Medal of the Royal Architectural Institute of Canada and a National Aboriginal Achievement Award. He has been named "World Master of Contemporary Architecture" by the International Association of Architects, and an Officer of the Order of Canada.
UTC