Jim Cuddy, philanthropist and Canadian music legend, receives honorary degree
A founding member of the band Blue Rodeo and an acclaimed solo artist, Jim Cuddy has written songs that helped put Canadian popular music on the map. Over a career spanning four decades, his smooth pop vocals and heartfelt lyrics have become a touchstone for a generation of Canadians.
At the same time, he also devoted countless hours to community service, creating enduring programs to help those in need – or who show great potential.
Today, for his charitable work in support of a variety of causes and for his contributions to Canadian music, Cuddy is being awarded a Doctor of Laws, honoris causa, from the University of Toronto.
Born in Toronto, Cuddy attended high school at North Toronto Collegiate, where he met long-time collaborator, Greg Keelor. In the late 1970s, after graduating from university, they formed a band called the Hi-Fis and released a single that wasn't commercially successful. They moved to New York City and created a new band but weren't able to get a recording contract, so they returned to Toronto.
In 1984, Cuddy and Keelor co-founded Blue Rodeo, each writing songs and taking turns on lead vocals. Their first album, Outskirts (1987) was a huge success and produced the top-10 hit "Try." In the late 1980s and early 1990s, they were, along with The Tragically Hip, one of the most popular bands in Canada, selling hundreds of thousands of records.
Reflecting on those early days, Cuddy told Maclean's magazine in 2016 that Blue Rodeo entered the music scene at a time when Canadian audiences were craving local talent. "When people walked into the Horseshoe [Tavern in Toronto] and saw us, they thought: 'These guys aren't British. They're not American. They're Canadian, and there's something that feels right about that.'" The situation had changed from even a decade earlier, when, as Cuddy noted, "being big in Canada meant something that was second-class."
This new appreciation for homegrown bands had taken at least a generation to develop, he observes. "I was around for 1967, and that was a glorious celebration of our country, but we didn't know what to do with it then," he told the Maclean's writer. "We didn't turn it into art. It germinated for about 20 years."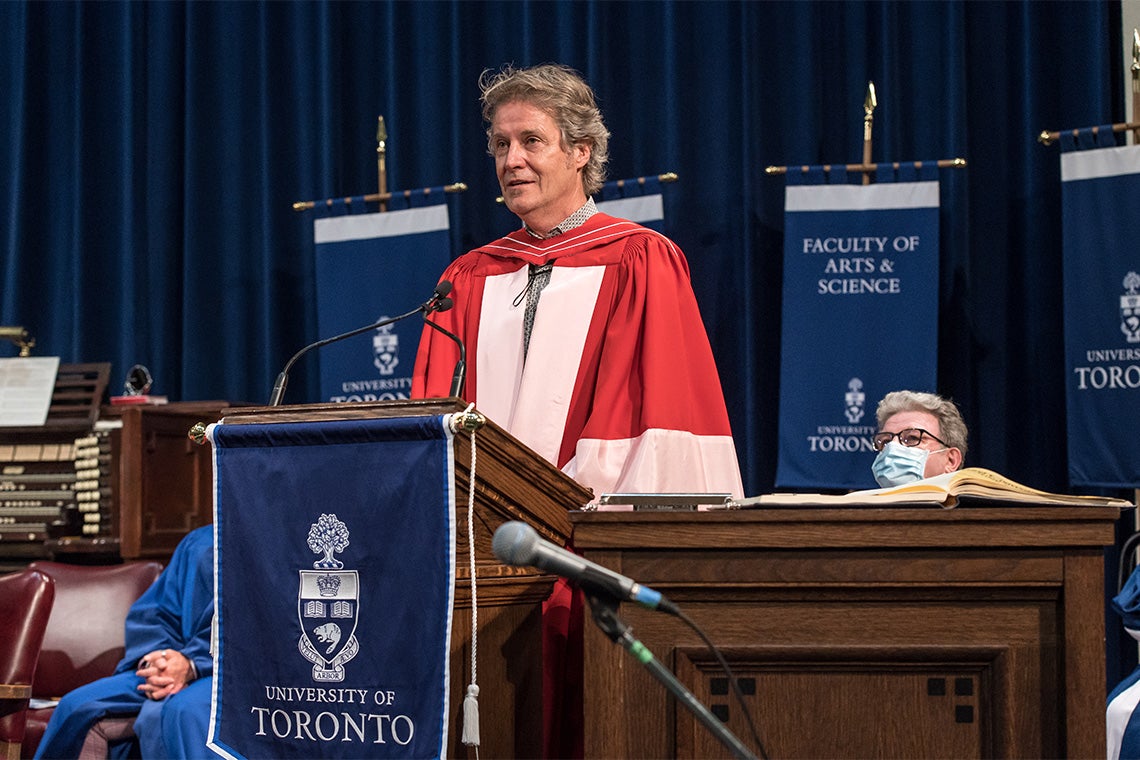 (photo by Lisa Sakulensky)
Blue Rodeo's trademark blend of country, pop and rock got it airplay on a variety of radio stations. Like most bands, though, it built a following on the road, playing in the big cities and myriad smaller communities across Canada. "We really have played everywhere," Cuddy said in a Maclean's profile of the band in 2002, "and ultimately I think that has a very positive effect on people … They sort of feel comfortable because there's not much of a moat between them and us."
Cuddy has used his platform as a musician to help raise money for numerous causes.
In 2004, he founded the Juno Cup, an annual ice hockey game that pits Canadian musicians against former NHL players. The successful event has raised $850,000 for MusiCounts, an organization that provides grants to schools and communities to put musical instruments in the hands of children who otherwise could not afford them.
Cuddy has also participated in Canada's Great Kitchen Party, which organizes fundraising dinners and auctions to support Canada's Olympic athletes. He has donated his talent at 60 of these dinners, helping to raise millions of dollars for Team Canada. During the pandemic, Cuddy organized online events to raise funds for musicians and mental health initiatives, and released a single, "Good News," inspired by Black Lives Matter.
Over the years, he has also supported hospitals and palliative care centres, victims of natural disasters, First Nations and environmental causes.
Blue Rodeo has produced 15 studio albums and received 10 Juno Awards, including five for group of the year. The group has a star on Canada's Walk of Fame and belongs to the Canadian Music Hall of Fame. Cuddy has also received two Juno Awards for his solo work and was named an Officer of the Order of Canada in 2013.
UTC