10 things you need to know about the fall semester at U of T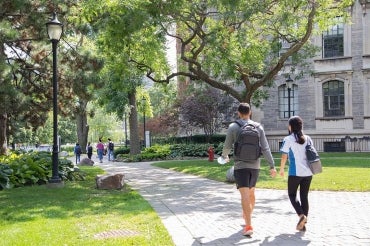 As students, faculty, staff and librarians return to the University of Toronto for the fall semester, they'll discover much that is new – about their physical environment, learning experience and the way they engage with campus services and activities.
In response to the ongoing pandemic, U of T has implemented an array of new measures, protocols and procedures that aim to deliver a vibrant, world-class educational experience while keeping students, staff, faculty and librarians safe and healthy.
From how to grab a bite to eat to when to wear a face mask, here are 10 things you need to know about the fall semester at U of T:
---
Remote learning and working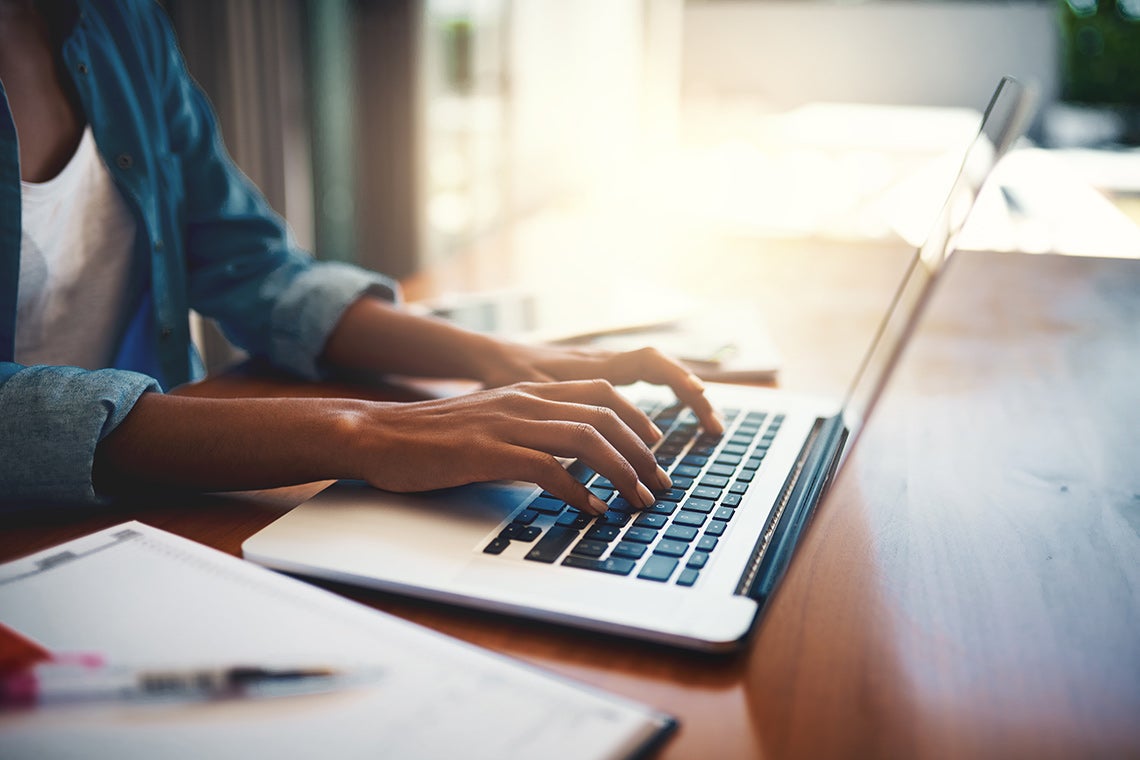 (photo by PeopleImages via Getty Images)
U of T is offering a mix of remote and in-person classes this fall in an effort to provide an enriching learning experience while protecting the health and safety of students, staff, faculty and librarians.
More than 90 per cent of undergraduate courses now offer a remote option. The shift was planned meticulously over the summer months, with more than 100 educational technologists working closely with faculty and staff to ensure that thousands of fall courses offer a high-quality virtual experience.
At the same time, activities that require an on-campus presence – including research, lab work, group projects and certain seminars and lectures – will be carried out in-person in physically distanced environments. The blended approach recognizes that some instruction is best delivered in person and that some students may be better equipped to participate in remote learning than others because of access to technology or living arrangements. The university has also prioritized the re-opening of libraries on all three campuses to ensure that students have access to computers, internet and related services such as printing and scanning.
University staff, too, will continue to work remotely wherever possible to help promote physical distancing and contribute to U of T's wider effort to curb the spread of COVID-19.
Mask policy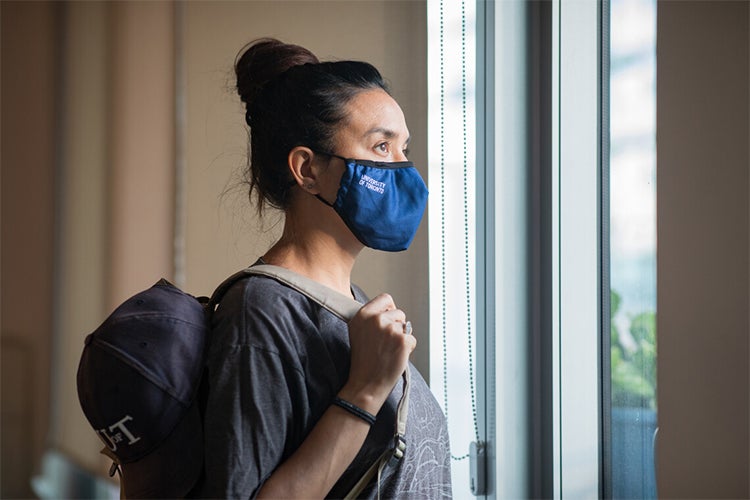 \
(photo by Johnny Guatto)
Students, faculty, staff, librarians and visitors to all three U of T campuses are asked to wear a non-medical face mask – or other face covering such as a scarf, bandana or balaclava – in all indoor common-use spaces. The university's mask policy takes its cue from similar rules implemented by the City of Toronto and City of Mississauga.
To help support community members, U of T is distributing two masks each to all students, staff, faculty and librarians. Details on where to pick up your mask can be found at U of T's UTogether site. Signage reminding members of the university community to wear masks will be found on locations across the three campuses.
Physical distancing in classrooms and buildings
(photo by Nick Iwanyshyn)
From lobbies, elevators and stairwells to classrooms, labs and lounge areas, U of T's indoor spaces have been carefully mapped and equipped with aids to promote adequate physical distancing of at least two metres – in keeping with public health guidelines.
While many courses will be delivered virtually, some will continue to be delivered in-person and the classrooms in question have had seats removed or blocked off to ensure physical distancing among students and between students and their lecturers, professors and teaching assistants.
Lobbies and stairwells have also been marked with signage to direct foot traffic, while elevators and common areas are subject to capacity limits.
Kiosks and offices where various university services are offered will be fitted with shields to ensure distancing between staff and their clients, while gym equipment at the Athletic Centre will be spaced a generous four metres apart for added safety in that environment.
Online COVID-19 self-assessment
Beginning Sept. 8, students, staff, faculty and librarians can utilize an online self-assessment tool to help them make informed decisions about going to campus during the pandemic.
The UCheck tool guides users through a series of questions, including whether you are experiencing COVID-19 symptoms, have travelled abroad or have been in close contact with someone who has tested positive for COVID-19. The tool can be accessed by using a UTORid and takes only a few minutes to complete.
Upon completing the self-assessment, users either receive a green notification indicating that they are OK to visit campus, or a red notification signaling that they should not go to campus as well as information about who they should contact and links to further information.
Members of the U of T community are strongly encouraged to complete a self-assessment on a regular basis – for most students, staff, faculty and librarians, that means every time you visit campus. Students living in residence and others who regularly spend time on campus should complete the assessment daily. It's recommended that you check your status every five days, even if you are not visiting campus.
A focus on cleaning and hygiene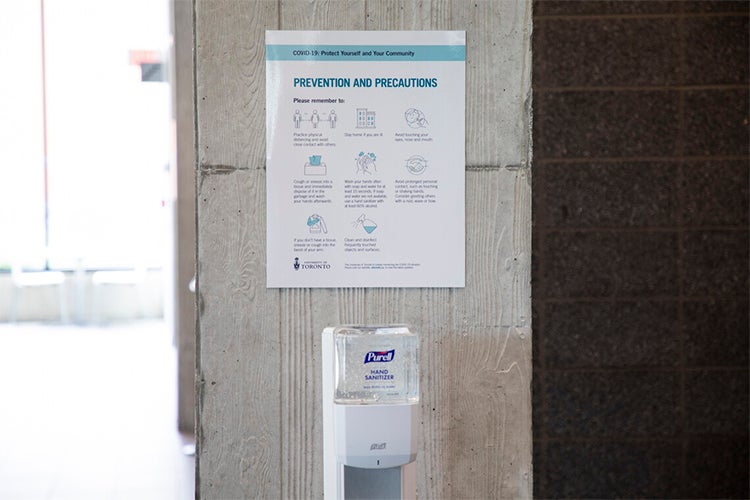 (photo by Nick Iwanyshyn)
Classrooms and libraries will be cleaned at least five times a week, while high-touch surfaces such as doorknobs and elevator buttons will be disinfected twice a day. Staff are using a special, chlorine-based cleaning solution approved for use against SARS-CoV-2, the virus that causes COVID-19.
Hand hygiene is a crucial part of the fight against COVID-19, which is why the university installed thousands of touchless hand sanitizer and sanitizing wipe dispensers across the three campuses and added paper towel dispensers in washrooms.
Staff have also inspected ventilation equipment in all buildings and have made upgrades where possible to mitigate the spread of the virus in indoor spaces.
Time for takeout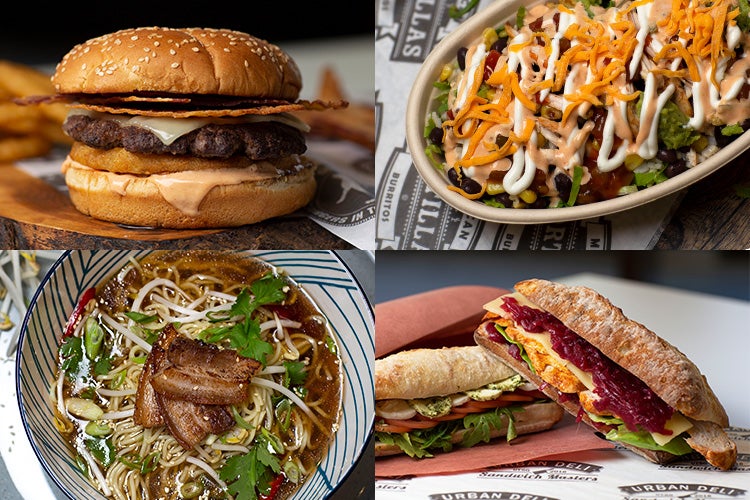 (photos by Jackie Shapiro/Ancillary Services U of T)
Menus at dining locations across U of T have been redesigned to make them as takeout-friendly as possible, with food services staff working to expand the range of fresh, packaged and quick-service options.
Students on the St. George and U of T Scarborough campuses can now use a mobile app to order their food so that they don't have wait in line. Students can order both a la carte and customized dishes using the app.
At U of T Mississauga, cutlery will be wrapped for protection, condiment stations will offer single-use condiment packets, while milk and milk alternatives will be handled only by staff behind the counter. U of T Mississauga is also introducing a new service called Sally, which lets you create fresh, customized salads through a vending machine.
Vending machines across campus have also been restocked to offer hot and cold snacks and drinks.
Large seating areas at cafeterias and restaurants around campus will be reconfigured to encourage physical distancing, while outdoor seating areas could be set up, weather-permitting.
Libraries and bookstores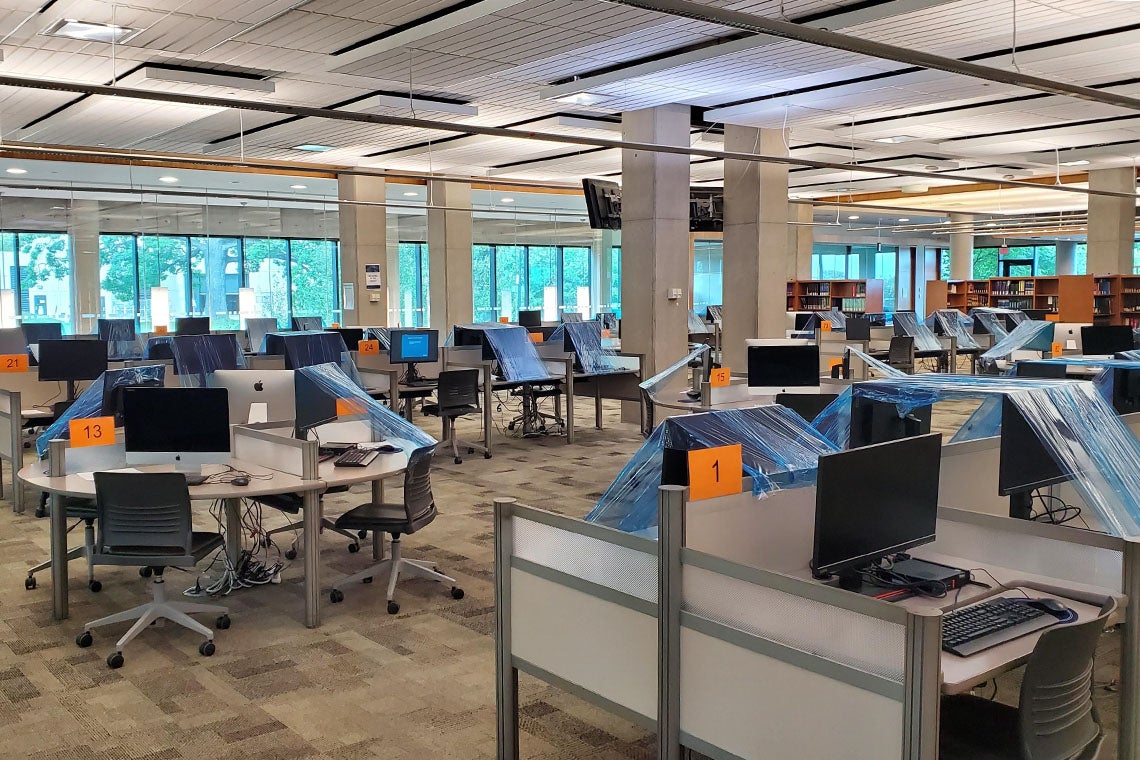 (photo by Mai Lu)
The Robarts and Gerstein libraries on the St. George campus will reopen their doors, with floors one to five on Robarts and the main floor on Gerstein available to students looking for a quiet place to study. Furniture in study areas will be spaced or blocked off to facilitate physical distancing.
The main floor at the U of T Mississauga library will reopen and the third floor may be reopened for study purposes depending on need. Two floors of the U of T Scarborough library will also reopen to offer study areas for the fall semester.
Students will have access to all electronic resources available through the library's catalogue, including e-books, online journal article databases, primary source databases and streaming videos. Access is also provided to 2.5 million books and other references through the online repository, HathiTrust.
Even library books will not be exempt from quarantine requirements, with libraries at all three U of T campuses set to quarantine all books that are physically borrowed for at least three days after they are returned.
As for bookstores, the St. George and Scarborough locations remain open with new safety and physical distancing protocols, while the Mississauga bookstore reopened on Sept. 1.
All customers will be asked if they have COVID-19 symptoms and must practise physical distancing and follow the one-way direction signs through the store. The number of customers in the store at any given time will be limited and all staff and customers will be required to wear masks. Plexiglass protective shields will create physical separation between customers and staff at payment stations.
Cash payments will not be accepted. Check the bookstore website for updates.
Residences and quarantine accommodations
(photo by Nick Iwanyshyn)
Living in residence is a special and memorable part of the university experience, which is why U of T residence staff have worked hard to ensure that residence life remains vibrant, enjoyable and safe amid the new health and safety measures necessitated by the pandemic.
Physical distancing and occupancy limits will be observed throughout the fall, with no more than one student assigned to a room. Exceptions may only be made for siblings or students with specific medical concerns that require accommodation.  
As is the case elsewhere on campus, residence buildings will see more frequent cleaning and disinfecting, added hand sanitizer stations and Plexiglas shields at kiosks and counters where student services are provided. Move-in days are being staggered over multiple days to reduce crowding.
The university will also provide access to quarantine spaces for students who won't be living in residence but need a place to quarantine as per government regulations. International students are asked to contact their registrars to obtain a letter of support and ensure they have confirmation of their enrolment before finalizing travel plans.
Athletics
Gyms and sports facilities at all three campuses will reopen in September with new health and safety measures, which include users having to book a time slot for their workout – a policy that helps control the number of people in the gym at any given time – and wear masks in the building, except during physical activity.
Students looking to lift weights at the Athletic Centre on the St. George campus will notice that equipment is spaced four metres apart, with weights and machines moved to the spacious field house. The Olympic-sized swimming pool will reopen with reduced occupancy.
At U of T Mississauga, students can sign up for one-on-one consultations with a trainer over Zoom as well as a six-week running program called RunUTM. Outdoor sports fields and courts are scheduled to reopen for use in September with new health and safety protocols.
Students at U of T Scarborough can access exercise facilities at the Pan Am Sports Centre. As is the case at other U of T gyms, students must book an appointment and wear a mask while in the building.
All Varsity and tri-campus competitions are suspended for the semester, but an array of mainly outdoor intramural sports are available to students. An e-sports league, which proved a huge hit with students over the summer, will return in the fall, with students able to showcase their e-sports skills in games including NBA 2K20, FIFA 20, NHL 20 and Madden NFL 20.
TCards
Students, faculty, staff and librarians on the St. George campus who require new or replacement TCards to access buildings, labs, meal plans and other services can book an appointment via CLNx to obtain their TCard.
New students are asked to submit a photo via MyPhoto. Once a photo is approved, students can set up a remote or in-person appointment via CLNx. Students who live in residence will be provided with their TCards in residence after they have had their photo approved via MyPhoto.
The U of T Scarborough TCard office will issue TCards if they are required for use in the fall semester. Students, faculty and staff can request this service by emailing tacrdoffice@utsc.utoronto.ca Student Housing and Residence Life will arrange distribution of TCards to students who live in residence.
The U of T Mississauga TCard Office will issue or replace TCards on an as-needed basis for building access, meal plans and other essential services. Anyone requiring a new or replacement TCard is asked to open a ticket at the I&ITS Service Portal (log in with UTORid).
UTC