U of T has inspected and, where necessary, improved ventilation equipment in all of its academic and administrative buildings to protect the safety of occupants (photo by Randy Landicho)
All University of Toronto buildings with classrooms and offices will meet or exceed industry and public health standards for combatting COVID-19 as community members continue their gradual return to the university's three campuses this fall.
"Health and safety is something we take very seriously for our broader community," says Ron Saporta, chief operating officer, property services and sustainability.
Saporta said the university has inspected and, where necessary, improved ventilation equipment in all of its academic and administrative buildings to protect the safety of occupants.
 "Staff have been working over the summer to make sure they are all operating at or above industry standards," he says.
Scientists have found that the coronavirus spreads most easily from person to person through close contact in an enclosed space –via respiratory droplets generated by an infected person when they cough or sneeze.
While research has indicated the virus can also travel within small airborne particles called aerosols, so far there is no compelling evidence to support the idea that aerosols have played a widespread role in transmission of COVID-19, according to Susy Hota, an associate professor of infectious diseases at the Faculty of Medicine. 
According to a report by the European Centre for Disease and Control, a well-maintained ventilation system with the appropriate filters will remove respiratory droplets containing the virus. It also notes there is little chance of infectious aerosols transmitting COVID-19 through a building's ventilation system. "The risk is rated very low," the document states.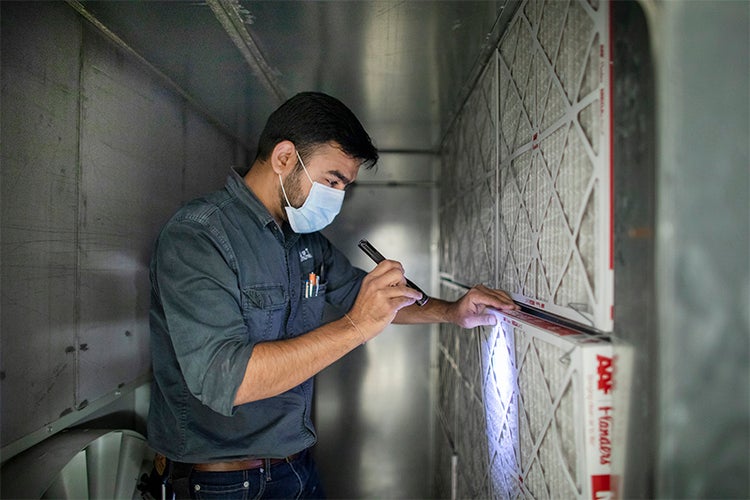 Building Engineer Tirthesh Daxini maintains the HVAC system in the Myhal Centre for Engineering Innovation & Entrepreneurship (photo by Nick Iwanyshyn)
The report, released in late June, recommends keeping ventilation systems in good operation – and running for an extended period before and after building occupancy. Doing so helps decrease the transmission risk of COVID-19 in indoor spaces in three ways: by "increasing the rate of air change, decreasing recirculation of air and increasing the use of outdoor air."
"Given all the research and guidance from both public health agencies and ventilation experts like ASHRAE [American Society of Heating, Refrigerating and Air-Conditioning Engineers], the important thing is to ensure our systems are operating effectively and we have proper ventilation going to all occupied spaces," says Saporta.
"As part of this, we have taken a good look at our filtration systems and have upgraded them with higher rated filters"
The upgraded filters, which meet or exceed public health and other experts' recommendations, are rated MERV-13, up from MERV-8 previously. Filters with a higher Minimum Efficiency Reporting Value capture a greater percentage of smaller particles from the air that passes through them.
All building ventilation systems at U of T also undergo regular maintenance and filter changes to ensure the air is clean and flowing into and out of the building properly, notes Saporta. All of U of T's ventilation systems bring in some fresh air and use filtration.
Should a building's ventilation system ever stop working, or fall below optimal performance, an automatic warning is triggered for Facilities & Services staff.
Concerns about the potential role of building ventilation in spreading COVID-19 arose earlier this year following a study of diners at a restaurant in China. The study found that the virus may have spread through infected droplets carried by currents generated by the restaurant's air conditioning system. Recirculated air and the direction of air flow were likely important factors in that case. "Our systems are far more sophisticated," says Saporta.
Saporta says that good building ventilation is just one of several precautions U of T is taking this fall to ensure a safe reopening. Others include: providing more than 90 per cent of undergraduate courses with an online delivery option; allowing staff who can work from home to continue to do so; changing physical layouts to facilitate physical distancing, increased cleaning and disinfecting; and the wearing of non-medical masks in indoor spaces that are normally publicly accessible, including classrooms.
"The plan we've put in place is robust," he says.