What international students need to know for fall: Advice from U of T's Joseph Wong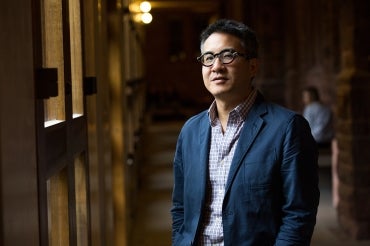 Note: For the most up-to-date information on coming to Canada, students should refer to the Office of the Vice-Provost, Student's website.
The University of Toronto is providing advice to international students who are making travel arrangements in advance of the fall semester and telling them what to expect when they arrive in Canada.
Making up nearly a quarter of U of T's student population, international students are vitally important to the globally diverse learning experience the university offers, says Joseph Wong, U of T's interim vice-president, international.
"We're doing everything we can to make their arrival in Canada, their experience in quarantine and transition into studies as smooth and as safe as possible," he says.
"We want to ensure that students have the information and support they need for a successful, enjoyable – and healthy – start to the academic year."
Wong recently spoke with U of T News about everything international students will need to know for this fall.
---
Some visa application centres in students' home countries may be closed due to COVID-19. What should students who haven't been able to secure a permit do?
Nobody should go to the airport without a visa. But students without a permit should be able to enrol with us for online learning on the understanding that they're in the process of applying for a visa (see question #3 in this FAQ for newly admitted international students).
The Canadian government says students must have a "non-discretionary reason" to enter the country. How is this determined?
Right now, it's going to come down to Canada Border Services agents to decide whether a student has a non-discretionary reason to be in Canada. U of T is providing letters for international students that specify that they do have a non-discretionary reason to be in Canada – to participate in an in-person class opportunity, an in-person research opportunity or one of several other on-campus activities (see question #3 in this FAQ for all international students). Students should contact their registrar to obtain a personalized letter of support and make sure they have this letter, as well as a confirmation of enrolment, with them when they arrive at the border.
That's because we want to avoid students encountering any problems when they arrive at Pearson International Airport?
Yes, 100 per cent.
U of T recommends that, wherever possible, students should book a direct flight to Toronto. Why?
Once a student has obtained a visa, received their personal letter of support for access and created their individual quarantine plan, we've recommended that students fly here directly in order to support them in meeting quarantine requirements. We're trying to make sure that their passage into Canada is as safe and secure as possible. For students completing their quarantine with us, we are providing transportation from Toronto Pearson Airport directly to their quarantine location. 
Is U of T is offering spaces for international students to quarantine for 14 days upon their arrival here?
Yes. Students will be able to fulfill their quarantine plans at a U of T-provided location.
Students will need an approved quarantine plan from the Canadian government. How do they submit that?
It's all done through the ArriveCAN app. Anyone coming into the country has to submit a quarantine plan through the app two days in advance of their flight. It asks where you're going to stay (if not in one of our rooms, then perhaps with family or a friend), how you're going to get there, how you will isolate, how you're going to get your food and so on.
Will international students need to wear a mask when travelling from the airport to wherever they are staying during their quarantine?
Yes. When they land in Canada students will need to wear a mask when they are in the airport and when travelling to their quarantine location. They should have a mask with them for travelling on the plane. For students doing their quarantine with us, we will have a fresh mask for the ride to their quarantine location if they need one. We are providing transportation from Pearson for all international students who are completing their quarantine at U of T. It's a good idea to have an extra mask or two in your carry-on luggage when travelling to Toronto.
For students quarantining with U of T, what steps are being taken to ensure they have everything they need without leaving their rooms for two weeks?
All the rooms we are using adhere to public health guidelines. Dual occupancy rooms will be single occupancy, all units have private washrooms, meals will be delivered each day to their room, and so on.
Some students may have family members, such as a spouse or a child, moving to Canada with them. Will they be able to quarantine together?
Yes. But they will need to cover the costs of their dependent family members, who will also need their documentation in order before coming to Canada. We are encouraging students without dependents to travel alone to Toronto and making them aware that if they come with a friend, their friend will have to quarantine separately (see question #7 in this FAQ on quarantines). Parents or other family members who are travelling from the United States to drop off students are strongly encouraged to contact Canada Border Services Agency ahead of time (see question #8 in this FAQ on quarantines).
What can students do if they run into any problems during their time in quarantine?
Staff will check in daily with students. All students will have access to My SSP, which provides immediate and confidential support around the clock for any school, health or other concern and is available in on the phone in 35 languages, and 146 languages if scheduled in advance. We're really trying hard to ensure students will be well taken care of.
Do out-of-province students have to quarantine?
No, just those arriving from out of country.
I understand students will receive a U of T welcome kit. What's in it?
International students will receive a personal thermometer so they can do temperature checks every day. They'll also be provided with hand soap and sanitizer, disinfecting wipes, masks, laundry detergent (so clothing can be handwashed) and snacks. We're trying to think of every little thing, from the moment they arrive, to make their quarantine period pass as smoothly – and comfortably – as possible.
How should students time their arrival in Toronto?
The most important thing is to, first, make sure they have a visa, a letter from U of T to show border security and have a quarantine plan in place before they make arrangements for travel. Beyond that, it's really up to them. However, the university's quarantine accommodation program won't start until Aug. 15. Students need to register for the program in advance of their flight to confirm they have a place and make sure they have their quarantine plan when they enter Canada. An application form is available at starrez.utoronto.ca (students need to login using their JOIN/UTORid). If students are planning to arrive in Toronto sooner than Aug. 15, they should contact info.quarantine@utoronto.ca. Finally, if students are not quarantining with U of T, they will need to make sure they have their own quarantine plan in place before they enter Canada.
The university will be flexible on start dates. Presumably, some students will start their courses remotely while they're in quarantine. Even if they choose an in-person option for a course, they can miss attending one or two classes in person if necessary. If students have to miss an in-person class due to travel or quarantine, they should contact their instructor to let them know and remember to record their absence in our online absence declaration in ACORN.
UTC