How U of T plans to keep everyone safe on campus this fall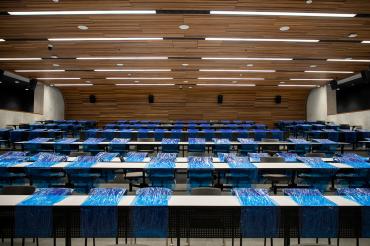 Members of the University of Toronto community who visit campus in the fall semester will notice new safety measures the moment they set foot in a building, including guidance to wear masks. 
At U of T Mississauga, for example, people entering Maanjiwe nendamowinan will immediately see signs directing the flow of foot traffic, posters advising them to wear a mask and hand sanitizer stations by every elevator. Upon entering the building's lecture halls or classrooms, students will be greeted by shrink-wrapped desks and chairs that indicate where they can – or, more accurately, can't – sit in order to maintain a safe distance of two metres from each other and the instructor.
These are just some of the many changes being implemented by U of T as it prepares for a safe, gradual return to campus life this fall. The delivery of many courses has changed substantially to support a safe return, too. More than 90 per cent of undergraduate courses will have an online delivery option and roughly one third will offer an in-person option. 
The university is planning for a range of scenarios and mapping classroom capacity to ensure physical distancing is observed. Regardless of a room's capacity, government limits on gatherings at any given time will determine how many people can be in a classroom.  
U of T also recently introduced new measures that call for the wearing of non-medical masks or face coverings in building spaces that are usually accessible to the public – a measure the university will be extending to classrooms. Work is underway to provide more guidance on the wearing of masks in classrooms and other settings on campus in the coming weeks.   
Tammy Cook, executive director of facilities management and planning at U of T Mississauga, said staff began preparing the campus's classrooms by mapping out floorplans using the AutoCAD design platform. They then turned from that high-tech design technology to the simple but effective solution of shrink-wrapping furniture to promote physical distancing.
"When you have a room that usually seats 500, how do you get students to stay in the spaces they're supposed to stay in? It can get confusing," Cook said, adding that staff mocked up several classrooms to see how the shrink-wrap or taping approach would work and were pleased with the results.
"It's pretty obvious where to sit when you enter the classroom because you can't sit in the spaces that are all taped off."
The approach – using cavernous lecture halls to teach relatively small, physically distanced in-person classes – will be repeated elsewhere across the university.
For example, Susan McCahan, U of T's vice-provost, academic programs and innovations in undergraduate education, said no matter how many seats are in a room, in-person class sizes will be limited by public health measures in courses that have an on-campus activity.
At U of T Mississauga, Cook said the goal was to reconfigure classrooms to make them safer and easy for students to navigate, particularly for those in their first year who are finding their way around campus for the first time. At the same time, she said staff hope to lighten the load on faculty members.
"The last thing they want to do is spend half the classroom time monitoring where people are sitting. They don't have time for that – they want to focus on teaching the class."
Simplicity and consistency were also top of mind when it came to additions to common spaces in the building.
"For example, we've tried to be consistent about where the hand sanitizers and wipes are. There's always one at the elevator, one at the entrance doors, one in the bathrooms – it's about standardizing how things look so it doesn't matter what building you're in," said Cook.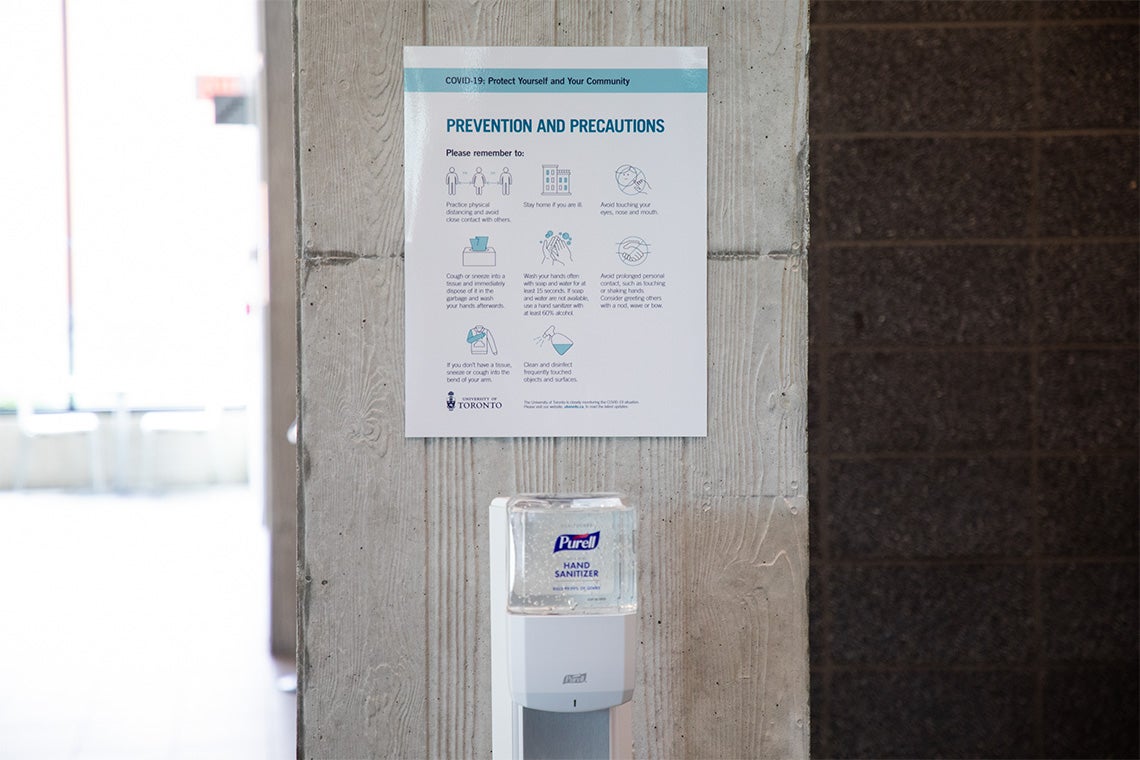 (photo by Nick Iwanyshyn)
While facilities and property management staff reconfigure physical spaces on campus, faculty and academic staff have been figuring out how to reimagine courses and labs to prioritize safety for everyone while delivering meaningful, interactive learning, primarily online.
Assistant Professor Erin Styles, who is the director of the Master of Health Sciences program in medical genomics, said program faculty members have been in regular touch with students to ask them how they are doing, as well as to garner their feedback on fall semester arrangements.
She said students are keen to get back on campus and have more in-person connections.
"We're going to be offering the majority of our coursework in a virtual environment but are also prioritizing offering some things to them in-person. There are certain high-impact, highly involved sessions that we're going to host in-person in large lecture halls," said Styles.
"So basically, for all of our courses, we're going to try and host the sessions that are most meaningful in person, while simultaneously webcasting them for the benefit of students who won't be able to attend" [due to medical conditions or travel restrictions or other reasons].
Styles added that faculty have been working to redesign the program's lab components by splitting the cohort up into smaller groups and offering the lab in multiple rooms. New protocols have also been introduced for mask-wearing in labs, physical distancing and sterilization of reagents and lab equipment.
"We're working really closely with our TAs and the teaching labs to make sure we can offer some in-person activities in a way that's still really engaging and meaningful but without jeopardizing students' or instructors' health," said Styles.
Faculty efforts to prepare for the fall semester are being supported by U of T property management staff.
Mary Byrne, director of the property management group for the St. George campus, says the role of her office is to oversee shared and common spaces of buildings and help faculties and divisions prepare the spaces that are under their control.
"Whether it's showing them examples of what we're doing in other buildings, talking them through potential solutions or physically providing materials like signage, we're here to guide them," Byrne said.
That includes moving and rearranging furniture to encourage physical distancing and fitting all 1,300 washrooms on the St. George campus with paper towel dispensers (nearly 200 of them previously had only air dryers, which are less sanitary).
(photo by Nick Iwanyshyn)
Byrne emphasized that solutions will vary building by building.
"We did walkthroughs with building managers for the first few buildings to get their input because they may know the flow in their buildings better than the property management group. We wanted to give them a chance to envision what it will look like," she said.
At U of T Scarborough, meanwhile, students can expect to see new signs guiding them to move safely through buildings.
"If you were to come in through the main entrance of the UTSC Academic Resource Centre for example, you'd see signs about wearing masks and physical distancing, and then as you walk into the buildings, you'll see decals on the floor leading you to waiting areas outside classrooms, to the library or to Tim Hortons," said Fran Wdowczyk, director, business development and special adviser to the chief administrative officer at U of T Scarborough.
"We'll also have signage up, directing students to an email address if they have questions or concerns, and we'll also have people in the buildings initially in September to welcome and direct students, faculty and staff."
Staff at U of T Scarborough have also been working to plan classroom configurations for reduced capacity and better flow, with rooms that would typically seat 120 students holding no more than 20 or 30 this fall.
(photo by Nick Iwanyshyn)
Ron Saporta, chief operating officer of property services and sustainability, says that while protocols for a safe and gradual return to campus are aligned across the campuses, faculties and divisions are empowered to shape solutions to specific buildings.
"It's a complex endeavour because we have many layers of responsibility across faculties, colleges and campuses to consider, and that's why the planning and work has been underway for months now," said Saporta. "As members of the university community start returning to buildings, they will notice differences, with the new measures designed to protect the health and safety of the community while enabling the resumption of campus activities."
To support these efforts, building operations teams are continuing to maintain a safe indoor environment through regular maintenance of heating and ventilation systems on all campuses and ensuring that all filters meet or exceed the industry standard and public health recommendations.  
For Saporta, the return to a safe campus environment – whether in downtown Toronto, Mississauga or Scarborough – will require everyone to play their part.
"As students, staff and faculty begin to return to campus in September, they will encounter this new way of going through campus – right from the front door of buildings, through the lobbies, elevators and stairwells, to the classroom and out again," he said. "All of our new protocols have been designed to ensure a campus that is vibrant and lively but doesn't compromise on the health and safety of the community, which is our top priority."
UTC