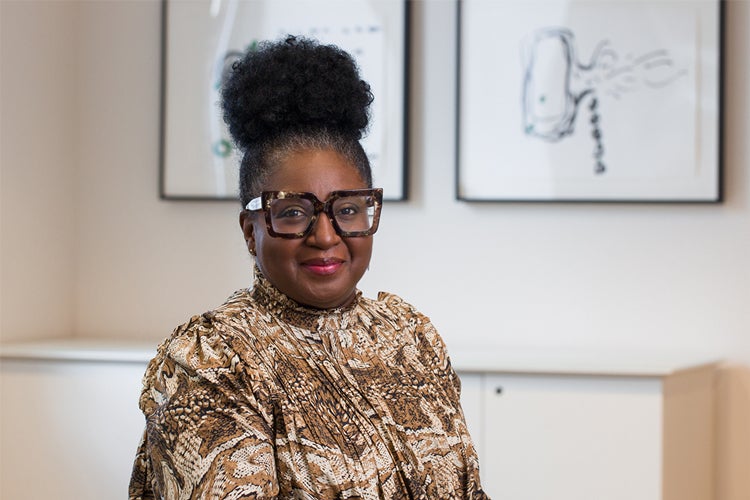 Notisha Massaquoi recognized with Connaught Major Research Challenge Award for Black Researchers
Notisha Massaquoi, an assistant professor in the department of health and society at the University of Toronto Scarborough, is receiving the inaugural Connaught Major Research Challenge Award for Black Researchers.
Supported by U of T's Connaught Fund and developed in collaboration with the U of T Black Research Network (BRN), Massaquoi's research project will support Black health equity research across all three U of T campuses. A collaboration among 13 U of T researchers who are looking at the social determinants of health, it will seek tangible solutions to Canada's racial health gap. 
"The hope is that we can start moving away from doing research that tells us over and over again that we have higher rates of illness and move towards finding solutions for these health disparities," says Massaquoi, a member of the BRN who launched the Black Health Equity Lab at U of T Scarborough in 2022.
The BRN is also providing support to projects by Janelle Joseph, an assistant professor in the Faculty of Kinesiology & Physical Education, and to Brice Lionel Batomen Kuimi, an assistant professor in the Dalla Lana School of Public Health. One of U of T's Institutional Strategic Initiatives, the BRN launched in October 2021 to promote Black research excellence. 
The Connaught Major Research Challenge for Black Researchers is supported by the Connaught Fund – the largest internal university research funding program in Canada. Established 50 years ago through the sale of Connaught Medical Research Laboratories,known for the development of insulin, the fund has since provided more than $182.3 million to U of T scholars through a range of funding programs that support the university research community across all disciplines and career stages.
UTSC