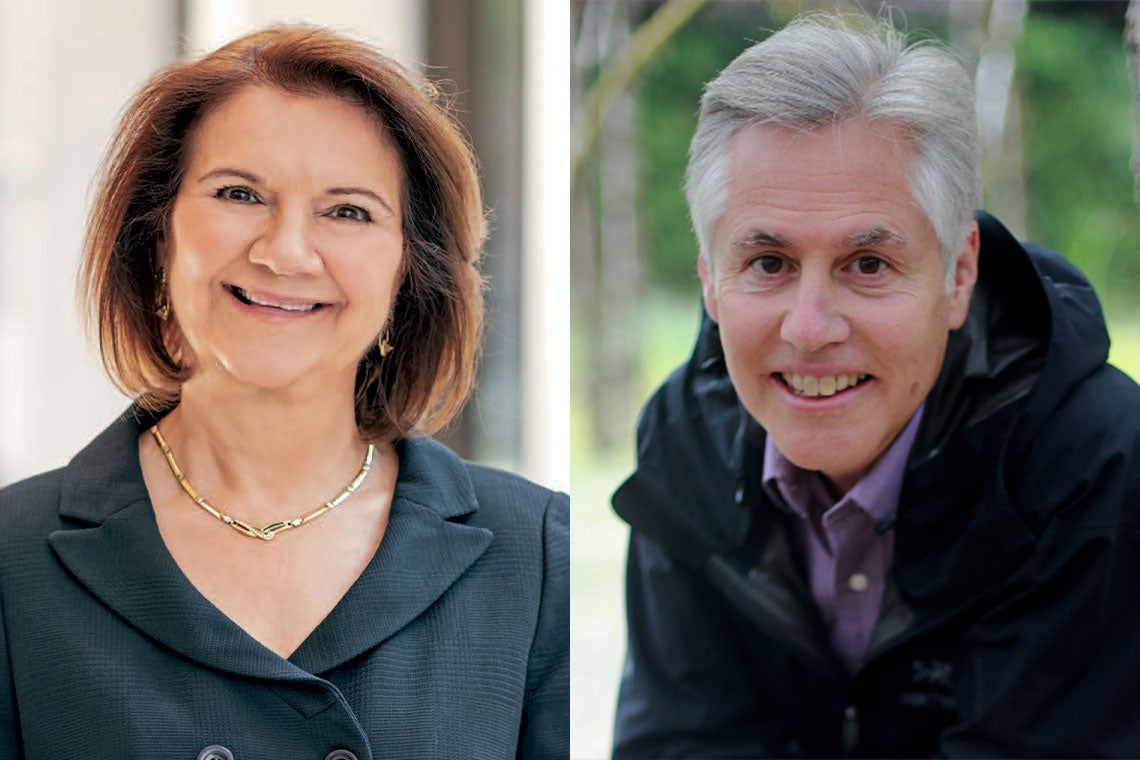 Cristina Amon and John Borrows receive honorary degrees from University of Waterloo
University Professor Cristina Amon, the dean emerita of the Faculty of Applied Science & Engineering, and Professor John Borrows, The Loveland Chair of Indigenous Law at the Faculty of Law, are being recognized with honorary doctorates from the University of Waterloo.
"Honorary doctorates are bestowed upon exceptional people who have contributed to the Waterloo community or to the country at large," the University of Waterloo said in a statement.
A leader in computational fluid dynamics for thermal designs who has made significant contributions to the field of thermal transport in nanoscale semiconductors, energy systems, EV batteries and biomedical devices, Amon served as dean of U of T Engineering from 2006 to 2019. Under her leadership, U of T Engineering became a global hub for multidisciplinary research, education and innovation, known for its strategic faculty-wide initiatives, diversity and inclusion of underrepresented groups in the engineering profession – with the percentage of women in the first-year engineering cohort increasing from 20 per cent to 42 per cent, and women faculty climbing from 19 to 56.
Amon is an Alumni Distinguished Professor in the department of mechanical and industrial engineering. A member of the Order of Canada, she has been inducted into the Canadian Academy of Engineering, Hispanic Engineer Hall of Fame, Royal Society of Canada, Spanish Royal Academy and U.S. National Academy of Engineering. She is a fellow of all major professional societies in her field and has contributed over 400 refereed articles to education and research literature.
A member of the Chippewa of the Nawash First Nation in Ontario, Borrows is an internationally recognized scholar of Indigenous legal rights. He completed four degrees at U of T and was an early-career scholar with the law faculty from 1998 to 2002. His award-winning books include: Recovering Canada: The Resurgence of Indigenous Law (2002 Donald Smiley Award for best book in Canadian political science); Canada's Indigenous Constitution (2011 Canadian Law and Society Best Book Award); Freedom and Indigenous Constitutionalism (2016 Donald Smiley Award); and Law's Indigenous Ethics (2020 Best Subsequent Book Award from the Native American and Indigenous Studies Association, 2020 W. Wes Pue Best book award from the Canadian Law and Society Association).
An Officer of the Order of Canada, Borrows is a Fellow of the Royal Society of Canada, a Trudeau Fellow and a Killam Prize and Molson Prize recipient. He received the Indigenous Peoples Counsel designation from the Indigenous Bar Association for honour and integrity in service to Indigenous Peoples, the National Aboriginal Achievement Award in Law and Justice and the Governor General's Innovation Award.
UTC