Acclaimed scholar John Borrows named The Loveland Chair in Indigenous Law at U of T's Faculty of Law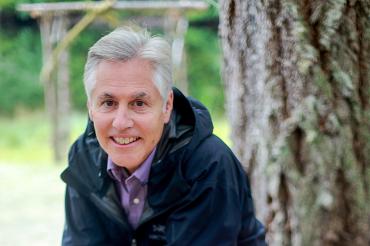 John Borrows, one of the world's leading scholars of Indigenous law, has been named the inaugural Loveland Chair in Indigenous Law at the University of Toronto's Faculty of Law.
A member of the Chippewa of the Nawash First Nation in Ontario, Borrows completed four degrees at U of T, including his JD and LLM, and was an early-career scholar with the Faculty of Law from 1998 to 2001.
He previously held the Canada Research Chair in Indigenous Law at the University of Victoria's Faculty of Law.
"Toronto is ingrained in me," says Borrows, who is a professor. "My master's considered a genealogy of law – seven generations of my family – and their interactions with the law, supervised by Professor Patrick Macklem. I also explored my ancestors' deep connections to the eastern Great Lakes in my PhD research at Osgoode Hall Law School."
Borrows has edited and authored several award-winning books, including Canada's Indigenous Constitution, Law's Indigenous Ethics and Recovering Canada: The Resurgence of Indigenous Law – all with University of Toronto Press. A recipient of the Killam Prize and Molson Prize, both from the Canada Council for the Arts, Borrows was appointed an Officer of the Order of Canada in 2020. He holds five honorary degrees from Canadian universities, including Dalhousie University, Queen's University, Simon Fraser University, York University and Victoria University in the University of Toronto.
"Professor Borrows is an exceptional scholar, whose work in Indigenous law has had immeasurable impact here in Canada, the U.S., Australia and around the world," says University Professor Jutta Brunnée, dean of the Faculty of Law and James Marshall Tory Dean's Chair. "We are thrilled to welcome Professor Borrows back to U of T, where our students and scholars will benefit from his insight and expertise as we continue to expand our teaching in Indigenous and Aboriginal law."
A $2-million gift from U of T alumni Norman and Gay Loveland helped endow the new chair with a $1-million match from the faculty. The Division of the Vice-President & Provost will also provide annual funding for the chairholder.
The Lovelands previously donated $1 million to endow financial aid bursaries for Indigenous law students. Their lifetime giving of $3 million amounts to one of the largest gifts dedicated to Indigenous law in Canada.
"This work can never occur on one's own," Borrows says. "That infusion of interest and financial support is essential to carry forward the work. I am truly appreciative of their gift to Indigenous law at U of T."
Borrows' research focuses on the revitalization of Indigenous Peoples' laws and its relationship with Canadian law. He takes a comparative approach, looking at Canada, the U.S., Australia and New Zealand. His teaching includes Canadian and U.S. constitutional law, Canadian Aboriginal rights law, as well as environmental law.
"Indigenous Peoples' laws are often connected to the natural world. The broader legal system struggles to recognize and affirm these relationships," he says.
"For instance, Indigenous Peoples' aspirations to protect the water, land, animals and plants could be challenged by mining, forestry, oil and gas or municipal development. Cities also creep into Indigenous Peoples' reserves and territories. This is why I try to find ways to reconcile both the Indigenous Peoples' laws with Canadian law more generally."
U of T Law is undertaking a multifaceted approach to addressing the Truth and Reconciliation Commission's Call to Action #28, which calls on Canadian law schools to require all their students to take a course on Aboriginal law.
In January, Borrows will begin teaching a new course to all first-year U of T Law students that will address the intersection of Indigenous Peoples' laws with Canada's laws.
"Sometimes we think law is only legislation, as interpreted by courts with the assistance of lawyers; with police officers having an enforcement role. Certainly, law flows from those institutions. Yet, law has a wider focus. Law is comprised of standards, principles, criteria, authority, measures, standards, benchmarks, principles and processes for making decisions and regulating our affairs and resolving our disputes. Legal principles and processes are created and interpreted in everyday interactions, and sometimes we forget this," Borrows said.
"In other words, when people learn about Indigenous law, they understand law is more than parliamentary action. Law is participatory. It's an activity involving us all. Therefore, when you when study Indigenous law, the need for everyone's engagement is reinforced. Law is a social and human activity – it's something you do – not merely something that's done to you."
It's a message that Borrows believes needs to reach not only law students, but but the broader world.
"Law is about participation, deliberation and persuasion. It's [about] trying to build lives together in ways that create order, certainty, and patterns for acting that aren't arbitrary. It's important to teach this to students to expand our idea of law's participatory potential.
"This provides students with information they can draw on throughout law school and in their subsequent practice," says Borrows, who sees future opportunities for upper-year courses, internships and community-engaged research in his field.
Over the past decade, Borrows has taught an intensive course in Anishinaabe law and legal tradition, sometimes bringing students to his Peoples' reserve, Neyaashiinigmiing, three hours north of Toronto. There, students and faculty meet Elders, Chiefs, colleagues and teachers and experience Indigenous law in context.
"So many possibilities are opened to students and those in the profession," he says. "Sometimes judges and lawyers have participated in land-based courses. I've had colleagues from U of T, Professors Kent Roach and Angela Fernandez, join those courses as well.
"It's been a profound bonding experience for me, with other faculty members, as well as with U of T's amazing students."
UTC