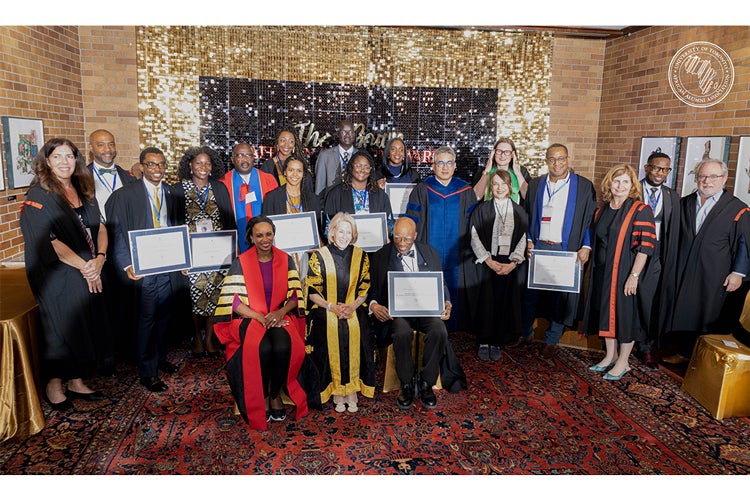 African Scholars Awards recognize globe-spanning impact of U of T community
The University of Toronto African Alumni Association (UTAAA) recognized the far-reaching achievements of 11 leaders in the U of T community recently at the GOWN: African Scholars Awards.
The spirit of Ubuntu – an African philosophy sometimes translated as "I am because you are" – emanated through the ceremony hosted by Joseph Wong, vice-president, international, at Massey College and attended by senior leaders including President Meric Gertler, Chancellor Rose Patten and others.
"I want to congratulate all the recipients for everything that you do and to encourage you to continue doing more," said UTAAA founder and executive director Henry Ssali.
Community Development Award:
Machar Buol for his public service and leadership in Toronto's South Sudanese community
Distinguished African-Caribbean Award:
Jodie Glean, for her leadership as U of T's executive director, equity, diversity and inclusion, and Keita Demming, for his work as an educator and coach advising companies on how to prioritize people and ideas
Distinguished Influencer Award:
Temisan Boyo Fanou, for advancing labour, migration and human rights, and Wendell Nii Laryea Adjetey, for his work as a historian, humanitarian and social entrepreneur
Distinguished Volunteer Award:
Oluwatobi Edun, for his commitment to engineering innovation, sustainable energy, entrepreneurship and mentorship
Emerging Academic Award:
Dimpho Redebe, for her scholarship as a PhD candidate researching equity and social justice in engineering education
Global Impact Award:
Tapfuma Musewe, for working to build connectivity between markets in Africa and other regions
Outstanding Recent Alumni Award:
Apefa Adjivon for globe-spanning advocacy to promote equity, human rights and civic engagement, and Jonta Kamara, for work on issues ranging from disability-inclusive education in Malawi to strengthening medical supply chains in Africa
Social Innovation Award:
Margaret Mutumba, for her public health leadership on maternal, sexual and reproductive health in Africa
UTC