We the north: U of T invites prospective U.S. students and alumni to events in NYC and Washington D.C.
When American students Greg Venizelos and Dan Proctor were applying to universities, neither of them initially knew much about the University of Toronto. They quickly learned it was exactly what they were looking for.
And they say more Americans would make the same choice if they knew more about U of T.
This month, U of T is going to them, hosting free panel discussions in New York City and Washington D.C., where leading experts from the university will share insights on global issues like innovative sustainable development and the aftershocks of the U.S. election.
High school students will have a chance to mingle with U of T alumni and leading scholars from across the university.
"Our intention is to re-affirm to prospective students that U of T is a globally leading university, ranked among the very best worldwide," said Joseph Wong, associate vice-president and vice-provost of international student experience. "I am also keen to convey to students that the U of T is a global platform, which connects students to other parts of the world."

Greg Venizelos, a first-year student from Connecticut, studies in his dorm room at Sir Daniel Wilson Residence (photo by Geoffrey Vendeville)
Wong will be the moderator for the first event Dec. 13, the panel discussion on innovative sustainable development at New York City's Westin Grand Central Hotel. It will include experts from the Faculty of Arts & Science, Faculty of Applied Science & Engineering, Faculty of Medicine, U of T Mississauga, Munk School of Global Affairs and the Rotman School of Management.
Panelists will include Yu-Ling Cheng, a professor in the Faculty of Applied Science & Engineering whose electricity- and sewage- and water-free toilet for the developing world has received funding from the Bill and Melinda Gates Foundation; Dr. Stanley Zlotkin, a SickKids pediatrician and U of T professor in the Faculty of Medicine and Dalla Lana School of Public Health who developed Sprinkles, a nutrient-packed powder that can help the developing world fight malnutrition; and Avni Shah, an assistant professor of marketing at the University of Toronto Scarborough and Rotman School of Management. Kourosh Houshmand, a Faculty of  Arts & Science student who started the Toronto Star Student Hub, a community of aspiring student journalists, and Education Rediscovered, a student organization devoted to global education reform and is a student trustee for the Toronto District School Board, will also be part of the panel.
At the Dec. 15 event, a U of T panel will discuss the impending Trump presidency at the W Hotel in Washington D.C. It will be moderated by U of T political scientist Peter Loewen, who has regularly appeared in the media, talking about the U.S. elections. Panelists will include Janice Stein, one of Canada's most respected commentators on international issues and the founding director of U of T's Munk School of Global Affairs; Chris Cochrane, an associate professor of political science at U of T Scarborough; and Tiff Macklem, dean of U of T's Rotman School of Management.
"We want students to see that leading scholars at the university are engaged in global conversations to have a real-world impact," Wong said.
The U of T events come on the heels of a surge in American interest in the university's application website after the election.
For Venizelos, politics had nothing to do with his decision to come to U of T this year.
He came to Toronto from Fairfield County, Conn. to learn from some of the brightest minds in international relations and law. The first-year student plans to major in philosophy and apply to the ethics, society and law program. He hopes to eventually go to law school and become a judge like his heroes on the U.S. Supreme Court.
He thought of going to another Canadian university or to accept a scholarship at the University of Vermont. But U of T gave him the chance to study at a school consistently ranked among the best public universities in the world, in a diverse multicultural city that is still relatively close to home, he said. 
"When you think about it, I'm only one state away – New York state and a lake away," Venizelos said. "If you put it into perspective, you're really not that far, but I'm far enough that my parents can't visit me by surprise, which is pretty nice."
After a term at U of T taking courses on the Roman Empire and philosophy, he has learned that the university's students are highly driven.
"It's very rigorous here," he said. "I find that it makes the work more fulfilling. You know that if you're doing well, you've truly earned it."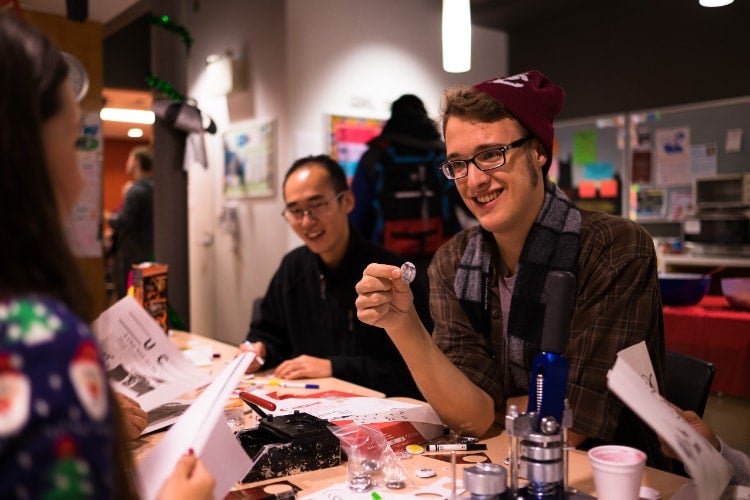 Dan Proctor, a third-year student majoring in economics and cinema, shows friends a button he made at a Christmas party at the University College Commuter Centre (photo by Geoffrey Vendeville)
Dan Proctor came to U of T for many of the same reasons as Venizelos. 
Proctor moved here from the Boston area. He was looking for a university that excelled in teaching economics and cinema. Browsing university Top-10 lists, he kept noticing U of T come up again and again.
When he visited the university for the first time, he fell in love with U of T's downtown Toronto campus and the city around it. That made the decision to apply easy.
"It's hard to put into words, but it seems like a city on the rise," he said. "The arts scene, the music scene – it feels like this city is still happening. It hasn't already happened." 
His siblings' study-abroad experiences in New Zealand and Italy encouraged him to go to university in Canada.
"I lived in the same house my entire life, and I knew the same people because I was from such a small town. It's nice that I'm so close to home while being far away," he said.
His mom made him promise to Skype once every two weeks – and he's kept his word, except during the busy exam season.
Now in his third year, he says his classes have been challenging and stimulating. Although he isn't much of a long-term planner, he can see himself staying here after graduation, at least for a few years, he said.
Proctor's advice to American high school students applying to university? 
"Seriously consider U of T, and if you do end up coming here, give it a chance," he said. "It might be intimidating at first, but once you're here it just feels like home."