After Trump win, a surge in visits to U of T web site from American, international students
"Canada is a model for tolerance and inclusivity and many students are looking for an opportunity to study in that environment"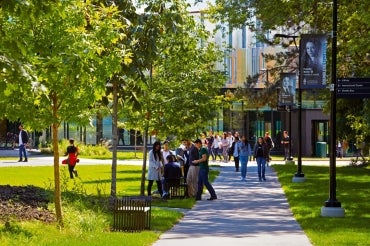 The day that followed Donald Trump's surprising election triumph coincided with a surge in American interest in a University of Toronto website for prospective students. 
On Nov. 9, nearly 10,000 Americans visited future.utoronto.ca, a site for students which features graduate biographies, program descriptions and information on how to apply to the University. 
That's about  12 times the traffic from U.S. visitors that the site saw roughly same time last year, said Vice-President, International Ted Sargent.
And there were nearly 1.4 times more visits to the site by Americans than Canadians, web statistics show. 
"Overall, the trend makes sense to us: The University of Toronto has been consistently committed to attracting the best students from around the world to our university," Professor Sargent said. 
U of T is consistently ranked one of the top 10 public universities in the world. If U of T were in the United States, Sargent added, it would rank among that country's top-five public universities, including Berkeley, UCLA, the University of Michigan and the University of Washington. "This testifies to our world-class stature in both research and in teaching."
An ugly and divisive presidential campaign may have made studying in Canada and at U of T more appealing.
"Canada is a model for tolerance and inclusivity and many students are looking for an opportunity to study in that environment," said Richard Levin, executive director, enrolment services and University registrar. 
The New York Times reports American university admissions officials are worried Trump's election as president could also discourage international students from attending schools in the United States. Post-election, McGill University and U of T have seen an increase in interest from students overseas, The Times reports, while international education experts are seeing concerns about the United States particularly among students in India and China.
    
Read 'Is It Safe?' Foreign Students Consider College in Donald Trump's U.S in The New York Times
Writing in The Collegian, the daily newspaper at Kansas State University, one professor raised concerns Trump's policies could discourage not only international recruitment of students but faculty as well.
"If a Muslim engineering international student is trying to decide between attending K-State in America or the University of Toronto in Canada, don't you think President-elect Trump's proposal will make it very difficult for us to recruit this student?" Jon Mahoney, associate professor of philosophy, wrote. "And if a Muslim biology professor from Europe is thinking about whether to take a teaching or research position at K-State, don't you think President-elect Trump's proposal will make it difficult for us to recruit that professor?"
U of T News spoke with international students about the potential impact of the new president's policies:
About 290 American citizens were enrolled in an undergraduate program at U of T last fall and about 340 were working toward a graduate degree. The University has tried to attract even more Americans this year by assigning two student recruiters and an admissions officer to the U.S.
The relatively low value of the loonie – hovering around 74 cents USD – may also explain why more Americans appear interested in studying at U of T, Levin said. 
And there is the additional perk of studying away from home, but in a familiar environment. 
"It's not a huge transition" for American students to study at U of T, Levin said. "There are some differences, as we know, when we cross the border, but it's easy to go back home for the holidays."
Read Trump win sparks flurry of American interest in Canadian universities at The Globe and Mail
Read the Huffington Post story
U of T is holding two panel discussions in the U.S. for alumni and prospective students looking at university options north of the border.
The panels are:
Saving the World: Innovative Sustainable Development at the University of Toronto 
New York City: Tuesday Dec. 13, 2016, 6:00-8:00 pm
Aftershocks: A Global View on the U.S. Election
Washington D.C., Thursday Dec. 15, 6:00-8:00 pm