Fallout from the U.S. presidential election: U of T experts dissect the issues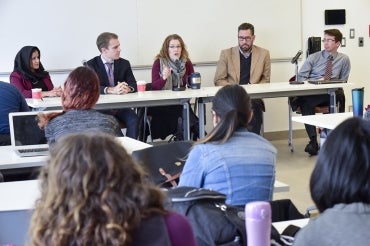 The election of Donald Trump has created a great deal of anxiety among Americans, Canadians and people around the world. Everyone is trying to fully grasp what a Trump presidency will actually mean. 
To provide some clarity, University of Toronto political scientists invited students and community members to an open forum Monday at U of T Scarborough where they could pick the experts' brains on a variety of topics surrounding the election. 
"I am proud to be part of a university that respects the views of others and where we create spaces for students, faculty and staff to discuss these issues," said U of T Scarborough Principal Bruce Kidd, who provided the opening remarks. 
"We want to understand the issues, the process, and the result of this election and what it means for America, for Canadians, and for citizens around the world." 
The audience raised a wide range of topics for the U of T Scarborough experts such as international security, foreign policy, environmental and energy policy, the treatment of Muslims and minority groups, immigration policy, and how Canada will be affected by a Trump government. 
Asked whether a registry of Muslims living in the United States was possible, Aisha Ahmad, an assistant professor and event organizer, said there are many legal mechanisms and constitutional constraints in place that will make it hard to accomplish. She added that the U.S. has always been a staunch defender of liberal democratic ideals.
"If minority rights and civil liberties are eroded in the U.S. it would have serious implications internationally," said Ahmad, who is also affiliated with the Munk School of Global Affairs. "The U.S. has always led on these principles and to fall back on this commitment would signal a serious decline in leadership, and something we should pay close attention to." 

The event was organized by U of T Scarborough Assistant Professor of Political Science Aisha Ahmad 
Professor Matthew Hoffmann, who is co-director of the Munk School of Global Affairs' Environmental Governance Lab, said he is less optimistic about the chances of a registry not being created, adding that while Trump's transition team could be floating the idea to appease the far right, he could also be testing out the idea with more mainstream Republicans. 
Assistant Professor Renan Levine added that talk about the registry could also be a ploy to distract from other controversial policies that are being worked on. 
"We all need to be vigilant that this isn't just a cloud of smoke meant to distract us from the real fire, and that is the other policies Trump could be trying to push through."  
As for what Canada can do if Trump carries through with a registry for Muslims, all agreed that from a legal standpoint not much can be done aside from public disapproval.  
U of T Scarborough student Zabikhulla Yari asked what the implications of a Trump presidency will mean generally for Canada.  
Associate Professor Chris Cochrane said he hopes the Trudeau government is closely studying how possible American isolationism will affect Canada. 
"Canada may be forced to look beyond the U.S. and to diversify. We may not be able to do this militarily, but maybe economically. I hope our government is thinking about these issues," he says. 
Hoffmann said that the Keystone XL Pipeline Project will certainly be back on the agenda again given Trump's vociferous support of the fossil fuel industry throughout his campaign. 
"Canada generally follows the U.S. when it comes to its energy and climate policy, so it will have some hard decisions to make – either take a progressive approach on climate policy or pursue the construction of the Keystone pipeline."  
Asking a question on Facebook, Camille Galindez wanted to know why Hillary Clinton was unable to hold on to the white working class vote the same way Obama had. 
Assistant Professor Alison Braley-Rattai says the shift away from Clinton spoke to a larger failure by the Democrats to adequately address economic uncertainty among voters. 
"In the modern economy, it's harder to shift jobs, and it must be said that many felt Obama didn't do enough to address their interests," she said. She added that many felt Clinton was just a continuation of Obama, and that many voters are still angry over the bailouts large banks received following the financial crisis of 2008.
While perceptions about the economy among white voters was certainly a factor, Hoffmann added there is a host of factors including a desire for change, immigration reform as well as bigotry and even misogyny that led to an erosion of support for the Democrats. 
"I think a moderate Republican would have been a heavy favourite in this election," said Hoffmann. "The fact it was so close came down to Trump's personality being so unlikable."  
Kidd referred to a joint letter signed by more than 100 college and university presidents across America urging President-elect Donald Trump to take a stand against harassment, hate and acts of violence. 
"Like the university presidents who signed the letter to President-elect Trump, we too affirm the core values of democracy, human decency, equal rights, and freedom of expression," Kidd said. "The academic community is committed to promoting these values on our campuses and in our communities."
In a first for U of T Scarborough, the event was streamed live on Facebook.