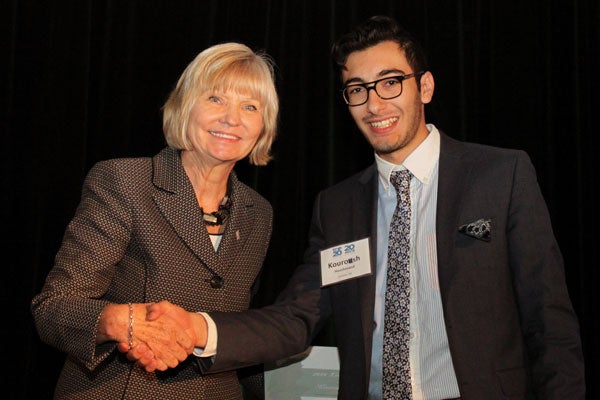 Four U of T students earn the 2014 Top 20 Under 20 Award
It is no ordinary feat to find a treatment for malaria in mustard oil, snag an exclusive interview with Noam Chomsky, release a viral anti-bullying music video or present environmental research to an audience of 1,000,000 at a TED conference.
Not to mention doing it before the age of 20.
But the four University of Toronto students who accomplished these feats are far from ordinary. While thousands of youth are considered, the RBC-sponsored Top 20 Under 20 Award, organized by Youth in Motion, recognizes only 20 exceptional young Canadian leaders each year for their innovations and efforts to enact positive change.
Among Canada's newest Top 20 Under 20 Award recipients are U of T's Jeanny Yao, Wali Shah, Jessie MacAlpine, and Kourosh Houshmand.
"I am humbled and grateful that Youth in Motion decided to grant me this award," says Yao, 19. "As a student researcher, being recognized for science and environmentalism without prejudice on my current level of education is unbelievable. It means that I could have a larger audience and potentially more opportunities to pursue what I am passionate about."
Yao (pictured at left, receiving her award from Lindsey Lowy of the Globe and Mail) is working on a double major in Environmental Sciences and Biochemistry at the University of Toronto Scarborough. She first discovered her passion for environmental research when visiting a local landfill near her home in Vancouver.
Concerned by the growing need to reduce plastic pollution, Yao became the driving force behind water audits, gardens, composting systems and aquaponics in her high school.  
"I have a vision: to find solutions to environmental problems. But nobody can do this alone. It requires teams and communities of people to translate an idea into reality. Through motivating and working with others to pursue science and environmental initiatives, I am able to contribute to the community."
Yao and her best friend Miranda Wang began researching the biodegradation of toxic plasticizers, only to discover strains of bacteria that would earn them the Greatest Commercialization Award at the Sanofi BioGENEius Challenge, and a spot on McLean's "Canada's Future Leaders Under 25."
Having presented her research at a 2013 TED conference in Long Beach, California, Yao will soon chair the 2015 tri-campus TEDx conference at the University of Toronto. 
While Yao found her inspiration at a landfill, 19-year-old Shah (receiving his award from the Globe's Lowy) found his in a jail cell.
Shah had been bullied and charged with assault - even spent a night in jail - but turned his life around, using his talents as a spoken word poet, hip hop artist and public speaker to inspire others.
"My drive to help others comes from my own personal experiences. I know firsthand some of the struggles youth deal with on a daily basis. When I speak to audiences, I share stories of my own struggle with bullying and mental health issues."
As the youngest and most requested speaker and ambassador for the United Way Speakers Bureau, Shah has raised more than $1 million in community-building efforts in addition to garnering more than 75,000 views for his anti-bullying music video, "King of the Castle."
But it doesn't stop there for Shah. While studying Political Science and History of Religions at the University of Toronto Mississauga, he plans to continue his community-building projects and has a new video in the works. 
"Being Canada's Top 20 Under 20 is a huge responsibility and a reminder of how much progress I have made. My turnaround signifies the importance of building community through small acts of kindness and how much that could change someone's life."
MacAlpine (in teal, receiving her award from Fiona McLean of RBC Wealth Management) is a first-year life sciences student and recent speaker at the TEDxUofT 2014 conference. At only 18, she found that an ingredient in mustard oil could possibly double as an affordable and effective malaria treatment − and that mustard oil can also be used as an effective fertilizer and bioherbicide.
"For anyone who is interested in science, participating in research is a really great way to learn where your interests lie," she says.
The recipient of gold medals for two consecutive Canada Wide Science Fairs, an international Cooperation Prize at the European Union Contest for Young Scientists, and the Best in Category at the Intel International Science and Engineering Fair, winning awards is nothing new for MacAlpine.
But the Top 20 Under 20 Awards committee did not recognize MacAlpine for just her research.
MacAlpine is also the co-president of People Reaching Out, has raised more than $20,000 to support schools in developing countries, is the teacher outreach director of Science Expo, and plans to work with global health organizations to make her research available and affordable to those most in need.
And what of Kourosh Houshmand?
Founder of the Toronto Star Student Hub, a community of aspiring student journalists, and Education Rediscovered – a student organization devoted to global education reform – Houshmand has already earned himself a one-on-one exclusive interview with Noam Chomsky and the title of Student Trustee for the Toronto District School Board.
In high school, Houshmand managed to organize far-reaching campaigns to boycott fast food in schools and reduce the voting age in Canada. He also created Solar for Life – a student-run non-profit organization that works to install solar panels in impoverished areas around the world.
Houshmand is now in his first year at Trinity College, studying International Relations.
"I am surrounded by students that are like minded and always push me to work on my weaknesses – it's a demanding culture at this university but nevertheless, rewarding."
Houshmand made sure to attend the Top 20 Under 20 summit early last June but he's not resting on his laurels – instead, he's headed to Kwazulu-Natal South Africa to initiate a project with Solar for Life.
"I don't think that the Top 20 Under 20 Awards are meant to define its recipients, in fact it's quite the opposite, the recipients of the award define the Top 20 Under 20 Program," he says.