'A stark alternative': President Meric Gertler on Canada's openness and inclusiveness in a changing world
"I think we're doing many things right now that will position us as a stark alternative to things that are happening in other countries, including the U.K. and the U.S."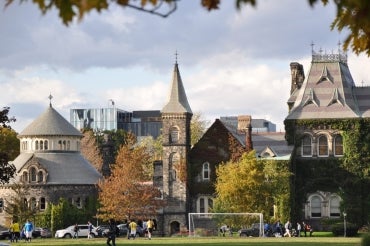 University of Toronto President Meric Gertler speaks about Canadian universities' potential to "capitalise" on political climates in the U.S. and U.K. in today's Times Higher Education.
"There's no question that with the kind of uncertainty that Brexit has triggered and also with the political climate south of the border in the U.S. and the kind of election campaign [there] over the last…months, Canada has certainly emerged as a place of stability, of openness, of inclusiveness," said President Gertler, who spoke to Times Higher Education before Donald Trump was elected as the next American president.
"I think we're doing many things right now that will position us as a stark alternative to things that are happening in other countries, including the U.K. and the U.S.," he said.
He said it was a time for change at Canadian universities.
"One gets a sense that it is a particularly interesting moment where Canadian universities have an opportunity to capitalise on some great advantages if we do it intelligently."
Canada hopes to attract 450,000 international students by 2022, roughly double the numbers in 2011. President Gertler told Times Higher Education that the key to meeting this target is the Canadian government's plans to relax the citizenship process for international students and the federal government's increased investment in research and scientific infrastructure.
"There's no question that one of the factors that attract students to study in Canada is the opportunity to stay here after they graduate and build lives and build careers here," he said.
U of T is organizing events for prospective students and alumni in New York City on Dec. 13 and in Washington D.C. on Dec. 15.
The NYC event will feature a talk called 'Saving The World: Innovative Sustainable Development At U of T,' moderated by Professor Joseph Wong of the Faculty of Arts & Science, U of T's associate vice-president and vice-provost, international student experience. The talk will include professors from the Faculty of Applied Science & Engineering, Faculty of Medicine and Rotman School of Management.
At the Washington D.C. event, a talk called  'Aftershocks: A Global View On The U.S. Election' will feature professors from the Faculty of Arts & Science, the University of Toronto Scarborough and the Rotman School of Management. Professor Peter Loewen will moderate.