U of T student named Mississauga's poet laureate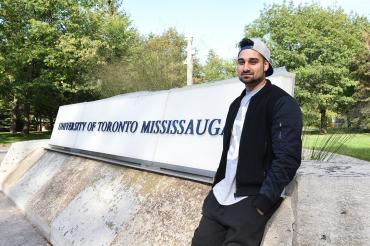 U of T Mississauga's Wali Shah is now the city of Mississauga's new poet laureate.
The 22-year-old spoken word artist and TEDx speaker, who is completing a major in sociology and double minor in political science and history, has performed with the likes of Selena Gomez and Kendrick Lamar. Now, he'll be the city's second-ever poet laureate. 
"Mississauga is a very youth-oriented city," Shah told Metro. "It's not just for me being on the big stage, but for other kids to know they too can dream big and work hard. Anything is possible."
As poet laureate, Shah will help raise the profile of the city's writers. He has partnered with Crime Stoppers, Bell Let's Talk and has helped raise over $1 million for the United Way. He was named a Top 20 Under 20 by Youth in Motion in 2014. As part of his new duties, he'll be performing during Mississauga's Canada Day celebrations at Square One.
"Wali's selection as poet laureate makes a statement about the arts in Mississauga," said Paul Damaso, director of culture division at the city of Mississauga. "Like Wali, our arts scene is young, cool, and emerging with unlimited potential. Wali is the perfect poet laureate for our city and he'll do a fantastic job with championing and raising the profile of literary arts and spoken word across Mississauga and beyond."
UTC