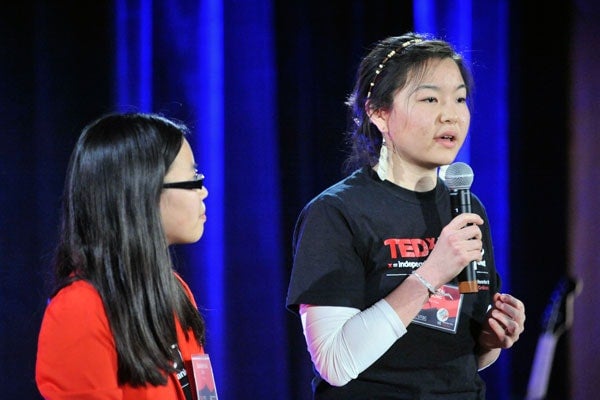 3M National Student Fellowships for the founder of a mental health magazine and for a philanthropic rapper
UTM's Wali Shah, UTSC's Karen Young win prestigious educational leadership award
Karen Young has always felt empowered to highlight the untold stories that often slip through the cracks. Wali Shah was arrested at 15 but turned his life around, becoming a poet and rapper who raises money for charity.
The University of Toronto undergrads are two of just 10 post-secondary students from across Canada chosen by the Society for Teaching and Learning in Higher Education to receive the 2015 3M National Student Fellowship Award for demonstrating outstanding leadership. 
"To me leadership is about bringing a community together," says Young, a third-year student in UTSC's specialist co-op psychology and major in health studies. "I firmly believe this brand of leadership can have a multiplying effect and transform a community for the better."   
Whether it's the mental health challenges faced by youth, the experiences of immigrant and first-generation Canadians or simply fellow students looking to make their mark on the world, Young says there are powerful leadership lessons to be had from those who are often ignored.  
Born in Scarborough to Chinese parents who have lived all over the world, Young was drawn to UTSC by its multicultural appeal. As an undergrad, she's always sought out creative ways to highlight the unique voices present on campus. Co-founder of TEDxUTSC – the first campus-wide TEDx event at the University of Toronto – Young also helped bring the C3 Inspire conference to Toronto. The one-day conference connects aspiring student entrepreneurs to collaborate and create new initiatives. 
Young also founded Minds Matter Magazine, U of T's first student-run mental health magazine catering to students, their friends and family. 
"I became aware at an early age that people deal with struggles that often leave them marginalized and I strongly felt that they shouldn't suffer alone," says Young, who will continue with the magazine as part of her co-op term. "Minds Matter is a way to bridge the disparity that exists between the University's outstanding mental health research and the often unaddressed mental health issues facing students."  
"It's so refreshing to meet a student who truly believes they can change the world and then looks for good ways to do so," says UTSC psychology professor Steve Joordens, a recent recipient of the 3M Teaching Fellowship Award.   
"Her efforts with TEDxUTSC and now Minds Matter shows she's committed to transforming her passion for positive change into something tangible that all students can take part in."
Shah is completing his second year in UTM's social sciences program, but that nearly didn't happen for the 20-year-old musician and poet from Mississauga whose turbulent adolescence included involvement with tough kids, violence and bullying. Arrested at 15, Shah decided to make some changes and, with the help of a teacher at his high school, learned to find more positive outlets for his energy: poetry and music. 
By the time he graduated with honours from Cawthra Park Secondary School, Shah was an accomplished freestyle rap artist with a focus on "giving back to the community through positive messages." He has gone on to become a UTM student, a recording artist, anti-bullying activist and is a popular speaker and fundraiser for the United Way of Peel Region.
As his alter-ego – rapper "Flo" – Shah raps about the social issues of which he had first-hand knowledge, like bullying and violence. He has appeared on MTV with Selena Gomez, freestyled with hip hop artist Kendrick Lamar (at right), and opened for Sarah McLachlan.
His debut anti-bullying music video, "King of the Castle," is now used as a teaching aid by the Peel District School Board.
Through corporate speaking engagements, Shah helped to raise over a million dollars for the United Way of Peel Region's 2012 campaign. Last year, he was named to Youth In Motion's list of the "Top 20 Under 20" Canadians, and shared his message with thousands of students at alumnus Craig Kielburger's "We Day" youth engagement conference in Toronto. 
"I chose UTM because I wanted to stay in my community and keep giving back," Shah says, adding that he hopes to become a teacher and help at-risk students like the kid he once was. "It's a testament," he says. "You can always make a change."
Young says her hope is that students can be given greater leadership responsibilities, especially in a mental health context. To that end she's looking to identify greater mentorship opportunities at UTSC. 
"We have a growing alumni base being trained at one of the preeminent mental health hubs in Canada," says Young. "There's a wealth of mentorship opportunities right here – alumni to student – as a low-risk and proactive approach in addressing mental health issues."
Young, who also serves on the board of directors for The Varsity, is currently doing research on the cognitive biases that underlie strategic decision-making under the supervision of UTSC psychology professor Gerald Cupchik and his former graduate student Michelle Hilscher. 
Her advice to students is to listen to those around them, whether it's staff, faculty, family, friends or even fellow students, there's many valuable lessons to be learned from the insights of others. "Take the time and try to be a good listener. There's so much you can learn."
Don Campbell is a writer with UTSC; Blake Eligh is a writer with UTM.