U of T startup raises US$45 million to build AI-powered drug discovery business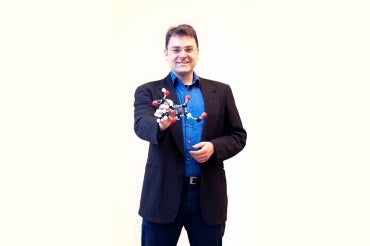 A University of Toronto startup using artificial intelligence to speed drug discovery has raised US$45 million to fund growth – yet another example of how efforts to commercialize the university's AI expertise are making waves in the business world.
San Francisco-based Atomwise, which helps screen millions of potential drug candidates in a fraction of the time of traditional methods, said this week its latest funding round was led by Monsanto Growth Ventures, Data Collective (DCVC) and B Capital Group.
That brings the total amount of capital Atomwise has raised to more than US$51 million.
"With our initial work in 2012, Atomwise became the first startup to commercialize deep neural networks for drug discovery," Abraham Heifets, the company's co-founder and chief executive, said in a statement.
"It seemed to many like science fiction then, but now in 2018 Atomwise has the commercial traction with a host of customers to demonstrate our leadership in AI for drug discovery."
Co-founded by U of T alumni Heifets, Izhar Wallach and Alexander Levy, Atomwise says its AI technology has the potential to fix a key problem for the pharmaceutical industry: declining productivity as pharma companies achieve fewer breakthroughs per research dollar. 
A 2016 report by consulting firm Deloitte, for example, estimated that peak sales per product have declined more than 11 per cent year-over-year since 2010 while the cost to bring drugs to market have held roughly steady over the same period.
By contrast, Atomwise says its AtomNet drug research technology can identify "active" hit compounds at a rate up to ten thousand times higher than the physical high-throughput methods it now augments.
Atomwise was conceived amid a trip through a U of T entrepreneurship program run by the Impact Centre, one of nine on-campus accelerators. The startup also tapped into other resources for startups at U of T, including the Creative Destruction Lab accelerator and the SOSCIP computing partnership.
It was later accepted into the Y Combinator accelerator in Silicon Valley. 
Atomwise currently boasts 50 distinct molecular discovery programs and has struck deals with four of the top ten U.S. pharmaceutical companies, several biotech firms and over 40 major research universities. Its artificial intelligence technology is being used to conduct research on everything from cancer to neurodegenerative diseases – even crop-blighting fungi.
"We're excited that traditional life sciences is only the start for Atomwise, with the company demonstrating transformational results in attacking problems in agriculture and other global industries as well," Matt Ocko, a managing partner at DCVC, said in a statement.    
Atomwise's latest funding round included existing investors Y Combinator, Khosla Ventures and DFJ. New investors also included China's Tencent Holdings and Baidu Ventures, as well as Dolby Family Ventures.
UTC