U of T signs agreement with IIT Bombay during Canada's trade mission to India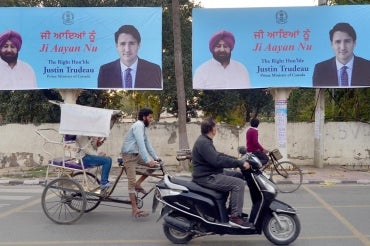 Siddharth Gautam is in the business of forging connections between people – so it's fitting that he landed a spot on Prime Minister Justin Trudeau's trade mission to India.
The trip has led to $1 billion in investment deals that Trudeau announced this week, and for Gautam, it's been an opportunity for his U of T startup Weedoo, a platform that connects entrepreneurs with experts, to get a boost in the world's second most populous country.
"U of T – and Canada in general – has emerged as a leader in developing cutting-edge technologies," says Gautam, who graduated last year from U of T. "And India has the population to use those technologies, so even getting a small section of the market converts into huge business for startups.
"That's why we are aiming to launch Weedoo in India almost at the same time as Canada."
Helping U of T entrepreneurs find new markets in India by developing their networks there is among one of many priorities behind an educational partnership signed Tuesday between the University of Toronto and the Indian Institute of Techonology Bombay (IITB). The partnership is among the 66 initiatives unveiled during the trade mission to India, and it hopes to create a bridge between students and researchers in both countries.
The agreement between U of T and IIT Bombay aims to increase opportunities for the exchange of students, faculty and researchers between India and Canada. It also hopes to promote the sharing of sound city-building practices in both India and Canada, as well as train the next generation of Indian faculty – in essence, helping to build the country's academic capacity.
"It's a brain chain, not a brain drain," says Professor Christopher Yip, U of T's associate vice-president of international partnerships. "This is really an opportunity for both institutions to interchange students, interchange researchers, work on complementary projects and really expose the trainees and the faculty to each others' institutions, expertise and opportunities.
For U of T startups like Gautam's Weedoo, the partnership will allow "exposure of Canadian innovation to the Indian space, and India innovation into the Canadian space," Yip adds.
The partnership builds on U of T's ongoing work with India's Smart Cities initiative. The effort by Prime Minister Narendra Modi calls for a major urban renewal and retrofitting program for 100 Indian cities to make them more sustainable through technology-based "smart solutions" for everything from transit to housing. U of T researchers have been collaborating on various Smart Cities projects,  including helping India build earthquake-resistant buildings, developing smart buildings with sensors to help with energy consumption, and working directly with the city of Pune – one of the first to be named to the Smart Cities initiative.
"I'm very happy to see U of T collaborating with institutions like IIT Bombay," says Dinesh Bhatia, the consul general of India in Toronto, pointing to U of T's Smart Cities work in India. "It's very important that academic institutions collaborate with each other because that's where the minds lie, that's where the ideas lie, and the governments and the public generally benefit from these types of collaborations."
U of T officials expect the partnership with IIT Bombay will expand into different departments and fields.
As part of the India trade mission, U of T is also a member of a larger pan-Canadian Mitacs agreement. The federally funded program, which offers fellowships and semester-long research internships, has agreed to provide funding for up to 50 U of T students going to India, and the country sending 15 students here.
Most of the Mitacs students allocated for U of T will be working on Smart Cities projects for India, Yip says.
"The focus on Smart Cities is timely because of the challenges of big megacities," Yip adds. "India is going to have vast experience in big city development. Toronto is also a big city but has a completely different environment, different kind of weather, different population density, different kinds of transit systems, different kinds of challenges. 
"So researchers will be looking at what can Torontonians learn by being there, and what can Indian folks learn by being in Toronto."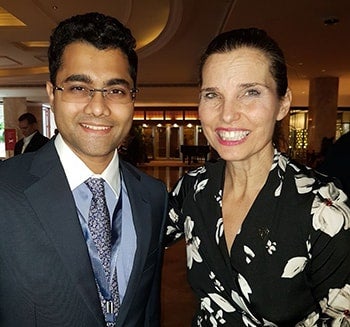 As for the trade mission, Gautam (pictured left with Science Minister Kirsty Duncan), was invited to participate after attending an  event in Ottawa with his father, a director at the Canadian arm of industrial technology firm Grintex India. Gautam is also a Grintex employee.
Gautam says he's hoping Weedoo, co-founded with fellow alumnus Wayne Zhang, will ultimately play a key role in building a link between India and the Department of Computer Science Innovation Lab (DCSIL) – the U of T accelerator that helped launch the startup – via a series of "mentorship nights" in different cities.
"The plan is that Weedoo will not only be the tool used to register users for the event, but it will also run the mentor's nights by matching mentors and mentees," Gautam says. 
UTC