U of T signs agreement to help develop one of India's 'smart cities'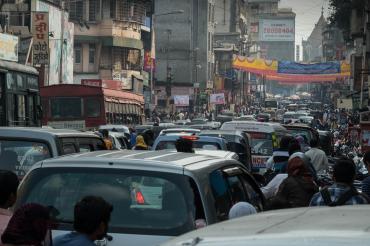 Two years after India announced the development of 100 "smart cities" to address the country's rapid urbanization, the University of Toronto has entered into a partnership with Pune, one of the first urban areas identified as part of the initiative. 
U of T, the Indian Institute of Technology-Bombay and the Pune Smart City Development Corporation Ltd. will focus on finding solutions to urban problems by tapping into technology-based "smart solutions" that aim not only to improve economic growth for the city of approximately six million but also to create a more sustainable and resilient region. 
Last week, a memorandum of understanding was signed in India between the two institutions and Pune's smart cities initiative, with Canada's Minister of Innovation, Science and Economic Development Navdeep Bains on hand. 
For U of T, the venture comes out of a trip to India two years ago when President Meric Gertler and U of T engineering professors participated in a roundtable discussion on sustainable urbanization at IIT-Bombay, visited think tanks and met with government officials in Mumbai and Delhi. Since then, Mark Fox, distinguished professor of urban systems engineering in the Faculty of Applied Science & Engineering, has worked with U of T's office of the vice-president, international on developing the partnership.
While the agreement has yet to identify which projects will be addressed, Pune's smart city initiative has singled out affordable housing, a growing population migrating into the city, cyber security and digital systems interoperability, which focuses on the collection and exchange of standardized city data. 
U of T hopes its multidisciplinary approach to solving urban issues will help in this regard. 
"The opportunity allows us to work on important urban problems outside the North American context," Fox said.
"The Indian universities are very strong, but this extends Pune's access to expertise beyond India."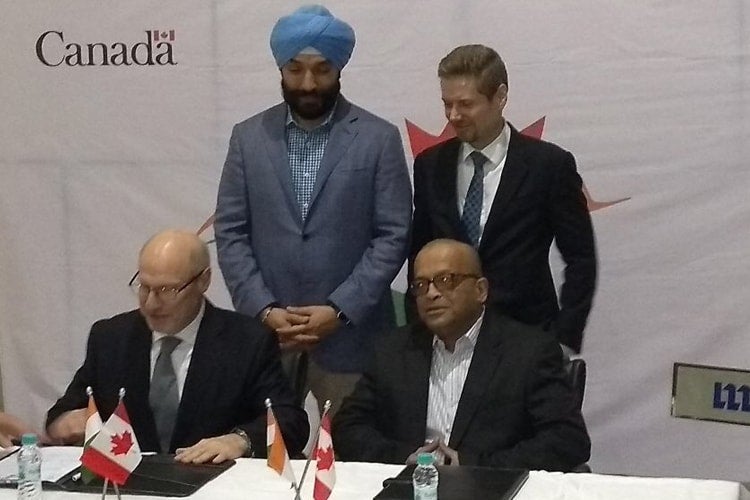 U of T Professor Mark Fox (seated left) at the signing of the memorandum of understanding with IIT-Bombay and the Pune Smart City Development Corporation Ltd. Navdeep Bains (standing left), Canada's minister of innovation, science and economic development, also attended the signing of the agreement in Pune, India (photo courtesy of Mark Fox)
The Indian initiative envisions 100 revamped smart cities across the country by 2020. Last May, several faculty members from various disciplines attended the Future of Smart Cities workshop in Mumbai, hosted by U of T, IIT-Bombay, Tata Trusts and the province of Ontario, to talk about future directions for smart cities.
Considered one of the fastest-growing cities in India, Pune has launched several smart cities projects targeting slum rehabilitation, building pedestrian walkways, using buses running on alternative fuels and fitted with GPS tracking, and installing a single-payment card for public transportation systems.
Fox, who has spent dozens of years studying how to make organizations more efficient, currently works on ontologies that provide precise city data, analyzed and culled from many different sources – key to digital systems interoperability – and designs computational searches that can look for solutions to urban problems. The ontologies eventually can be used to form future data standards for cities. He also heads the Centre for Social Services Engineering at U of T.
Using artificial intelligence to analyze and better define standards for city data, Fox will initially develop a project to tackle Pune's challenges with digital systems interoperability. The development of data standards could help Pune and other Indian cities improve the analysis, design and delivery of city services. 
The project will then be used as a template to develop research collaborations in other fields identified by Pune.
"As we start the other projects, we will be soliciting interest from faculty from across the university to participate in their specification, research, implementation and testing in Pune," Fox said.
"So if we're dealing with affordable housing, it's not just an urban planning, architecture and civil engineering problem. It is a social work problem, a management problem and an economics problem. We want to attract faculty from across U of T – it's a chance to work with an Indian city to help solve its problems using a truly transdisciplinary approach."
UTC