U of T researcher launches startup to help find new smart drugs
The lab's technology maps cell membrane protein interactions for hundreds of diseases like cancer, Parkinson's, Alzheimer's, diabetes and cardiovascular disease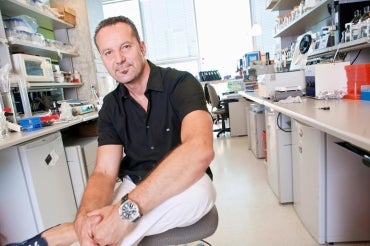 Igor Stagljar likens the process of commercializing his ground-breaking research into cell membrane proteins – which has yielded hundreds of new targets for drug-makers seeking cures for cancer and other deadly diseases – to building a highly automated Tesla factory.
But there's a key difference: ProteinNetwork Therapeutix will be based here in Canada, not south of the border.
Stagljar, a professor of biochemistry and molecular genetics at the University of Toronto, initially considered setting up his new venture in Silicon Valley. But he and business partner Ivan Plavec ultimately decided Toronto was a better option.
"The technology is here and the know-how is here," says Stagljar, citing U of T's large pool of research talent and a growing cluster of venture capital investors on or near the university's downtown campus. "Maybe some people from my lab will even go to work for the company."
U of T is at the centre of Canada's largest concentration of hospitals, research institutes and business incubators. That includes 10 accelerators run by the university itself. Many of the technologies being developed here are increasingly being spun off into life sciences startups, with nine such ventures being launched in the past three years alone.
Plavec, who lives in the San Francisco Bay Area, and has already been involved with a successful biotech startup there, says Canada's favourable corporate tax rates were also a factor. He also cited last year's opening of Johnson & Johnson's JLABS life sciences incubator in partnership with U of T, as evidence of growing U.S. interest in Toronto's booming startup scene. 
Helping to seal the deal: a $1 million grant from CQDM's Quantum Leap program. The grant, co-funded by the Brain Canada Foundation, targets research with "very high potential impact" within the biopharmaceutical industry. It's only the second time the program has funded a Canadian researcher. The other was U of T's Andrei Yudin, a professor of chemistry. 
Stagljar's research certainly qualifies as having a potentially big commercial impact.
With the help of his 17-person lab, he developed a new genetic technique that allows researchers to map the interactions between proteins in a cell's membrane, a process previously made difficult because of the proteins' fragile, transitory states. The interactions play a key role in determining whether a cell stays healthy or becomes diseased, and are therefore of huge interest to pharmaceutical companies seeking a new generation of precision drugs to cure deadly diseases like cancer.
"There's about 500 proteins that we know of nested in the cellular membranes that are involved in the onset of various human diseases," says Stagljar, citing cancer, Parkinson's, Alzheimer's, hypertension, diabetes, cardiovascular disease and even migraines. "There are approximately 500 diseases that can be tackled with this technology."
But studying protein interactions in the lab is not the same as systematically evaluating them on a commercial scale. So Stagljar is in the process of retooling his laboratory at U of T's Donnelly Centre for Cellular Biomolecular research, tapping a local Ontario company to design and build robotics that can handle hundreds of screens per day.
Everything should be up and running within the next 12 months. Stagljar's focus at U of T will be on "druggable" membrane proteins related to three types of cancer: lung, breast and pancreatic. His company, meanwhile, will use similar technology and equipment to focus on other diseases in partnership with pharmaceutical partners.
"We're already leading very serious talks with well-known drug companies," Stagljar says. "Two out of the five biggest pharmaceutical companies are interested in our technology."
How long until ProteinNetwork expects to see results?
"I think in the next two or three years, we will learn about new drug targets, which, when neutralized by drugs, would lead to cures for these cancers," says Stagljar.  "But before these drugs would appear in clinics is a long process, from nine to 12 years.
"Our focus right now is to build a high-throughput, high-grade technology for biomedical research."
UTC