JLABS gives U of T startups a place to call home
"They'll give us the right exposure to the business side and they'll help us carve out a clear path to market"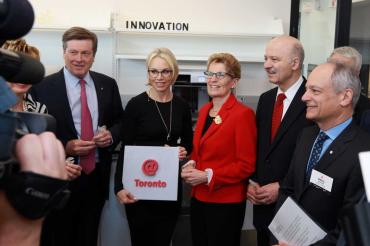 Up until today, Nanovista existed only in the virtual world.
Meetings involving the startup's three co-founders took place in the Mercatto coffee shop downstairs in the MaRs Discovery District, while research was conducted in labs and operating rooms around downtown Toronto.
Now, they're moving on up to the 13th floor of the MaRS West Tower – one of the first 22 up-and-coming companies selected to be part of JLABS @ Toronto, an innovative research centre designed to advance bio/pharmaceutical, medical device, consumer and digital health programs.
"Being a part of JLABS brings us one step closer to commercializing and delivering this product to market to help patients," said Jinzi Zheng of her company's injectable imaging agent that helps surgeons see where tumours are located and remove them more precisely, while leaving healthy tissue intact.
"They'll give us the right exposure to the business side and they'll help us carve out a clear path to market. We're scientists, we don't have that expertise."
Of the 22 startups at JLABS announced today, at least eight have ties to the University of Toronto and its partner hospitals – like Nanovista, which developed out of research started by Zheng as she worked towards her PhD in medical biophysics. The others include: 6Biotech, App4Independence, AvroBio, DNAstack, Ketogen Pharma, Ubiquitech and Proteorex Therapeutics Inc., which is working closely with Professor Robert Batey, chair of the department of chemistry.
Their new home is a gleaming 40,000-square-foot facility that has cutting-edge, modular and scalable lab space, equipment and, most importantly, access to scientific, industry and capital funding experts.
It also features JLABS' first device and digital prototype lab, which was shown off today at its official opening to dignitaries including Ontario Premier Kathleen Wynne, Toronto Mayor John Tory and U of T president Meric Gertler. 
The space, which is rented by JLABS from the University of Toronto, is the result of a unique collaboration between global giant Johnson & Johnson Innovation LLC, the university, the Government of Ontario, Janssen Inc., MaRS Innovation and several hospital partners.
"The project to transform and fit out the floor into the first Canadian location for JLABS, budgeted at $18.3 million, came in on time and more than a million dollars under budget," said Scott Mabury, U of T's vice-president of operations. 
Every speaker at the event mentioned the university and the critical role it played in making JLABS @ Toronto a reality, including Wynne.
"The opportunities that JLABS will create for Ontario are immense," she said. "And while the driving force behind those successes will be the people who take their research from lab to market, we need to recognize that there are other factors.
"If it weren't for MaRS, if it weren't for U of T, the strategic partnership stream of our Jobs and Prosperity Fund, the life sciences corridor that surrounds us today, and the whole innovation ecosystem that we've built here in Ontario, there would be no JLABs launch today."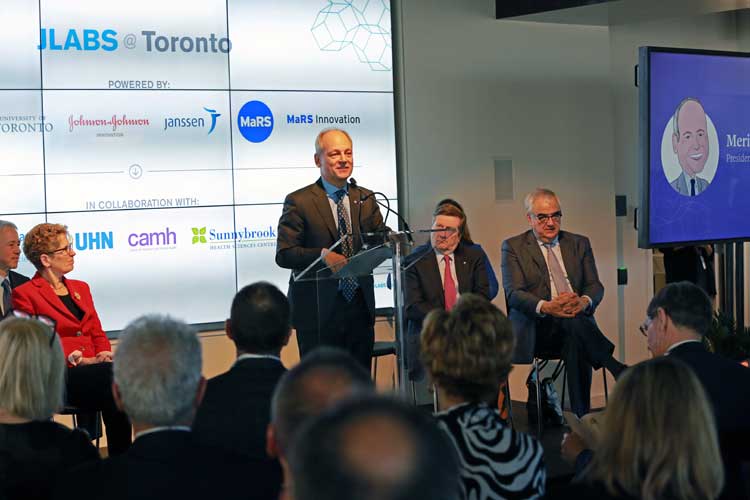 With five locations in the United States, coming to Toronto next made sense.
"Canada's startup scene is booming," explained Melinda Richter, head of JLABS.
The location is also perfect – smack dab in the centre of Toronto's bustling ecosystem of hospitals, businesses and university labs that already attract more than $1.4-billion in research funding each year to the city.
The university's Banting and Best Centre for Innovation & Entrepreneurship (BBCIE) is also just across the street, making this stretch of College Street the place to be for ambitious researchers to hang out their shingle with the hope of turning their discovery into the next big thing.
"We're excited to have JLABS @ Toronto join the University of Toronto as the newest addition to our vibrant entrepreneurship ecosystem," said Gertler. "Together with our nine campus-led accelerators, under the umbrella of our Banting & Best Centre for Innovation & Entrepreneurship, we're fuelling the creation of new companies, new jobs and solutions to some of the world's most pressing challenges."
For Zheng and her Nanovista co-founders, Christine Allen and David Jaffray, a world of possibilities has now opened up by joining the JLABS family.
This in addition to their academic positions at U of T. Zheng is an assistant professor in the Institute of Biomaterials & Biomedical Engineering,a scientist in the Institute for the Advancement of Technology for Health with the University Health Network (UHN) and a morning/evening MBA 2017 candidate at U of T's Rotman School of Management. Allen is a professor in the Leslie Dan Faculty of Pharmacy and GSK Chair in Pharmaceutics and Drug Delivery. And Jaffray is a professor, director of TECHNA and executive vice-president of technology and innovation at UHN.
"It's going to be great to be able to bounce ideas around with the other startups," said Zheng (pictured below). "They're going to have some of the same challenges as us, which means we can learn from each other. They'll be a healthy competition."
And aside from dreams of having operating rooms around the world stocked with vials of their product, Zheng says ideally they'd like their time at JLABS to lead to them meeting the right people who can take over the business side of their company, freeing them to focus on what they know best – pushing the science forward.