U of T ranked top 10 internationally in six subjects: QS ranking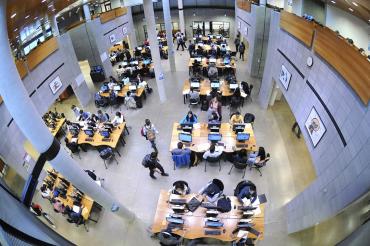 The University of Toronto has top 10 international ranking in six subjects, says the independent QS World University Rankings by Subject. 
In the report released today, U of T ranked in the top 10 globally in nursing (6th), sports-related subjects (6th), anatomy & physiology (8th), geography (9th), computer science (10th) and education (10th). Medicine, anthropology and religious studies just missed the top 10 list, landing in 11th place.
Among Canadian universities, U of T was first in all five of the broad subject areas and first in 32 of the 43 subjects in which the university was ranked by Quacquarelli Symonds.
Globally, the results place the University of Toronto among the world's elite institutions in all five subject areas and in 43 of the 46 subjects surveyed. The university scored even higher when public higher education institutions alone were counted in the subject areas ranked.
The news comes one day after Times Higher Education (THE) placed U of T in a group of 53 institutions that "have the greatest chance of catching up with and surpassing the likes of Oxbridge and the Ivy League." THE editors cited U of T's clinical ranking as a primary reason for adding it to a list of "international powerhouse institutions."
"We're pleased to see the breadth and depth of the research programs offered at the University of Toronto once again globally recognized for their excellence across the board," said Vivek Goel, U of T's vice-president of research and innovation.
To compile the rankings, QS evaluated 4,438 global universities, qualified 3,098 and ranked 1,117 institutions in total. More than 127 million citations attributions were analyzed and the company verified the provision of more than 18,900 programs.
The QS subject ranking includes five broad subject areas and 46 narrow subject-level rankings in a hierarchical structure. This is a new format for 2017 and the inclusion of the broad subject areas is a replacement for the QS Faculty Area Rankings that haven't been published since 2015.
The QS subject ranking results are based on four measures: academic survey results, employer review survey results, citations per faculty and the H –Index, which attempts to measure both the productivity and impact of the published work of a scientist of scholar.
UTC