U of T honours outstanding Indigenous students, whose achievements go beyond academics
Julie Blair and Rebecca Beaulne-Stuebing receive the President's Award for Outstanding Indigenous Student of the Year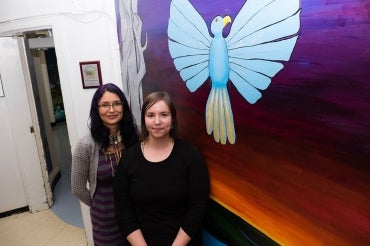 At the start of her undergraduate studies, Julie Blair went to award ceremonies at the University of Toronto's First Nations House to celebrate with Indigenous students who won academic prizes. 
She had just started a degree in Indigenous Studies after a 20-year break from school, which she spent working in the fashion industry and bartending. She recalls thinking to herself about the award winners, "Wow, I want to be like them one day."
Five years later – after she had earned a 3.9 GPA, led Indigenous committees and clubs, and worked as a co-ordinator for the Indigenous Education Network – it was her turn to take the stage at First Nations House. She collected the undergraduate President's Award for Outstanding Indigenous Student of the Year, a $4,000 prize recognizing an Indigenous student for academic excellence and community service.
The graduate award went to Rebecca Beaulne-Stuebing, a Métis Anishinaabe PhD student in social justice education at the Ontario Institute for Studies in Education. Her work focuses on untold histories of Anishinaabe-led schools in relation to Indigenous activist movements. She has also helped develop an Anishinaabe Studies program at Shingwauk Kinoomaage Gamig, an Anishinaabe institute run with Algoma University in Sault Ste. Marie.
At the award ceremony last week, U of T President Meric Gertler praised the winners for their work in and beyond the university. They have also had an impact in that they have helped strengthen the university's ties to Indigenous communities, he said. 
"These sorts of networks, I would suggest to you, have never been more relevant and more important than they are today, as the University of Toronto responds to the Truth and Reconciliation Commission's calls to action and also to the recommendations of our own TRC Steering Committee," Gertler said. 
Shannon Simpson, director of Aboriginal Student Services and First Nations House, pointed out that Indigenous students are "rarely, if ever, just students." They often juggle other responsibilities as parents, activists and community leaders. Both Blair and Beaulne-Stuebing are good examples of this.
Blair, who is of Anishinaabe and Dutch ancestry and a member of the Serpent River First Nation, says her people's history, family and language were nowhere to be found on curricula until her undergraduate studies.
"I learned all this through coming back to university, connecting with people – with my peers, professors and elders – and by doing work in the community."
At first, she didn't know another Indigenous person on campus – "and now I can't even get from Robarts to St. George station without running into five people I know."
Her resumé includes being co-ordinator of the Indigenous Education Network, a group of students, faculty and community members founded in 1989 that helps develop an Indigenous curriculum, supports Indigenous students and encourages education research on Indigenous issues.
She was part of the executive team at the Indigenous Studies Students' Union, and helped organize the first powwow at the university in 20 years – although some of the preparation coincided with studying for finals. She and Beaulne-Stuebing carried the ISSU flag at this year's powwow on March 11.
In whatever spare time Blair has left, she likes to go camping and take pictures of wildlife.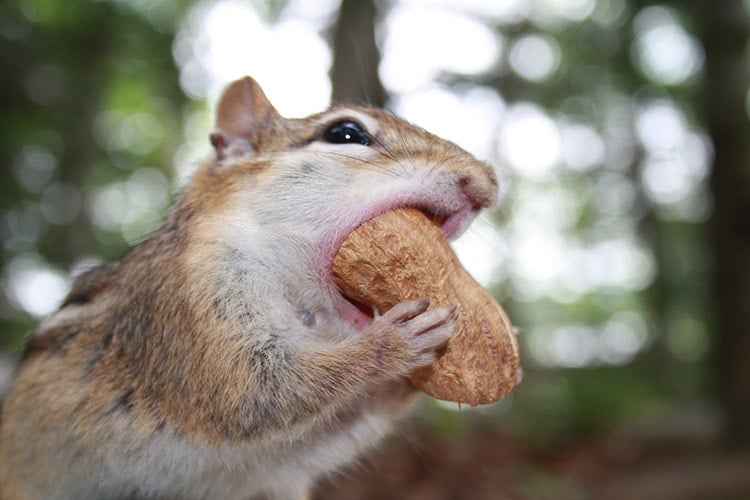 Blair snapped this photo, titled "Supermunk," at Restoule Provincial Park (photo by Julie Blair)
Blair said she owes her success to the community that supported her. 
"Indigenous people are often invisible, omitted from textbooks, omitted from mainstream culture," she told U of T News. "We live in a country that's been colonized. To see ourselves represented (in university) is inspiring."
Beaulne-Stuebing says "new worlds opened" to her when she took an undergraduate course at Shingwauk Kinoomaage Gamig, taught by Edward Benton-Banai, academic and spiritual adviser at SKG and Grand Chief of the Three Fires Midewiwin Lodge. 
She went on to do a master's in the culture-based approach to Anishinaabe education at SKG and eventually took on a role co-teaching Anishinaabe studies and supporting program development and accreditation. 
She says the first-ever Anishinaabe studies program has been approved by a fully Indigenous accrediting body and is in the last stage of approval by the provincial ministry. 
She's now pursuing a PhD under the supervision of Eve Tuck, an associate professor at OISE and Canada Research Chair in Indigenous Methodologies with Youth and Communities. Her dissertation centres on the stories of women and youth who led Indigenous political and sovereignty movements in the 1970s, and how this leadership helped the creation of Indigenous schools.
Tuck says she was struck by Beaulne-Stuebing's integrity as a researcher and commitment. Beyond academics, Beaulne-Stuebing is "very engaged in learning the teachings of her own community," Tuck added.
Simpson, of First Nations House, says she was impressed with Beaulne-Stuebing's contributions on a Faculty of Arts & Science committee responding to the recommendations of the TRC. Beaulne-Stuebing has also been a mentor to other Indigenous students, Simpson said.
After her PhD, Beaulne-Stuebing intends to go back to SKG to teach in Anishinaabe Studies and continue supporting the institution.
She's active in her community, "which means that I am a learner, through my work as a helper to Elders and teachers in the community.
"I am actively working on two degrees simultaneously as there is a degree structure to Midewiwin learning," she said. 
Outside of her university studies, she helped organize Walking with our Sisters in Toronto, a commemorative art installation and ceremony honouring missing and murdered Indigenous women, girls and Two Spirit people. The art project is made up of more than 1,700 pairs of moccasin vamps (tops) and more than 100 children's vamps arranged in a winding path. Each unfinished moccasin represents a life that was cut short. 
Beaulne-Stuebing is a member of the national collective for Walking with our Sisters, which helps bring the installation to places across North America.  
She says her friends and mentors have been crucial to her success at university. 
"It is only through the support of my supervisor and the support of community that I have been able to keep going," she said. 
Undergraduate and graduate students can now apply for the President's Award for Outstanding Indigenous Students of the Year for 2017-2018. The deadline is end of May. 
UTC