U of T's giant powwow draws hundreds of people from across the province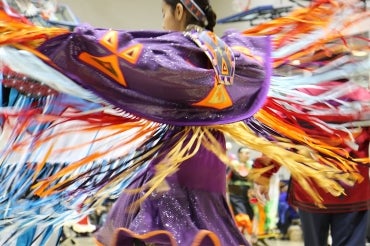 Hundreds gathered at the University of Toronto's Athletic Centre on Saturday for a major powwow, featuring traditional dancers, food and Indigenous culture.
The event, organized by the university's Indigenous Studies Student Union, was the first powwow at U of T in 20 years. It drew young and old from across the province, including Carolyn Bennett, the federal Minister of Indigenous and Northern Affairs and a U of T alumna.
Bennett spoke briefly at the event and presented the Indigenous Studies Student Union with a painting of a wolf.  
"It was awesome," said Trina Moyan, one of the student organizers. "It was just so emotionally moving. My husband, our son and I broke down crying as we saw those staffs lead our beautiful Indigenous people out onto the floor, to be respectfully recognized as the original peoples of the land on which U of T operates. This was a very powerful moment for us!"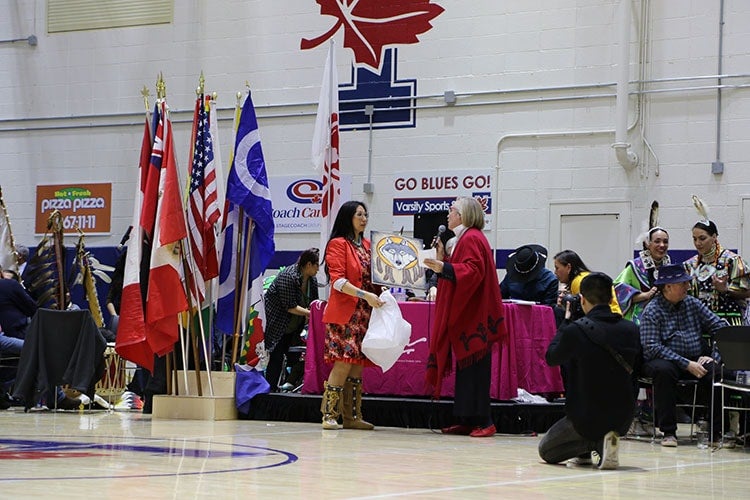 Federal Minister of Indigenous and Northern Affairs Carolyn Bennett (right) gives student Trina Moyen (left) a gift because of the student union's work organizing the powwow (photo by Hannah James) 
Grand Entry
The powwow officially began with the Grand Entry at 1 p.m., featuring prominent members of U of T's community, including Susan McCahan, vice provost, innovations in undergraduate education, Indigenous faculty, and provincial and federal dignitaries. They were part of a procession into the gymnasium, some bearing flags.
U of T Elder Andrew Wesley carried a flag for U of T's First Nations House, where he is an Elder-in-Residence.
Chief Stacey Laforme of the Mississaugas of the New Credit First Nation carried his community's Eagle Staff and flags, signifying that U of T operates on land that is part of the Dish with One Spoon Treaty.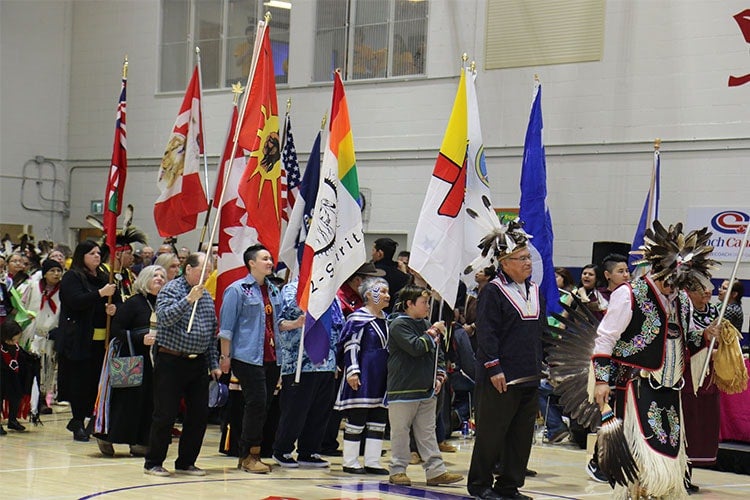 The powwow session began with Grand Entry and a prayer by a U of T elder (photo by Hannah James)
Jennifer Sylvester, Indigenous Studies Student Union president and Indigenous Festival Committee chair, welcomed everyone to the powwow.
The students union had been planning the event for a year.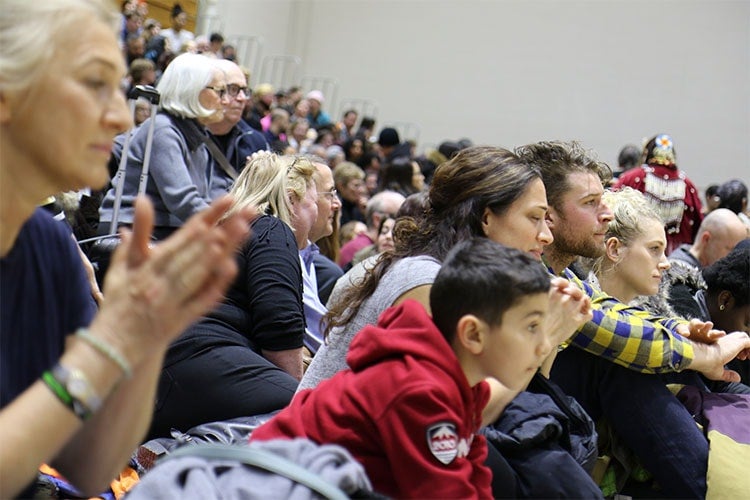 More than 800 people attended the event, coming in from the across province (photo by Hannah James)
McCahan spoke about the university's response to the federal Truth and Reconciliation Commission's Final Report, saying that the university is committed to working towards reconciliation. McCahan also spoke about the university's commitment to funding more Indigenous faculty and staff.
The dancers
Dancers who performed at the powwow included hoop dancers, jingle dancers and Aztec dancers, many of whom are students at U of T.  

A hoop dancer demonstrates his skill (photo by Hannah James)
The Athletic Centre gymnasium was transformed by dancers in colourful regalia, and the sounds of drumming and singing. Dancers of various styles – from fancy shawl to jingle to hoop dancers and Métis jiggers – performed throughout the afternoon.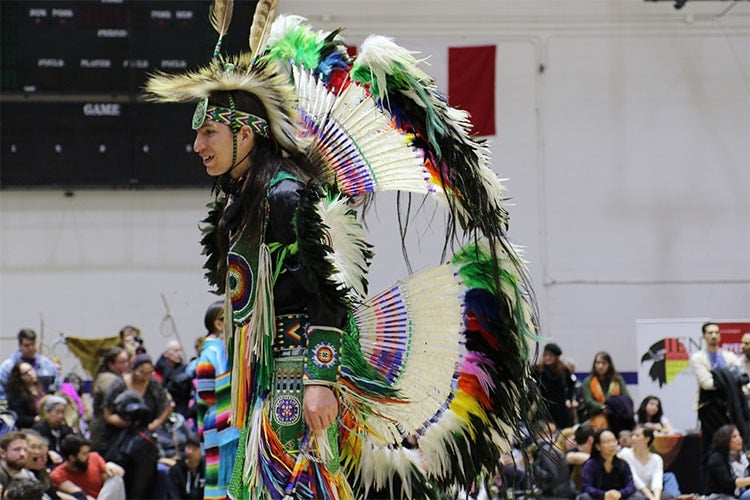 Some dancers added flourishes to their regalia at Saturday's powwow (photo by Hannah James)
The powwow featured worskhops to teach guests how to dance in different styles, including a round dance and Métis jigging.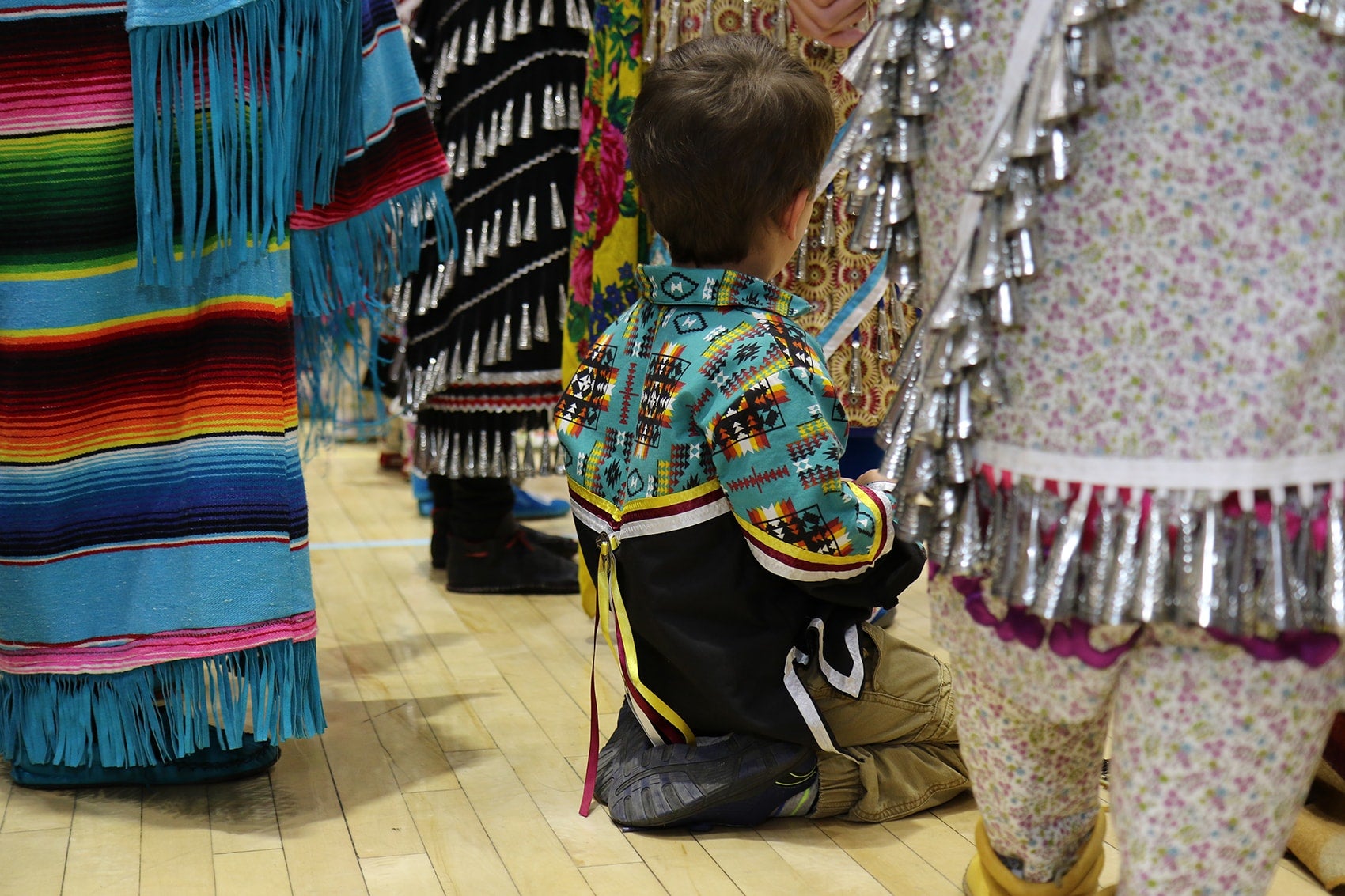 A small boy finds a spot to relax amidst the jingle dancers (photo by Hannah James)
Moyen noted that children played a big part in the powwow.
"It was wonderful watching the children share in that sacred circle – children from all backgrounds, uniting and dancing, laughing and bonding as allies to the beat of our Indigenous drums and songs," she said.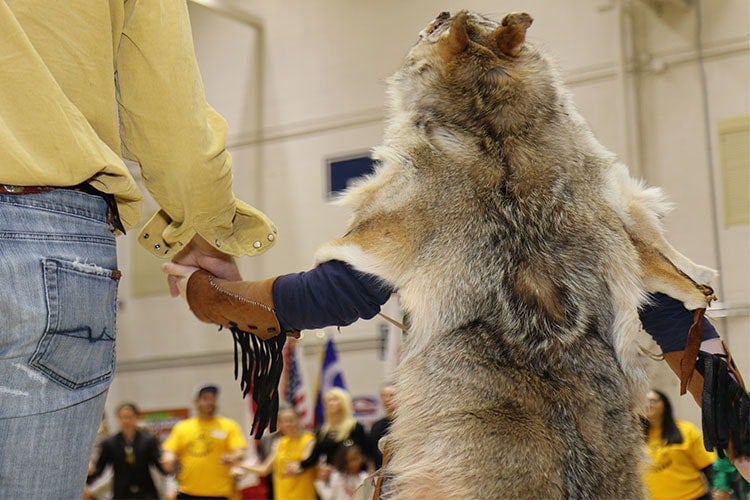 A young dancer in a coyote skin joins a round dance (photo by Hannah James)
Indigenous artisans
People attending the powwow could browse tables full of handicrafts, and purchase bead work, leather goods and quilts.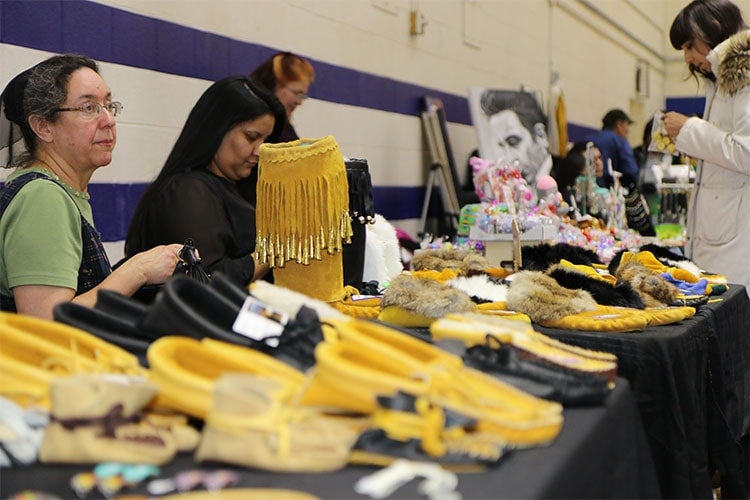 Handmade moccasins were one of many handicrafts on sale at the powwow (photo by Hannah James)
Honouring missing and murdered Indigenous women
Missing and murdered Indigenous women were honoured during the powwow with a dance led by U of T undergrad Nichole Leveck, head female dancer at the event. 

Nichole Leveck appears to glide with graceful steps. She danced to honour missing and murdered Indigenous women (photo by Hannah James)
Other dancers joined in, including Isadore Day, Ontario Regional Chief, in full regalia.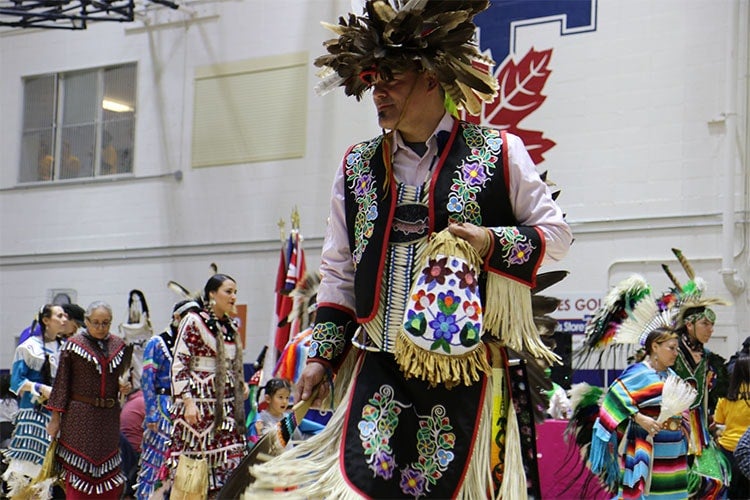 Ontario Regional Chief, Isadore Day shared his dancing at the powwow (photo by Hannah James)
Honouring indigeneity
The powwow celebrated indigeneity from around the world, including Aztec dancers.
Master of Ceremonies Chris Pheasant said the Aztec dancers "brought the sun" with them to U of T.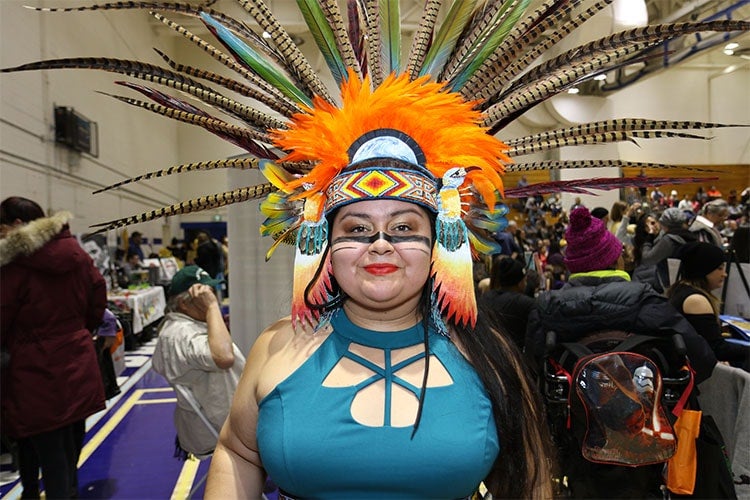 Aztec dancers were also part of the powwow (photo by Hannah James)
Food vendors from popular Toronto eateries and catering companies including Nishdish Marketeria and Catering offering "First Nations cuisine" and Rick and Joanie's fresh squeezed lemonade were also at the event.
The powwow concluded with a feast to honour all the special guests and students.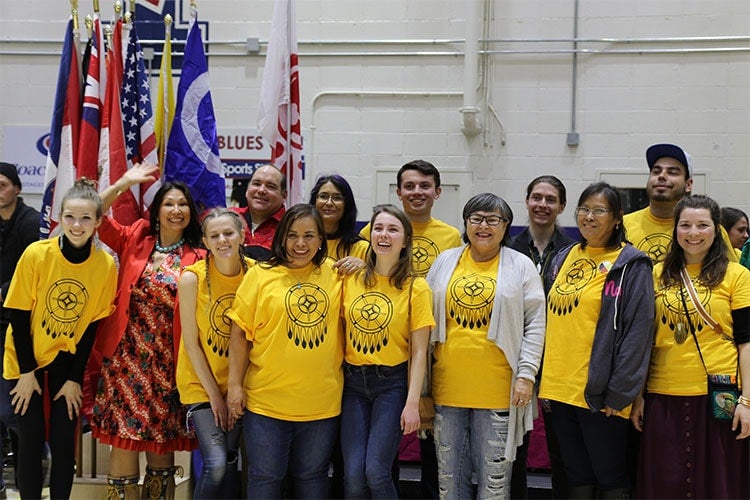 U of T's powwow student planning committee, including Julie Mogus, Trina Moyen, Grace Webster, James Bird, Jennifer Sylvester, Julie Blair, Olivia Miller, Joshua Bowman, Shirley Bryant, Zachary Biech, Priscilla Krebs, Shane Kelsey, Veronica Orozco (photo by Hannah James)
UTC