#UofTBackToSchool: Meet U of T's new director of Aboriginal Student Services, First Nations House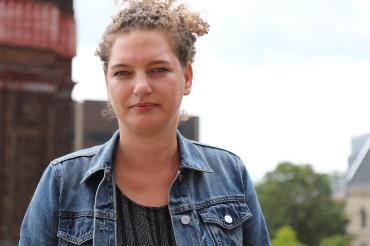 Shannon Simpson has only just stepped into a leadership role at First Nations House and she's already fully immersed in preparations to celebrate its 25th anniversary as the hub for Indigenous life at the University of Toronto.
Simpson was appointed director of Aboriginal Student Services this summer, replacing Jonathan Hamilton-Diabo, who held the post for almost 14 years before becoming director of Indigenous Initiatives at U of T.
"It is an incredible opportunity," says Simpson, who has held various staff roles at First Nations House since 2003 but was on a year-long secondment at the University College registrar's office when the director's job opened up.
"I said when I came back here, 'It feels like I'm home,'" she says. 
Simpson has undergraduate and master's degrees in women's studies from Concordia University and York University, respectively. While pursuing her master's, Simpson worked at Anduhyaun – a supportive housing facility for Indigenous women and children in Toronto. After working with families there for six years, she opted for a career change and moved to First Nations House, a "home away from home" for Indigenous students.
FNH provides a space on the downtown campus to learn about Indigenous knowledges and traditional teachings, attend events, socialize, seek guidance from Elders and access financial and academic supports. 
Simpson's deep and long-standing commitment to working in the Indigenous community is what Hamilton-Diabo says made her a natural choice to fill the director's role at First Nations House.
"It had to be Shannon," Hamilton Diabo says. "She's someone you can trust, she's well-liked by staff and students, and she's an excellent mediator."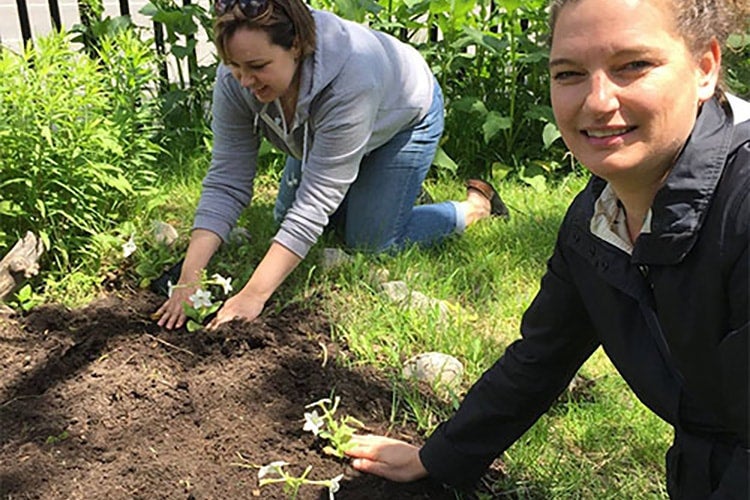 Shannon Simpson plants tobacco in the Traditional Medicine garden behind Hart House this summer (photo by Hannah James)
Simpson grew up in Wingham, Ont., but her home community is Alderville First Nation, situated between Lake Ontario and Rice Lake. She stays involved in her community, bringing her young children whenever she can, attending powwows and socials. 
"I guess the responsibility falls on me," she says of raising her children to know their culture, language and traditions.

Simpson says her own connection to her culture didn't happen until later in her life. "When I was in high school, to get my grandma to talk about things, to talk about the reserve, it took a lot for her to overcome internalized racism," says Simpson.
She says her mother knew about her Indigenous heritage, "but knew she wasn't supposed to talk about that." 
I​t wasn't until later that Simpson says she visited the reserve with her grandmother and watched as she was welcomed by people she knew as a child. At that point, Simpson began to build a connection with her Indigenous community, culture and traditions.
Simpson says that in her new post at U of T, she's already thinking a lot about First Nations House and its place at the university. Physical space is a key theme that has been widely discussed at U of T this year as part of the university's efforts to work towards reconciliation with Indigenous peoples. Simpson says she'd like to increase the visibility of First Nations House by adding signage on campus, and eventually she'd love to see the addition of a community garden there.
The current space – on Spadina Avenue on the east side north of College Street – has been there for 25 years, originally created by Diane Longboat as a safe and culturally relevant space for Indigenous people attending U of T. Simpson, and the First Nations House staff and community, are currently working on plans to celebrate the quarter-century birthday with various events and celebrations on all three campuses, including an Elders Gathering, Indigenous Education Week in October and the launch of a new digital archive chronicling the history of First Nations House.
As the events roll out across the university, Simpson says she's hoping the wider university community will join in the celebrations.
"It seems that people are looking to engage with the Indigenous community and I hope that doesn't fizzle out,"  she says. "I hope we can continue to work together." 
UTC