U of T experts meet American students, alumni in NYC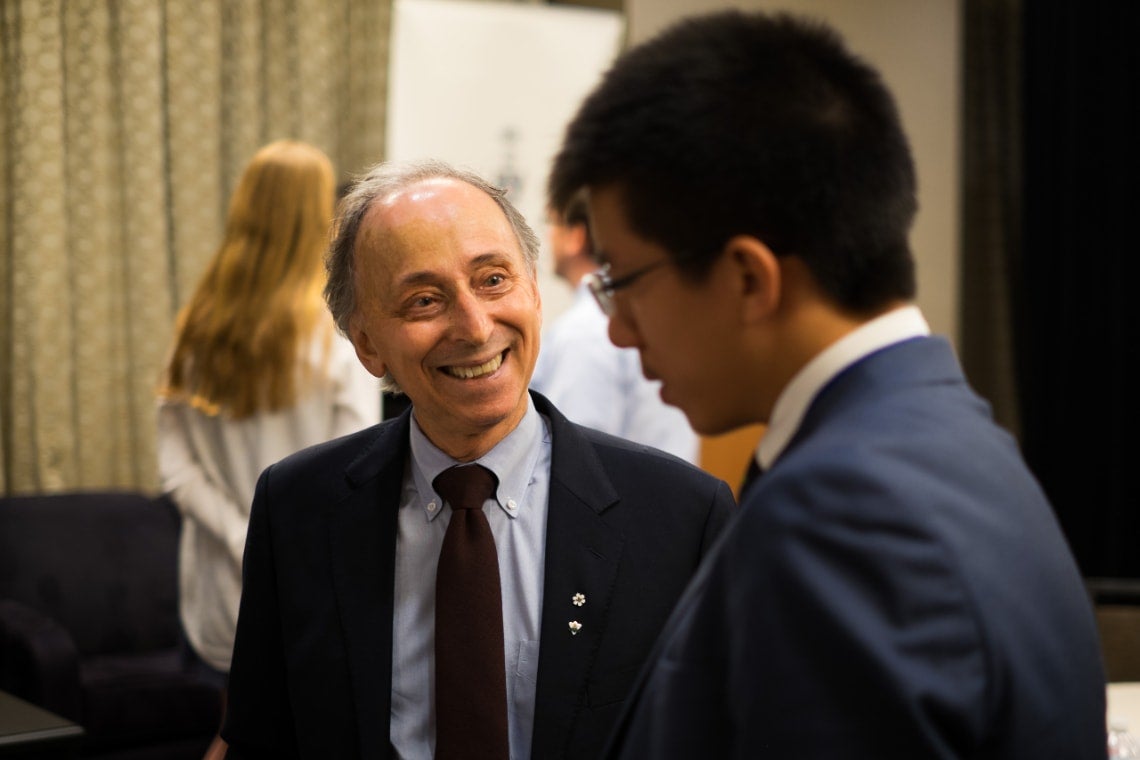 Leading University of Toronto researchers were in New York City this week to discuss innovative sustainable development. The panel discussion and student recruitment event gave prospective American students a glimpse of the pioneering work taking place at U of T.
This is one of two events U of T is holding in the United States this week to introduce interested high school students to the University of Toronto, its scholars and research. The second panel, in Washington D.C. today, will talk about the global aftershocks of the U.S. election and what the world can expect during the Trump presidency.
The NYC panel discussion was moderated by Professor Joseph Wong of the Faculty of Arts & Science, a political science expert and the associate vice-president and vice-provost of international student experience.
Panellists included Dr. Stanley Zlotkin, a U of T professor in the Faculty of Medicine and Dalla Lana School of Public Health who developed Sprinkles, a nutrient-packed powder that helps fight malnutrition, and Yu-Ling Cheng, a professor in the Faculty of Applied Science & Engineering whose electricity- and water-free toilet for the developing world has received funding from the Bill and Melinda Gates Foundation.
The panel, which also included Avni Shah, an assistant professor of marketing at the University of Toronto Scarborough and Rotman School of Management, and Kourosh Houshmand, a Faculty of  Arts & Science undergraduate student, spoke to the importance of interdisciplinary research, involving undergraduate and graduate students.
Tackling some of the world's most pressing problems like global poverty requires a "multifaceted" approach like bringing experts together from different fields, Wong said. The work can also be enriched by bringing in young researchers. 
Wong has taken 25 undergrads overseas to work on research projects that focus on how social services can reach the poorest of the poor.
"Undergraduates are amazing," he told U of T News after the event. "Some of them come up to us and say they want to try something. We say, 'Go and do it,' and they change the world."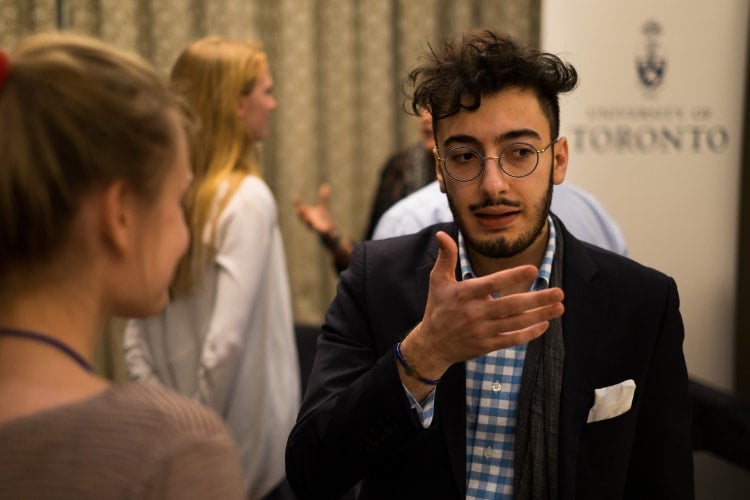 Undergrad Kourosh Houshmand talking to American high school students at the event (photo by Geoffrey Vendeville)
Houshmand founded Solar for Life, a nonprofit that raises money to provide clean and affordably energy in the developing world through the installation of solar lights. In 2014, he was named one of Canada's Top 20 under 20 for his work in entrepreneurship, journalism and international development in Africa.
Houshmand was one of five students whom Wong brought to South Africa last summer for field research. They studied human rights and the success of the country's birth registration so that the same lessons could be applied elsewhere.
Undergraduate students' work has also been integral to Zlotkin's research.
About 20 years ago, he began research on his micronutrient powder, looking particularly at fighting iron deficiency among babies and toddlers in the developing world. By 2014, the powder was being distributed in 62 countries and was reaching about 20 million children, Zlotkin said. 
Today, his work focuses mainly on the distribution of the sugar packet-sized sachets of micronutrients across the globe. That challenge has taken him and his students as far as Mongolia, where they were once stranded for a night in the Gobi desert because of a sandstorm, he said.
"Luckily, we found a herders' yurt, and they allowed us to stay the night," he said. "It was an incredible experience." 
Like her U of T colleagues, Cheng has spent much of her time trying to solve problems facing the world's most vulnerable. Her waterless, hygienic toilet is both safe and affordable. She emphasized that engineers must work with experts in other fields to solve important problems.
"If we stay in our labs, we will make gadgets that only work in a lab," she said.
The U of T experts' commitment to sustainable development resonated with Olivia Kusio, a Polish-American high school student who came to the student recruitment event with her mom on Tuesday.
For Kusio, one of the appeals of U of T is the diversity of its student population. Students come to U of T from more than 100 countries, bringing different insights and perspectives with them. 
"You can't say much about your own situation or solve problems in the world without first exploring it," Kusio said.
After visiting U of T this year, Kusio fell in love with its "fairy tale" downtown Toronto campus. She is planning to apply to U of T to study chemical engineering.