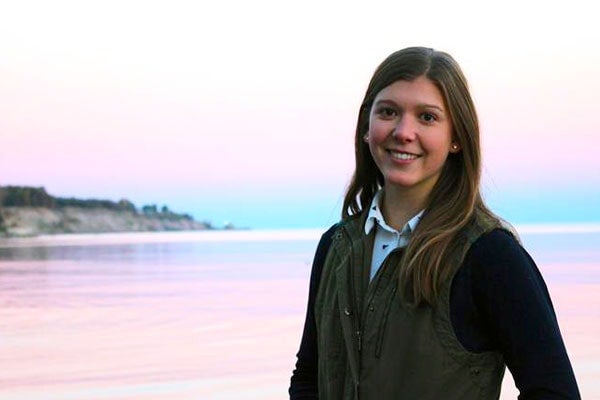 U of T undergrads off to Brazil to research poverty
It's not unusual for University of Toronto professors to travel abroad to do field research. It's not even out of the ordinary for graduate students to do so.
But for undergraduate students, the chance to fly to another country to do original research is an opportunity not to be missed. 
Alexa Waud and two other undergraduate students will be travelling to Brazil in December to investigate that country's approach to alleviating poverty. For Waud, the chance to help design a research project from the ground up is irresistible.
"I haven't had that chance before. As an undergraduate student, it's invaluable to understand how that process works – starting with a literature review, then an annotated bibliography, determining the questions, getting ethics approval and the rest of it."
Waud is in her third year at U of T, doing a double major in peace, conflict and justice studies and environment and health. She and the other students, including two students in the masters of global affairs program, will be travelling with Professor Joseph Wong of political science to find out why Brazil's Bolsa Familia program is so effective at getting funds directly to the poor. 
Bolsa Familia – the largest conditional cash transfer program in the world – provides a direct cash transfer to 14 million poor families and has a 75 percent success rate in getting the funds into the hands of those who need them, Wong says.
"These conditional cash transfers have had a positive effect on child health, including a significant decrease in under-5 mortality rates," he says. "It's a remarkable record, but I don't have time to do all the research myself, so I recruited these phenomenal undergraduate students to help me out."
Wong recruited the undergraduate students from former participants in the Munk School of Global Affairs Munk One program, where he teaches a first-year course in global innovations. (Learn more about Munk One.) 
Wong and his students will be meeting with government officials, health care workers and program recipients. Divided into two teams, they'll travel to the capital city Brasilia, to Salvador in the northeast part of the country, to São Paulo and to Belo Horizonte.
Wong says he's not surprised by the students' enthusiasm to participate. "For them this is just a fantastic research experience. All of them are motivated by issues of poverty reduction, they're motivated by issues of development, and here's an opportunity for them to get into a particular initiative or project, to get into it very deeply."
In a discussion paper on U of T's three priorities released last week, President Meric Gertler talked about the importance of re-imagining undergraduate education and emphasizing research-based, experience-based and international learning.
"Over the past 10 plus years we have dramatically scaled up the number of research opportunities for undergraduates," Gertler said, "championed experiential and service learning and expanded the range and variety of international experiences available to our students. We need to build on these successes and maintain this momentum.
"Participating in research provides a valuable opportunity for students to develop key skills – to enhance their problem-solving ability and creativity, to foster their capacity for team work and to sharpen their communication skills (both written and oral)."
The research team will be using blogs and social media during the trip and will also publish their results when they get back. But even that will not be done in the traditional way, Waud says.
"Professor Wong is interested in lessening the disconnect between the academic world and the policy makers who could be using this information. So we're going to be looking at less use of academic journals and more use of blogs or different ways to disseminate our research."
Wong (pictured at right) agrees. "Unlike most academic work in which we get a grant and spend five years and then write something that maybe half a dozen people read, my commitment to the students is that we're going to be disseminating quickly and broadly, things like blogs and more popular outlets, things that are aimed at policy practitioners and so on.
"So once we get back in January the aim is to actually start getting this out."
He hopes to involve undergraduate students in further research projects as well, such as a study of how South Africa went from one of the lowest ranked countries in terms of registering births to one of the highest. He already has four undergraduate students involved in the project and hopes to take them to South Africa next summer.
As for Waud, she hopes to use her experience on the Bolsa Familia project to hone her research skills for graduate school. "I'm enjoying this so much right now that I want to continue it when I get my undergraduate degree."