Joseph Wong to head U of T international student experience portfolio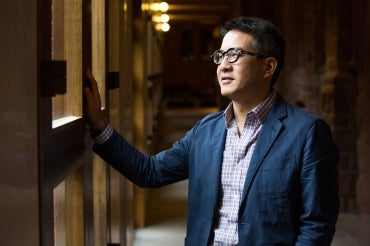 Professor Joseph Wong has been appointed as the University of Toronto's first associate vice-president and vice-provost, international student experience.
The five-year appointment, effective January 1, 2017, was announced jointly by Vice-President and Provost Cheryl Regehr and Vice-President, International, Ted Sargent. The new position will report dually to Regehr and Sargent.
Wong is a professor of political science in the Faculty of Arts & Science and the Ralph and Roz Halbert Professor of Innovation at U of T's Munk School of Global Affairs. He held the Canada Research Chair in Health, Democracy and Development for two full terms, ending 2016. He teaches in the Munk One program and directed the Munk School's Asian Institute from 2005 to 2014.
In an interview with U of T News, Wong said he was looking forward to engaging with students and faculty to enhance the university's international experiences and stature.
"We do a phenomenal job of providing first-rate education for our students here," Wong said. "Now we need to ensure that our students gain the kind of global fluencies and experiences that will enable them to become leaders in whatever field they decide."
Regehr and Sargent said they looked forward to Wong providing "academic leadership in the areas of international student recruitment and international mobility and engagement opportunities across all three campuses."
"Joe has a wealth of experience in bringing together great students, great research, and great international partnerships," Sargent said. "He finds the synergies among these essential elements of our mission and he lives and breathes internationalization in his scholarly work and his leadership." 
Regehr said, "Joe's expertise and skilled leadership will further enhance the University's ability to provide outstanding international experiences to our students and to give them the necessary skills to succeed in a global context."
Wong said he sees his new role in part as ensuring that U of T is recognized here at home and around the world as the outstanding international institution that it is. 
"The University of Toronto is consistently one of the world's top 20 universities," Wong said. "What this portfolio ought to do is to ensure that the way in which we are perceived and the way in which we project ourselves match that status."
In concrete terms, that means increasing and diversifying the university's international student intake and encouraging U of T's students to engage with the rest of the world.
"That requires us to think creatively about different global opportunities for our students, whether it's spending time abroad as part of a course or whether it's research," Wong said. "Either way, it's about making sure that our very best ambassadors are out there representing our university."
As an example, Wong mentioned his "Reaching the Hard to Reach" project, which takes undergraduate students to countries such as Brazil, India and South Africa to conduct research on poverty.
"The kind of work that we're doing in the Reach project is precisely the kind of initiatives that I think ought to be reflected in this portfolio."
Wong said he will continue to be involved in the Reaching the Hard to Reach project and other initiatives and intends to continue teaching courses at Munk and in the department of political science. 
He said the new role is both daunting and exciting.
"In one sense it's overwhelming. I had been director of the Asian Institute [at the Munk School] for nine years so I have some sense as to what this will entail. This new role encompasses the entire university so it means meeting people who are outside my own discipline or outside my own geographical area of interest. And that is something I welcome."
Wong is the author of many academic articles and several books, including
Healthy Democracies: Welfare Politics in Taiwan and South Korea
, and
Betting on Biotech: Innovation and the Limits of Asia's Developmental State
. He has been a visiting scholar at the University of Oxford as well as at universities in Taiwan and Korea. Wong has worked with the World Bank and the UN and has advised governments in Asia, Africa, the Americas, and Europe on matters of public policy. And, through the Asian Institute and as co-founder of the
Global ideas Institute
, he has provided intensive research and mentoring opportunities for high school students.
UTC