Reaching the poorest of the poor in South Africa: U of T undergrads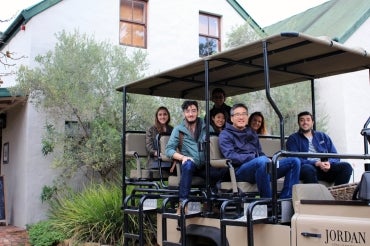 This summer, travelling through South Africa with the University of Toronto's Munk School of Global Affairs, Kim Skead drove past an informal settlement outside of Cape Town.
The recent U of T graduate and four other student-researchers were on their way to meet government workers who were working with some of the poorest communities in the country.
As the students drove past the sheet-metal huts and parched shrubs, Skead found it sobering to witness that much deprivation. She'd been raised in South Africa, and educated in Canada, but the settlement was still a shock.
"How do we alleviate such poverty?" she asked herself. "How do we reach the communities that need it most?"
Skead has a Bachelor of Science in Global Health and Genome Biology and her week-long fieldwork was part of a six-country research project by the Munk School's Professor Joseph Wong, the Ralph and Roz Halbert Professor of Innovation. Called "Reaching the Hard to Reach," the project is supported by the MasterCard Center for Inclusive Growth and focuses on how social services successfully reach communities that need them most.
The South Africa part of the project was a unique experience for Skead and student-researchers, who focused on how and why South Africa has been so successful in providing birth registration for its citizens. In just 20 years, the country leapfrogged from registering only 20 per cent of its population to registering nearly everyone, providing its citizens with access to health services, education, voting rights and other services.
Skead and her co-researchers conducted 30 research interviews in four cities to reveal the factors that went into this success, interviewing representatives from Lawyers for Human Rights, the Children's Institute and other groups.
She and Wong explained that one reason for the success was South Africans' newfound freedom after the end of apartheid. People wanted to be part of a democratic political process and wanted access to government services, which required birth registration.
"What really stood out for us was how the very same mechanisms used to enforce apartheid (registration) became the mechanism to ensure inclusive citizenship," Wong explained. "It really gave us perspective on the importance of politics and the promise of democracy – and that reach is not only an administrative matter."
Another reason for the success has been the country's mobile outreach units and outreach workers travelling to remote areas.
"Success in providing access to health care in rural environments boils down to two things: making resources more readily available and doing the legwork to make citizens aware of – and encouraging them to use – the resources," added Aditya Rau, another of the five researchers. He's a recent graduate of U of T's department of political science.
But the research trip wasn't without challenges.
"Our first meeting did not go well," Wong said. "But instead of throwing in the towel, the team regrouped, reworked our interview questions and went at it again. That's real research, and the student-researchers got to experience that first-hand. They were tenacious, and they hustled, and most importantly they came to appreciate the process."
Rau says that he learned a great deal when things didn't go as planned. "Perhaps the most powerful insights we had were when we stopped asking questions and, instead, simply listened," he says.
For more from Aditya Rau, Kim Skead and the students in the "Reaching the Hard to Reach" project, follow their work on Facebook, Twitter, and www.reachprojectuoft.com. They'll also post blogs to the Insights section of the MasterCard Center for Inclusive Growth website.
Faculty of Arts & Science