President Gertler welcomes university leaders to U of T next year to discuss 'the power of place'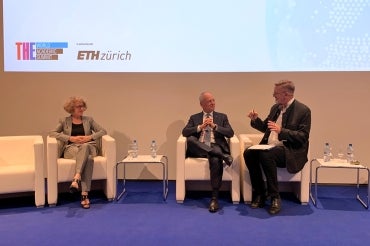 If this year's Times Higher Education World Academic Summit in Zurich is focused on how talent thrives, then next year's event – hosted for the first time by the University of Toronto – will be all about where it thrives, and why.
That was the message U of T President Meric Gertler delivered to attendees in Zurich this week during a panel conversation with Zurich's mayor Corine Mauch at the annual global conference.
President Gertler said next year's U of T-hosted conference will explore "the kinds of qualities of particular places that make them attractive to talent and help them retain that talent."
He added that U of T's relationship to the city it calls home has grown closer in recent years, citing a memorandum of understanding the university penned with the city of Toronto in 2017.
"We're very keen to make our expertise available so it can be put to work to address Toronto's challenges and help it fulfil its opportunities," President Gertler said at the conference hosted by ETH Zurich. 
From Berlin to Beijing, universities everywhere are looking to leverage their unique location and contribute to their communities in order to attract the world's top talent and enhance their teaching and research missions.
With the theme "the power of place," next year's World Academic Summit, to be held Sept. 1-3, is expected to draw more than 400 leaders from the worlds of academia, research and business to Toronto. President Gertler has likened hosting the summit to the Toronto International Film Festival in the sense that it puts a spotlight on the city and local talent.
As a public university, U of T has a responsibility to engage in city-building, according to President Gertler.
"It's also a matter of enlightened self-interest," he said. "The more that we do to make Toronto a better place, a more livable place, the more we're helping ourselves." 
An urban geographer, President Gertler has long been fascinated by the idea that economic activity and innovation remain clustered in a small number of places despite the fact that the world is increasingly interconnected. 
U of T counts its presence in one of the world's most livable and diverse cities as a great asset. Earlier this month, The Economist recognized Toronto, along with Calgary and Vancouver, among the top-10 most livable global cities. The Economist's assessment covered education, health care, culture and the environment. What's more, Toronto has drawn comparisons to Silicon Valley for its burgeoning tech scene and an explosion of artificial intelligence research. 
To illustrate the mutually beneficial relationship between university and city, President Gertler recounted how U of T's Raquel Urtasun, a world renowned expert in machine perception and artificial intelligence, persuaded Uber to open a self-driving vehicle research lab in Toronto after she was recruited to join the San Francisco-headquartered ride-hailing giant.
Two years later, Urtasun continues to head up the lab and, last year, Uber revealed plans to make an additional $200 million investment in Toronto over five years to expand the project and set up its first-ever engineering facility in Canada.
"Once they [Uber] got to Toronto, they realized that, not only do they get to work with Raquel, who's an amazing scientist, and her graduate students, but also that there's a lot of great talent in the city and it's a really promising place for them to be," President Gertler said.
The university works with the city directly to make it more livable for residents.
President Gertler said he and other local university presidents meet several times a year to discuss challenges facing their tens of thousands of students – particularly in regards to transportation and affordable housing. In fact, U of T joined other Toronto universities to conduct research initiatives focused on both issues.
In an interview last week with U of T News, President Gertler said that the university's tri-campus structure also confers a unique advantage.
"U of T would not be the university it is were it not for the fact that we have three campuses in this very dynamic and appealing city region," he said. 
U of T isn't alone in trying to take greater advantage of its location and build closer bonds with its community – and President Gertler said next year's Times Higher Education summit will give university and industry leaders from around the world an opportunity to reflect on those relationships and build upon them. 
"When I talk to university leaders around the world, there's a growing recognition of the importance of local engagement and local partnership," he said. "There's no question that the penny has dropped." 
UTC