StudentDwellTO: U of T, Toronto universities' student housing initiative begins to take shape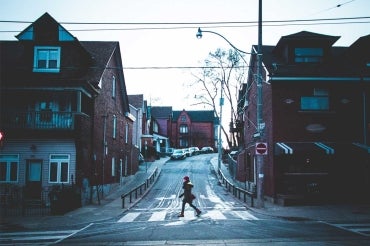 Researchers at the University of Toronto, Ryerson, OCAD and York are beginning to understand just how large and complex the student housing issue is in Toronto.
Students and faculty from the four universities are working together on an initiative called StudentDwellTO – a joint research project established by the universities' presidents that will identify causes and propose possible solutions to the housing-related challenges students face. 
Marcelo Vieta, an assistant professor at the Ontario Institute for Studies in Education, and Mauricio Quirós Pacheco, an assistant professor, teaching stream at the John H. Daniels Faculty of Architecture, Landscape, and Design – the project's faculty leads at U of T – updated U of T News on StudentDwellTO's progress.
"We're at the breaking point where we have most of the foundation for the project to really jump into actual work," says Quirós Pacheco.
Researchers have already reviewed 150 academic articles to get an idea of best practices from around the world.
One of their early findings is that design greatly affects student experiences, says Vieta. 
"How the living space of a student is designed and shaped shapes their educational experience and performance," he says.
Equally as important is the length of student commutes, says Vieta. "The distance they have to travel to go to and from home and school intimately matters with how well they do."
These findings echo the results of the massive survey of Toronto student travel conducted in 2016 – StudentMoveTO – which found that long commutes affected students' class and extracurricular choices.    
The StudentDwellTO team is currently collecting census data with the help of faculty including David Hulchanski, professor at the Factor-Inwentash Faculty of Social Work, and will be conducting focus groups with students and stakeholders to get a clearer picture of the current landscape and future possibilities.
In addition, faculty members are incorporating the study of student housing into their curricula, says Vieta.
A number of his master's students are exploring case studies of successful student housing from around the world, including student co-operative housing in Edinburgh, Montreal and Michigan.
And in the fall term, students at Daniels will use the data and case studies collected in an undergrad studio class exploring and designing options for student housing, says Quirós Pacheco.
Vieta and Quirós Pacheco say they've been getting valuable input from industry and community leaders. They have regular meetings with an advisory committee that includes members from community housing, private development, policymakers, architects and urban planners.
"The whole dynamic of the city is affected by this," says Quirós Pacheco.
The next task is to put together a website, and begin to host events where experts can share their research on student housing, he says. 
UTC