U of T, City of Toronto sign memorandum of understanding to support present and future collaboration
University of Toronto faculty and students are helping the City of Toronto to reach its greenhouse gas reduction goals, develop policies to ensure that everyone in the city has access to affordable, healthy food, and promote the city as one of the world's leading cultural centres.
These projects are just a few of the ways U of T's urban experts are helping to make Toronto safer, more inclusive and globally recognized.  
On Monday, U of T and the City of Toronto made it clear that partnerships between the two institutions are vital to the success of the city and to the impact of academic research by signing a memorandum of understanding (MOU).
The document, signed by Toronto city manager Peter Wallace and U of T President Meric Gertler, is a good faith agreement, outlining the ways the City of Toronto and U of T will support existing and future relationships in order to achieve common goals.
"Working together, we come up with better answers, find better ways to do things," said Mayor John Tory, speaking at the event. "There are people ... at the University of Toronto who have all of the expertise we could possibly want – often times the recognized North American or global expertise on a given subject – and we should use those people to a greater extent."
Tory also cited the U of T's work in artificial intelligence. "The world's leading authorities on artificial intelligence are located here at the University of Toronto. We're now capitalizing on that to help with substantial economic growth, which will help us meet some of our social justice goals."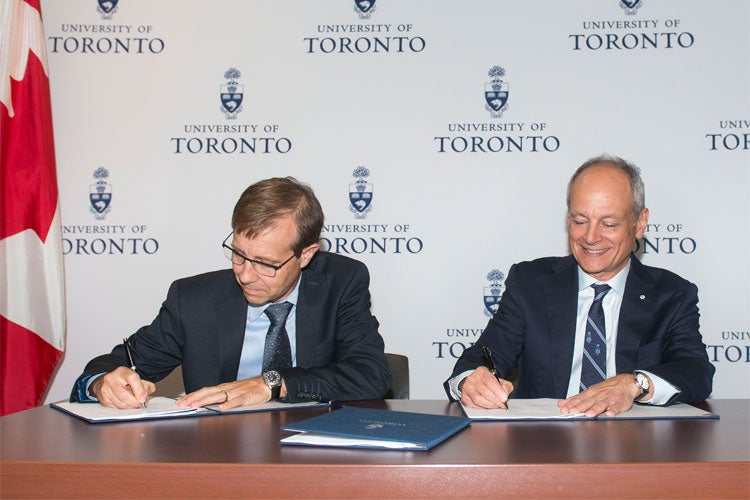 Peter Wallace, who is a U of T alumnus, and Meric Gertler sign the MOU between the university and the City of Toronto (photo by Laura Pedersen)
The MOU is an opportunity to elevate the work of both the city and the university on a local and global scale, said President Gertler.
"It outlines ways that we can work together even more closely and effectively," he said. "From problem solving and policy development to communications and funding opportunities, to advocacy with Queen's Park and Ottawa to international engagement."
Sara Hughes, assistant professor of political science at U of T Mississauga, knows first-hand how important this two-way relationship can be. As one of the leads on the Future Talks initiative, a massive engagement project around sustainability, her team is helping the city find innovative ways to reduce harmful emissions by 2050.
"Being able to work with the city helps us in terms of having a better understanding of the practical challenges of doing things like large-scale public engagement," said Hughes. "We have an interest in doing research that not only is relevant to our colleagues and our discipline but has value to people working on these issues on the ground."
Researchers like Steven Farber, assistant professor in the department of human geography at U of T Scarborough, are utilizing city resources to inform research. He will be working with the city to evaluate the upcoming Fair Pass program – a City of Toronto initiative that will make the TTC more affordable for lower-income Torontonians.  
"I wouldn't have access to the data and the case study and everything else if I wasn't keyed into what the city is doing. This is a real win-win."
For Toronto's staff and elected municipal officials, U of T research is a source of inspiration for how to improve the city, said Wallace.  
"This is how as civic leaders we understand what matters," he said. "This is how we bring facts and evidence to bear on our decisions.
"This is also in a very fundamental and critical way, our gateway to the future."
The process of developing the MOU was both an opportunity to recognize existing relationships and a promise to forge new ones, said Associate Professor Shauna Brail, presidential adviser on urban engagement and director of the urban studies program.
 "Part of the role of the MOU is to open up channels of communication that otherwise wouldn't have been there," she said. "We are signalling a willingness and openness to think about new and creative and interesting reciprocal ways to work better with the city."
UTC