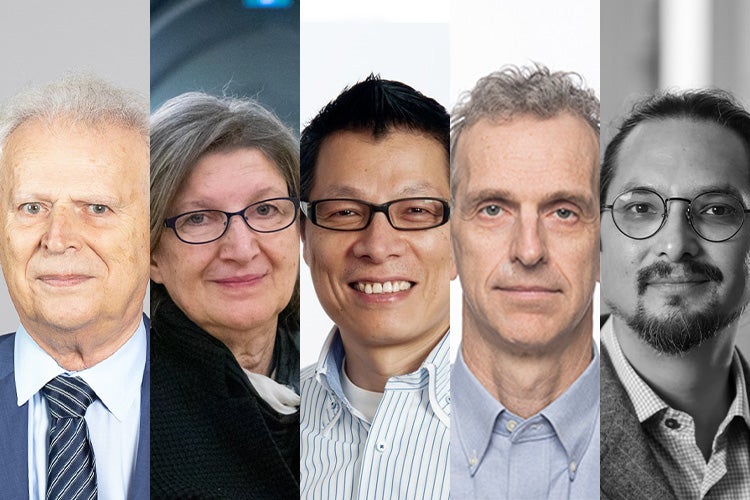 Five researchers recognized with 2022 President's Impact Awards
Five leading University of Toronto researchers have received President's Impact Awards for their remarkable work in health, contemporary art, law, traffic safety and Indigenous rights.
The awards celebrate and honour faculty members whose research has led to a significant impact beyond academia. 
"Each of this year's winners has transformed the lives of people in Canada and around the world through their work," says Leah Cowen, U of T's vice-president, research and innovation, and strategic initiatives.
"I am incredibly proud of their outstanding contributions – from improving health outcomes and diagnoses to traffic safety, improving our understanding of art and advancing Indigenous rights.
"These awards demonstrate how U of T's research excellence, across a wide range of disciplines, is driving major social and economic benefits."
This year's winners are:
Levente Diosady, professor emeritus in the department of chemical engineering and applied chemistry, Faculty of Applied Science & Engineering. Diosady is being honoured "for his research impact on the development of technology that enables the double fortification of salt with iron and iodine, improving the health of millions of people in developing countries."
Barbara Fischer, associate professor, teaching stream, in the John H. Daniels Faculty of Architecture, Landscape, and Design and executive director and chief curator at the Art Museum at the University of Toronto. Fischer is being honoured "for her exceptional contributions to curatorial theory, history, and practice that enables Canadian and international audiences to better understand and learn from contemporary art and artists."
Kang Lee, professor in the department of applied psychology and human development, Ontario Institute for Studies in Education. Lee is being honoured "for sustained impacts of his scientific discoveries on childhood dishonesty on legal practices, clinical diagnosis and treatment of atypical children, and methodological innovations for healthcare and applied research."
Donald Redelmeier, professor in the department of medicine, Temerty Faculty of Medicine, and senior scientist at the Sunnybrook Research Institute. Redelmeier is being honoured "for his science contributing to fewer traffic crashes worldwide, including new laws in all Canadian provinces and territories against using a cellular telephone while driving."
Douglas Sanderson, associate professor in the Faculty of Law. Sanderson is being honoured "for the profound impact that he has made on issues relating to the relationship between Indigenous Peoples in the Settler State, which have contributed to advancing Indigenous rights at the University, in the Province of Ontario, and throughout Canada."
Nominees for the President's Impact Awards are also considered for the Carolyn Tuohy Impact on Public Policy Award, an honour that is part of the Awards of Excellence program in collaboration with the university. The program dates back to 1921 and recognizes outstanding faculty, staff and students.
This year's Carolyn Tuohy Impact on Public Policy Award winner is Adalsteinn Brown, dean of the Dalla Lana School of Public Health. Brown is being honoured "for his leadership in health system improvement, performance measurement and health emergency planning and response, which has transformed the decision-making process in Ontario." 
UTC