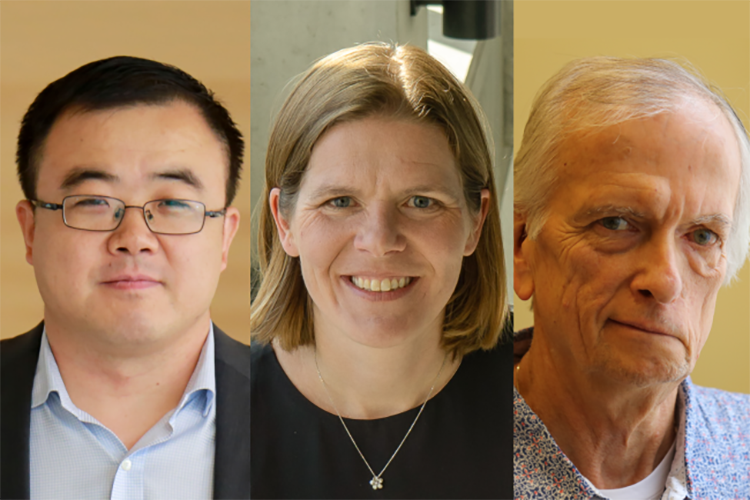 U of T Engineering professors honoured by Engineering Institute of Canada
Three professors in the University of Toronto's Faculty of Applied Science & Engineering have been recognized by the Engineering Institute of Canada (EIC) for their distinguished contributions to engineering. 
Professor Michael Carter of the department of mechanical and industrial engineering (MIE) has received the Julian C. Smith Medal for "achievement in the development of Canada," while Professors Natalie Enright Jerger of the Edward S. Rogers Sr. department of electrical and computer engineering and Xinyu Liu (MIE) have been elected fellows for "excellence in engineering and services to the profession and to society."
The founder of U of T's Centre for Healthcare Engineering, Carter is a recognized leader in systems engineering approaches to health care, influencing health policy and practice across Canada through his leadership positions, educational initiatives and work with health-care organizations. The tools he has created are used by government and health-care organizations throughout the country.
Enright Jerger, the Canada Research Chair in Computer Architecture, designs new ways of arranging the components of computer processors to optimize performance, helping manufacturers like Intel, AMD and Qualcomm build faster devices while keeping power usage and costs low.
Liu is internationally recognized for his innovative contributions in paper-based microfluidics, microrobotics, and flexible/stretchable sensors, with applications in disease diagnostics and treatment, basic biology research and wearable electronics.
"On behalf of the Faculty, congratulations to Professors Carter, Enright Jerger and Liu on these well-deserved honours," says U of T Engineering Dean  Christopher Yip. "This recognition by the Engineering Institute of Canada reflects the wide-ranging contributions and impact of our faculty members as researchers, innovators and educators."
Engineering