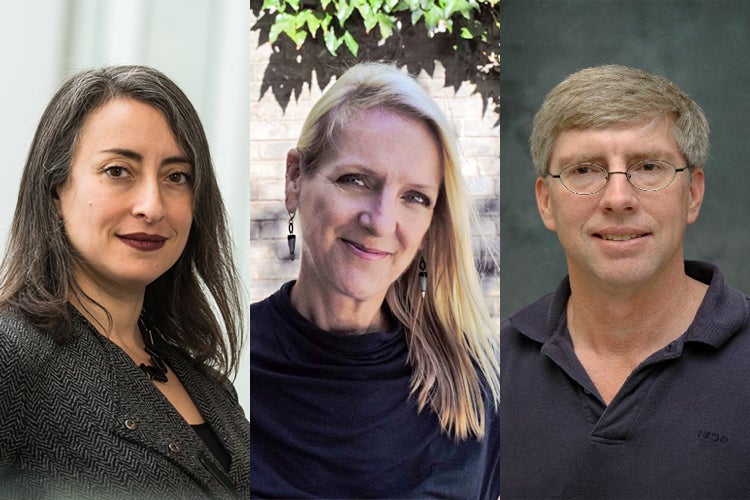 Three U of T professors elected fellows of the American Association for the Advancement of Science
Three U of T professors have been named fellows of the prestigious American Association for the Advancement of Science (AAAS).
The mission of the AAAS, the world's largest general scientific society and publisher of the journal Science, is "to advance science and serve society." Fellows – scientists, engineers and innovators – are selected for their distinguished efforts to advance science or its applications through research, teaching, technology or communicating and interpreting science to the public.
"The University of Toronto congratulates Leah Cowen, Norm Murray and Rachel Tyndale for attaining such well-deserved recognition from their peers in the scientific community," said University Professor Ted Sargent, vice-president research and innovation, and strategic initiatives. 
"Their outstanding contributions to research have amounted to great leaps in the health and science fields, from exploring the astrophysical intricacies of the universe, to genomic discoveries at the molecular level."  
The new fellows are:
Leah Cowen, professor in the Temerty Faculty of Medicine and Canada Research Chair in Microbial Genomics and Infectious Disease, recognized for her distinguished contributions in the field of microbial genomics, particularly for using functional and chemical genomic analyses to identify vulnerabilities in fungal pathogens
Norman Murray, professor in the Faculty of Arts & Science, director of the Canadian Institute for Theoretical Astrophysics and Canada Research Chair, recognized for his contributions to theoretical work providing key insights into a broad range of astrophysical topics encompassing planetary science, star formation, galaxy evolution, and active galactic nuclei  
Rachel Tyndale, professor in the Temerty Faculty of Medicine and senior scientist, The Centre for Addiction and Mental Health, and Canada Research Chair in Pharmacogenetics, recognized for her outstanding contributions to understanding the role of drug metabolism in addiction and in particular, how genetic polymorphisms alter behaviours relevant to nicotine addiction.  
This year's fellows will be formally announced in the November 2020 issue of Science, and a virtual induction ceremony will be held at the Fellows Forum on February 13, 2021.
UTC