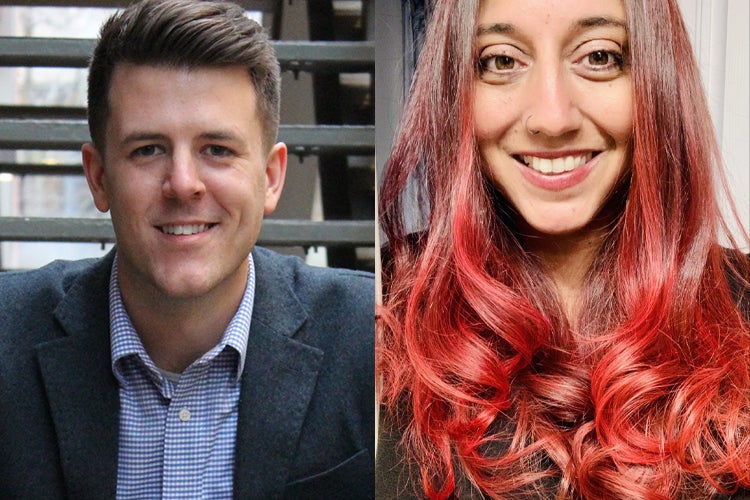 Reshma Dhrodia and Steve Masse receive Jill Matus Excellence in Student Services Awards
For their strong initiative and commitment to enhancing the student experience, two staff members – Reshma Drodia and Steve Masse – have received the Jill Matus Excellence in Student Services Award.   
The honour is one of the Awards of Excellence presented by the University of Toronto Alumni Association in collaboration with the university. The prestigious program dates back to 1921 and recognizes outstanding faculty, staff and students.
As the On Location Accessibility Team lead at the St. George campus and chair of the equity diversity inclusion and accessibility committee within Accessibility Services, Dhrodia has demonstrated an unwavering commitment to those with accommodation and accessibility needs. She has helped organize nearly 20 different equity- and inclusion-based training opportunities for staff members, and created, designed and delivered a training program on accessibility and inclusion for hundreds of staff and faculty, many in leadership and front-line student service positions.
In honouring Dhrodia, the alumni Association notes that supervisors and peers commend Dhrodia for her depth of understanding, her ability to cultivate an environment of openness, and her far-reaching impact. Her tireless work has served as a blueprint not only for Accessibility Services, but for many others across the university and beyond.
As dean of students at Innis College, Masse has worked to create positive change in every part of student and residence life – from providing additional supports to students in residence, to spearheading a new collaborative training model for residence life staff, to ensuring greater diversity in hiring through intentional recruitment efforts. He has worked to improve amenity spaces for students and collaborated on a funding model for refugee students. During the pandemic, Masse worked tirelessly with his staff to ensure that Innis remained safe and accessible to those who required housing.
In honouring Masse, the alumni association notes that colleagues and students alike say Masse is a highly effective leader and gifted listener. Everything that he and his team do is rooted in compassion, respect and student service.
Alumni Association