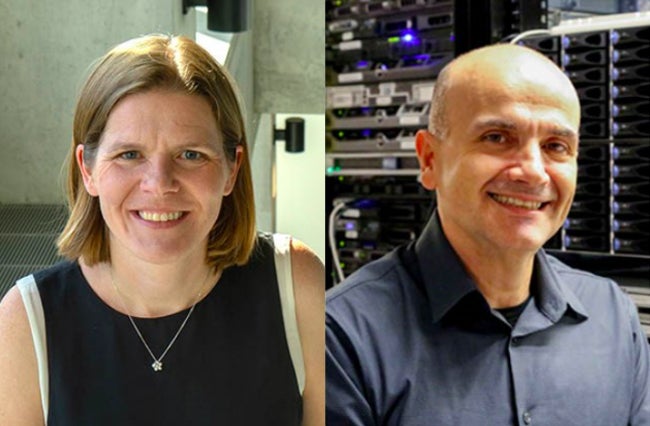 Natalie Enright Jerger and Andreas Moshovos named IEEE Fellows
Professors Natalie Enright Jerger and Andreas Moshovos of the Edward S. Rogers Sr. department of electrical and computer engineering (ECE) in the Faculty of Applied Science & Engineering have been appointed IEEE Fellows.
The designation by the world's largest technical professional association is reserved for members whose research in engineering, science and technology have shown significant value to society.
Enright Jerger was cited by IEEE for her "contributions to networks-on-chip (NoCs) for many-core architectures." NoCs are a mechanism that allows multiple processors on a single chip to talk to one another, relieving some of the "congestion" that occurs as computer chips continue to shrink in size.
She says it has been exciting to see how her ideas shaped the development of the field, including the widespread adoption of On-Chip Networks, a textbook she co-authored that's now in its second edition.
"I'm really proud to have helped educate students in the area, further driving innovation."
Moshovos was cited "for contributions to out-of-order processor microarchitecture and multiprocessor memory systems." An out-of-order processor is one whose execution is dictated by the data readily available and not the original programming order, reducing idling time.
 "I've had the opportunity to work with such talent throughout the years," says Moshovos. "Truly – in every single piece of work I have been involved with. I'm humbled by this recognition of my peers, and very appreciative of the support from my colleagues and students at the University of Toronto and elsewhere."
Professor Deepa Kundur, chair of ECE, congratulated Enright Jerger and Moshovos on achieving this milestone in their careers.
"It is a wonderful recognition of their stature in their fields."
UTC