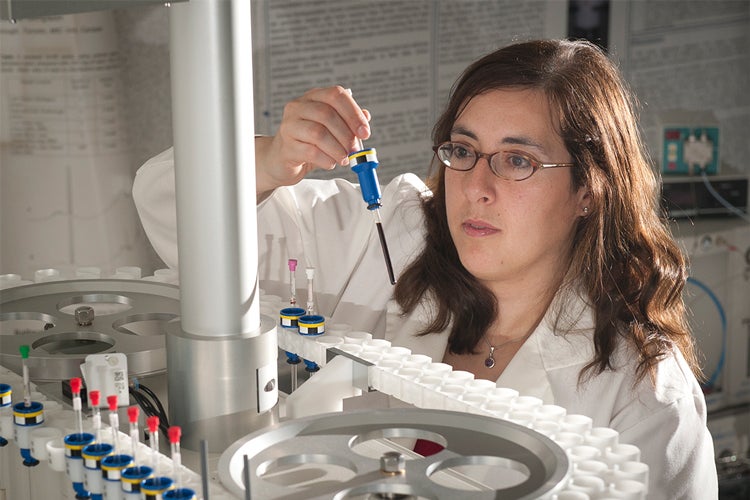 Myrna Simpson recognized with Clair C. Patterson Award
Myrna Simpson, a professor in the department of physical and environmental sciences at the University of Toronto Scarborough, is this year's recipient of the Clair C. Patterson Award from the Geochemical Society.
It's the second time a U of T faculty member has received the award, which celebrates innovative breakthrough research in the field of environmental geochemistry. 
"Having two U of T faculty recently recognized with this award really demonstrates that U of T is a leader in environmental geochemistry," Simpson says, noting University Professor Barbara Sherwood Lollar received the award in 2019.
Simpson's early research focused on developing methods to unravel complex environmental processes at the molecular level to better understand how climate change and other human-caused activities were fundamentally changing the environment. 
Over the past 15 years, her lab has used a series of innovative techniques, including nuclear magnetic resonance (NMR) and mass spectrometry, to address knowledge gaps related to global environmental change, pollution and long-term storage of used nuclear fuel.
"I am particularly proud of how my group has been able to provide new insight into geochemical processes in the environment and uncover the 'why' behind so many processes. Knowing the 'why' means we are better prepared for protecting the Earth," says Simpson.
It's the latest in a series of honours for Simpson, who also becomes a fellow of the Geochemical Society. The Tier 1 Canada Research Chair in Integrative Molecular Biogeochemistry, Simpson recently received the DIMA Award from the Chemical Institute of Canada and last year was a co-recipient of the Sir George Stokes Award.
UTSC