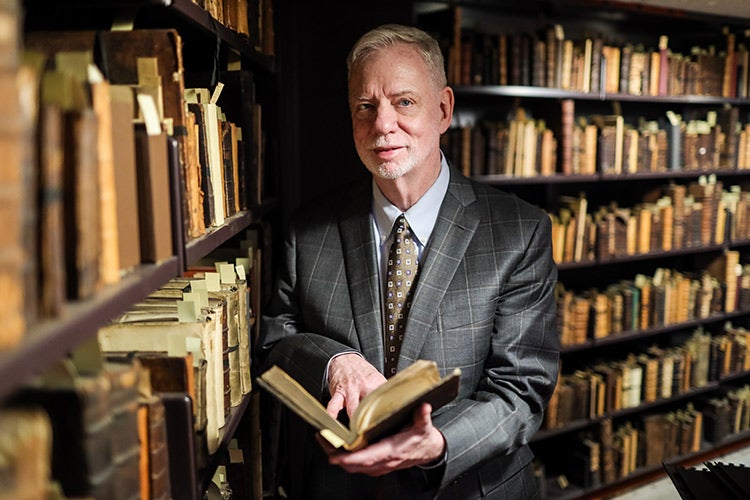 Larry Alford receives Ron MacDonald Distinguished Service Award
University Chief Librarian Larry P. Alford has been recognized with the prestigious Ron MacDonald Distinguished Service Award from colleagues at the Canadian Research Knowledge Network (CRKN). 
"U of T is extremely fortunate to have Larry Alford at the helm of our world-class library system. He keenly recognizes the vital role that libraries play in student success and research excellence," said University of Toronto Vice-President and Provost Cheryl Regehr. "Larry has been a key contributor to our university's research enterprise. He is constantly working to evolve our libraries, expanding access to research and building crucial partnerships throughout the university community."
Alford assumed the role of university chief librarian in 2011 and has been a vital leader in the Canadian research library community, working to build strong and resilient digital research and scholarly communications infrastructure to benefit not only U of T but research libraries across Canada.
"Libraries are continually reinventing themselves as content becomes more accessible online," Alford said. "We play an essential role in enhancing access and preservation, building connections, and reinforcing why research matters. 
"It is a privilege to collaborate with colleagues at CRKN and at U of T to lead change and evolve as society evolves."
In its citation, the CRKN said that, alongside all his career accomplishments, those who have worked with Mr. Alford describe him as generous, enthusiastic and empathetic. They noted that he is committed to equity, passionate about inspiring students, supporting faculty, mentoring staff and collaborating with colleagues. 
Libraries